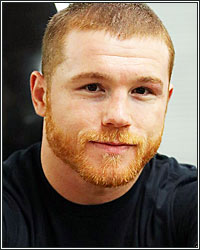 Welcome fight fans to another Magno's Bulging Mail Sack—a Thursday tradition where I make crude double entendres linking my email inbox to a particular part of my anatomy (while also addressing the wealth of injustice and misinformation in the boxing world). This week we have comments/questions regarding Canelo's next move, Danny Garcia, and ESPN's Top Rank plans.

Who's Next for Canelo?

Hey Magno. Here I was assuming that Billy Joe Saunders was just about signed up to fight Canelo next and then, lo and behold, Oscar De La Hoya cuts right to the grain and says that Saunders is absolutely not the frontrunner for Canelo in May and that talks with Canelo about a next opponent haven't even begun.

How does this stuff get out there? I saw that it was being reported by lots of sources that Saunders was about to be signed for the fight and that an official announcement was just days away. Turns out nothing could've been further from the truth. Crazy.

-- Brian C.

Hey Brian.

Call me cynical or overly suspicious, but I wouldn't be the least bit surprised to find out that Eddie Hearn was behind that Saunders rumor being floated out to the media. It would certainly be the smart thing to do when it comes to Hearn's own bottom line.

As Saunders' promoter, pushing his guy towards a big-money Canelo fight makes total sense. And, given the fact that when Hearn negotiates for one of his own Matchroom fighters to face the Mexican star he's essentially negotiating with his own business partners, it's guaranteed that he's going to get a sweet deal.

Most of what gets reported in the boxing media is strategically placed there by promoters or managers and all it takes is one little leak for there to be a flood of intentional misinformation. That's why it's always smart to disregard just about everything you hear from the boxing media unless it can be proven correct from various sources and angles.

In the case of the Saunders-Canelo rumor, fans and media creating buzz for Alvarez to fight Saunders next would put some pressure on Team Canelo to at least prioritize the fight and might even nudge things towards getting it made.

Top Rank on ESPN

Hi, Magno, I really enjoy your articles. Keep up the good work. Have you noticed that Top Rank is putting their cards on regular ESPN, they have done it with their last three cards, and will do it again on February 1 with Ramirez against Postol. Do you think that this is their idea or the execs at ESPN?

-- Benjamin from Puerto Rico

Hey Benjamin. Thanks for the kind words.

Good observation. I hadn't noticed that until just now that you mentioned it.

I would assume that those scheduling and platform decision are made by the corporate big shots and there may be nothing more to it than filling in programming blocks with what they feel is the right content for the right dates. There could also be a conscious effort to pull the top shelf boxing stuff from the ESPN+ streaming service.

Looking over their schedule, there's plenty of boxing content on ESPN+ in the first quarter of 2020, but it's all small-time stuff. After the February Ramirez-Postol card, there are two main stage ESPN dates in March (both TBA affairs), but word is that those should be fairly big shows.

ESPN could be working to build their boxing brand, rethinking past strategies, by showcasing their biggest and best fights on their main, basic cable, platform. They could also be giving up on boxing as a subscription driver for the subscription-only ESPN+. Maybe one thing plays into the other. Or, maybe, neither is really the case.

Time will tell. But it's certainly in the sport's best interest to have as much of Top Rank's content on basic cable as possible with around 90 million viewers having free access to it.

Danny Garcia

Paul. Danny Garcia's got nothing to worry about in his fight this Saturday with Ivan Redkach. He's going to beat him bad. My question is about what happens for Danny after this fight. He'll be in line to fight Errol Spence, but will Errol Spence be ready to fight him? There's also the Pacquiao fight Garcia wants. I see Pacquiao in his future. It makes sense for a lot of reasons and it's a huge money score for him. Who do you see Danny fighting next and will he have a chance to win or is it just going to be about padding that bank account?

-- Luis

Hey Luis.

Team Garcia definitely wants that Pacquiao fight. I mean, really, who WOULDN'T want to try and get that kind of piggyback ride? And, yeah, it's a winnable fight for him. Garcia definitely seems to have the inside track right now for a Pacquiao PPV bout. I'm guessing that, despite Saturday's bout being a WBC welterweight eliminator, the winner won't be getting Errol Spence until next year. So, that opens the door for a Pacquiao fight—if it can be made—or, if it can't, a fight against the next highest-ranked contender for an interim WBC strap until Spence is ready to defend.

Got a question (or hate mail) for Magno's Bulging Mail Sack? The best of the best gets included in the weekly mailbag segment right here at FightHype. Send your stuff here: paulmagno@theboxingtribune.com.