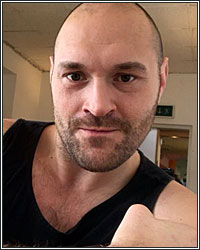 Tyson Fury, self-destruction be thy name...Maybe.

Anyone who has dealt with substance abuse or mental health issues knows the figurative, but eternal tightrope walked through life.

The illness and self-destructive tendencies never really go away. Relapse is common. Multiple relapses are common. Crashing and burning under the pressure is, sadly, also common. And that's for just us "regular" human beings who aren't worth $100 million, don't have a business built around our exploits, don't have millions of people watching our every move or hundreds of reporters sticking cameras and microphones in our face every day.

Tyson Fury, who's comeback from these issues is a thing of legend, is walking on to the biggest stage of his career. He's never had more to lose than right now and although he's clowning around as usual, playing the role of mouthy, jovial giant, he has to be feeling the pressure.

"After this fight I'm going to binge on cocaine and hookers," Fury recently told the Daily Caller.

"Is there anything better than cocaine and hookers? I go to the cheap $30 ones... always give yourself a shot of penicillin before shagging 'em. If you haven't got the penicillin, always double-bag up."

It's a joke. Yeah. But maybe not so much.

Someone who's walked through the fires that Fury has is always aware of how precarious his position may be. He's seen the down side of life, stared into the abyss. He knows that all it takes is one "off" moment for fate to pull him back down.

Some have been eager to pass along rumors that, maybe, he IS on the way back down.

"I thought [Fury] might win the fight, but I've heard a few things in the camp and stuff like that," Anthony Joshua promoter and Matchroom Boxing bossman, Eddie Hearn told talkSPORT.

"Listen, it might be rubbish, but [now] I do think Wilder's gonna win the fight by stoppage.

"I hope he doesn't, I would love to see Tyson Fury make the fight because Tyson Fury will fight Anthony Joshua, he actually wants to fight Anthony Joshua."

Fury's co-promoter Bob Arum, of course, was eager to shoot those rumors down.

"My guys are in every minute that I'm not in, so what the hell is he talking about? Eddie Hearn runs from the mouth," Arum told IFL.TV. "I'm sure he heard that from 'somebody', you hear everything in boxing. But again you have to be a little cautious about what you talk about and what to say. 'Who is this guy [his source]? The guy who sweeps my gym?' Eddie really has to grow up."

This Arum vs. Hearn battle is to be expected during the fight week lead-up to Fury's high-profile pay-per-view rematch with Deontay Wilder this coming Saturday. Arum is all about building up Fury and his preparedness for the upcoming bout. Hearn, as Joshua's promoter, is going to want to tarnish the appeal of Saturday's bout and diminish the value of the winner's victory.

The real question is whether Fury is where he needs to be, both mentally and physically. And we probably won't know the answer to that question until AFTER Saturday's fight.