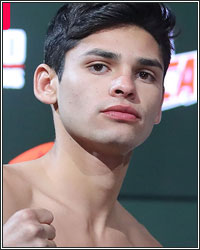 Thursdays, in this corner of the online Universo Pugilistico, are all about my bulging, bulbous sack and the gooey, salty truths contained within. So pull back your hair, shut your eyes tight, and prepare yourself for a money shot of wisdom. This week, we have comments/questions regarding Deontay Wilder-Tyson Fury 2 and whether Ryan Garcia is "for real."

Wilder-Fury 2 Prediction

Okay Magno.

No beating around the bush here. Wilder vs. Fury: Who do you got and how do you see it ending?

-- Simon

Hey Simon. I went on record earlier in the year, when I did my "Magno's Predictions for 2020" article, so I guess I have to stick with that. Here's what I wrote:

"In February, WBC heavyweight champ Deontay Wilder will knock out Tyson Fury within 8 rounds. He'll then win a dreary track meet of a bout via unanimous decision versus an obsessively mobile Fury in a November return contest."

There's a big possibility that things could go the other way, too. Fury has shown that he can shut down Wilder's offense for long stretches of time and he's proven that he can get back to his feet after taking Wilder's best shots.

Still, it's hard to imagine Wilder being shutout for the entire fight. He'll land something big eventually and, when that happens, big things may happen.

It's going to be an interesting evening, though.

Fury's Change of Trainer

Paul,

What's your opinion on the changes Fury has made going into this fight? I think he faired pretty well against Wilder the first time around. Switching trainers and camps seem a little bit odd. A lot of people run the Kronk gym, but that's a Midwest style of fighting. Hard to adapt to a new style this late in the game. Do you think there were any changes Fury needed to make going into this fight? Or could this just be in his head in fear of another concussion from Wilder?

-- Nail Rahman

Hey Nail.

Changing trainers is, indeed, a strange move to make when, for all intents and purposes, things seem to be going well. I honestly feel, though, that Fury's style is all Fury and that Ben Davison was not all that much of an intrinsic part of his performance. That's just an outsider's hunch, though. With a guy like Fury, getting the most from him is basically all about keeping him focused and happy. I don't think switching over to Sugar Hill will hurt him, unless Sugar Hill runs a shitty, all-over-the-place camp (and I don't think that's the case).

I also don't think that a lot of changes were needed, anyway, to be honest. Maybe some tightening up and maintaining of focus, but that's it.

But you could also have a point that the move is at least in part psychological-- something which could maybe hint at a less-than-confident mindset about what will be incoming this Saturday.

We'll see. I'm looking forward to it.

After Wilder-Fury 2

Magno.

What happens after the dust settles after Wilder-Fury this weekend? Is Joshua next for either? If not Joshua, then who?

-- Lee P.

Hey Lee.

I think everyone's been pretty clear about what's next, after Wilder-Fury 2. Plans are reportedly in place for a third bout later in the year. That's assuming, I would think, that this upcoming fight will be close, entertaining, and/or controversial. But even if it's a blowout, I doubt Joshua will be next for either.

Joshua is bound to a mandatory defense against Kubrat Pulev and Bob Arum, who co-promotes Pulev, is not likely to let Joshua wriggle out of that obligation. And business considerations (as well as varying degrees of bad blood) will stand in the way of both Wilder and Fury meeting Joshua.

I know Joshua's promoter Eddie Hearn has said that a Fury fight would be easy to make, but you have to ask whether ESPN, which invested $100 million into "The Gypsy King," would be all that eager to put him on a joint PPV event aired early in the afternoon in the US.

I think all of the biggest fights in the heavyweight division eventually happen at some point, but not right now and, Joshua, at least for the remainder of 2020, will remain a big fish in a small, adoring pond.

Ryan Garcia: Hype Job?

Hey Magno.

When I watch those DAZN shows, it's like I'm walking into an alternate universe. Their announce crew is so overblown with their cheerleading. They make it seem like everyone they got is an all-time great. Last Friday, they all but put Ryan Garcia in the Hall of Fame for beating a guy who has zero big wins in his career and lost big-time to the only two good fighters he's ever fought. I honestly don't see all that much in Garcia. The kid's alright and has got some pop in his left hand, but he makes tons of technical mistakes, like holding his chin way up in the air, and he's never faced anyone who could make him work. I know DAZN wants to hype their own stable, but all that Kingry love is way overblown and if he fights Linares or anyone else with world class skills, he'll be exposed.

-- Arturo Sanchez

Hey Arturo.

Yeah, that cheerleading is extreme and off-putting. They need to reel that shit in.

As for Garcia, I take both sides with him.

I agree with you that he makes tons of technical mistakes-- but that's to be expected from a 21-year-old fighter. We can't forget that, despite the scrotal-licking hype from DAZN, Garcia is still a work in progress. I wouldn't be too hard on him for not being as perfect as the broadcast crew is hyping him to be.

I do think "Kingry" is a star-in-the-making and since he re-upped with Golden Boy (essentially kick-starting their seriousness about him by threatening to walk away), the matchmaking has been on point. His opponent last Friday was a perfect example of that. Fonseca was a good, but second-tier fighter moving up in weight who's had his name tied to some big names in the past. Of course, he was going to be beaten up. On paper, though, he was a challenge and that's what a good matchmaker does when trying to build a young star-- make the risk be in theory only.

I disagree with you about Jorge Linares "exposing" him, though. I think Linares has deteriorated and is ready to go. He'll be ripe for the picking when he fights Garcia. IMO, matching him against Linares would be another smart "risk."

I do think Garcia is "for real" and could become a very big star if handled correctly. But he's not there yet and Golden Boy probably knows that as well. They'll keep matching him against calculated risks while he develops further behind the scenes.

Got a question (or hate mail) for Magno's Bulging Mail Sack? The best of the best gets included in the weekly mailbag segment right here at FightHype. Send your stuff here: paulmagno@theboxingtribune.com.