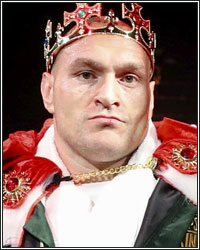 For those wondering about who the top heavyweight in the world is, there's no more need to debate. We have a definitive answer now -- Tyson Fury.

Saturday night at the MGM Grand in Las Vegas, "The Gypsy King" became the King of the World with a brutally masterful performance, beating up reigning WBC heavyweight champ Deontay Wilder until the seventh round when Mark Breland tossed in the towel from the Wilder corner. The Irishman will now have a real belt to carry around and can leave behind his imaginary title to a lineage that didn't really exist, anyway.

There was never really a moment of competition to be found in this high-profile rematch of their controversial December, 2018 draw. While the first two rounds were close, Fury seemed in control and he was doing what he wanted to do against Wilder, who was already looking desperate in trying to land anything to turn the tide.

By the third round, though, Fury was fully in command, even before sending the defending champ to the canvas for just the second time in his career. He was pushing Wilder back, leaning on him, smothering his offense and generally exploiting just about every weakness the Tuscaloosa, Alabama native has. All the while, of course, he was landing some hellacious shots. If it's true that Wilder suffered damage to his eardrum around the time of the third round knockdown-- and the blood coming from his left ear seemed to confirm that, although ESPN's Dan Rafael reported after the fight that the blood was merely from a cut inside the ear [But who knows with Rafael?]-- then, a very tough task against a fully actualized Fury went from difficult to downright impossible.

Wilder would never be "right" again after that third round. Cock-eyed and seemingly out of it, he was stepping in post holes the rest of the evening, knocked down again in the fifth by a pushing body blow and never really operating with his legs fully under him.

One always had to wonder how the 6-foot-9, 273 lb. Fury would look when he realized that he's a big, strong guy who can bang-- and he doesn't have to fight in flight, sticking and moving to points wins. The boxing world sees what that would look like now. Combining both aspects of his skill set, with more than a pinch of giant-sized will power, makes him damn near invincible, as we saw in Saturday's two-knockdown, TKO-win performance.

And yeah, at least for now, there is no No. 1A and No. 1B in the heavyweight division. Fury is top dog. Joshua and Wilder are clearly and decisively behind him. The only question is regarding what's next for the new WBC champ.

Reportedly, should Wilder opt to invoke the rematch clause within 30 days, both fighters are contractually bound to a third encounter. If Wilder had, indeed, suffered a balance-affecting eardrum injury, it would've been the kind of handicap, significant enough and fight-altering enough, to explain away, at least partially, the one-sided nature of the bout. Maybe that would've made it easier to put together a part 3 after such a blowout in part 2. But this is boxing. The story may now be that there WASN'T an eardrum injury after all, but in a week or so, everyone may be saying that there WAS an eardrum injury.

But a busted eardrum is not an all-encompassing crutch, either. Wilder's eardrum wouldn't have burst on its own. The injury would've come at the hands of a Tyson Fury who was banging right hands off Wilder's head, nearly at will. An excuse to put together a second rematch shouldn't be confused with an excuse to diminish Fury's accomplishment.

So, now what?

Depending on the extent of Wilder's injury, a fight or two before revisiting the rivalry makes sense. It remains to be seen whether Fury's team-- especially ESPN, which has invested $100 million into building him as a draw in the US-- would be willing to make a UK mega-fight for all the belts against Anthony Joshua before dealing with Wilder one more time. Joshua's promoter Eddie Hearn has said that it would be easy to make a Joshua-Fury fight, but there are plenty of details to hammer out, mostly revolving around whether ESPN would be willing to sign-off on a pay-per-view that would probably have to air in the late afternoon in America.

For now, though, let's just savor the moment and let everything sink in.

We have a new heavyweight champ. No controversy. No matchmaking sleight of hand. Fury's TKO7 over Wilder was about as pure as it gets in boxing. The best man won in Saturday's battle of best fighting best. That's boxing.