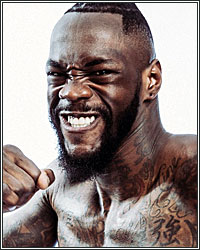 So, Deontay Wilder made his first official comments since being shellacked by Tyson Fury last Saturday in Las Vegas and, well, maybe he shouldn't have.

"He didn't hurt me at all, but the simple fact is ... that my uniform was way too heavy for me," Wilder told Yahoo Sports. "I didn't have no legs from the beginning of the fight. In the third round, my legs were just shot all the way through. But I'm a warrior and people know that I'm a warrior. It could easily be told that I didn't have legs or anything. A lot of people were telling me, 'It looked like something was wrong with you.' Something was, but when you're in the ring, you have to bluff a lot of things. I tried my best to do so. I knew I didn't have the legs because of my uniform.

"I was only able to put it on [for the first time] the night before, but I didn't think it was going to be that heavy. It weighed 40, 40-some pounds with the helmet and all the batteries. I wanted my tribute to be great for Black History Month. I wanted it to be good and I guess I put that before anything."

Ummm...Yeah.

This bit of nonsense was probably just as pleasing to the serial Wilder antagonists as the beating he took You could see the "haters" rejoicing on social media as these words first hit the mean streets of the online Universo Puglistico.

Apparently, these people-- some who even consider themselves "boxing historians"-- forget that making stupid excuses for monstrous losses is almost as common in boxing as low blows and empty media buffets in the wake of Dan Rafael assaults.

Mike Tyson blamed his loss to "Buster" Douglas in Tokyo on lack of conditioning due to "fucking those Japanese girls like it was eating grapes." Vinny Pazienza blamed his one-sided loss to Roy Jones on a caffeine crash. Kermit Cintron claimed to be distracted by the smell of mousse and wax from Sergio Martinez's hair. Herol Graham blamed a loss on being an "unwitting part of a love triangle." And, of course, there's Roberto Duran's infamous "no mas" quit against Sugar Ray Leonard, which he blamed on stomach cramps after gorging himself, post weigh-in, on steak and beans.

We could go on and on with spoken nonsense from fighters grasping for excuses following a high-profile loss. The truth is that those who work their way to the very top of the fight game tend to have massive egos. Realistically, one NEEDS a massive ego to achieve big things in just about any profession. And those with big egos tend not to be very accepting of defeat.

It really shouldn't be much of a surprise, then, when a fighter comes up with some stupid excuse for dropping a fight. The excuse-making usually takes the form of a trainer being fired, judges being blamed, referees being second-guessed, and opponents being accused of cheating.

The now-former WBC heavyweight champ just happened to touch on all but one of these as well as the silly one about the super heavy Black History Month armor. In that one brief Yahoo interview, Wilder hinted that assistant trainer Mark Breland might be removed from his team for throwing in the towel, he accused Tyson Fury of dirty tactics, and pointed the finger at referee Kenny Bayless for not keeping Fury's fouling in check.

For those saying that these kinds of accusations and excuses are unbecoming of a champion, one could argue that they're actually pretty damn common. Whether the excuse is some mysterious injury/illness or rotten officiating/judging, defeated main stage fighters almost always have some sort of "I'm not gonna make excuses...but here's my excuse" post-loss explanation.

But Wilder's Black History Month armor excuse is an absolute image-breaker. It is the "Crying Jordan Meme" of boxing excuses and it could work to turn a very formidable, fearsome beast into more than a bit of a laughingstock. Wilder and/or his people seriously need to walk that excuse back.