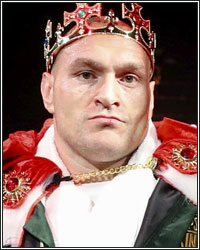 Each and every Thursday, I spray boxing's bad guys with gooey, salty truth unleashed from the depths of my bulbous, bulging mail sack-- and this Thursday is no different. This week, I shoot my load of wisdom on all things Tyson Fury-Deontay Wilder 2.

Fury is Just Great

I thought Deontay Wilder was going to do it, I thought his power was going to conquer the night, and I thought a fight with Joshua was going to happen this year. I was wrong on all accounts. It took a comedian (Ryan Davis) to point out the fact in their first fight, Fury was not too far removed from a 3-year layoff battling a mental health disorder and he still won that fight in many people's eyes.

It kills me to hear people call Wilder a one trick pony, or as Teddy Atlas continues to say "Wilder doesn't know how to fight." You can't defend the most prestigious belt in boxing 10x and not know how to fight. Wilder has a very decent jab which he displayed in his fight with Stiverne. He has a nice uppercut which he showed in his first fight with Ortiz. And he has the deadliest straight right hand in boxing history. Any fighter that gave Wilder remote troubles, Wilder fought them twice including Fury. He's a great champion that should get more respect than he has been given. Wilders problem this weekend, is circumstantial…..he ran into an All-Time Great heavyweight in Tyson Fury.

I don't subscribe too much to fighters complaining about injuries after the fight but Wilders legs did not look like they were under him. And he never recovered from the ear drum shot (side note: it was Wilders fault for giving Tyson that angle). Aside from those factors Fury made Wilder look like he never boxed a day in his life and we must give that credit to Fury. At 34 years old there's not much Wilder can learn from this experience. He can fight Fury another 10X and he would lose every time. So what is the point in continuing his career? When Fury takes Joshua's belts, what would be the point in Wilder pursuing his boxing career?

I've been a fan of Wilder for some years now. I defended him and his style. He's an incredible athlete, a great champion, and arguably can make the hall of fame. It's not his fault, Fury is an all-time great.

-- James E. Le Blanc IV

Hey James.

Yeah, definitely...All Hail Tyson Fury. The guy came back from the depths of human misery and self-destruction to not only right himself as a man, but also to finally become fully actualized as a fighter. You can't heap enough praise on the guy. I'd hold off on the all-time great stuff, but if he continues with this mix of balls, brains, and brawn, he'll be headed there and will be damn near invincible in the present tense.

As for Wilder, he also deserves much respect. The man didn't even start fighting until he was 20 and, in 14 years, managed to win an Olympic bronze medal, a professional world title, and notch ten successful defenses of that title. That is no small feat.

In a sense, Wilder IS a one-trick pony, but so what? He has gotten better, skill-wise, over the years, but he's always going to be that guy who depends on an explosive punch and a heaping dose of self-belief over any sort of stylistic nuance. Every athlete has a specialty and a particular strength. Wilder's strength as a fighter was overwhelming-- until he ran into someone who could shut him down. It happens. That's sports. It's not like we all didn't know what his liabilities were long before the Fury rematch. If he's going to do better against Fury, though, he's going to have to add some dimensions to his game because, as you said, Fury is just that good-- especially now that he seems to have put it all together.

Wilder, The Bum?

Magno.

Deontay Wilder is a no-talent bum and was exposed. Plain and simple. He fought a bunch of bigger bums to get where he got and then two fights with old man Luis Ortiz that he got lucky to win. Now Tyson Fury has put this fraud's career to an end and if you love boxing, you should be celebrating like I was.

-- McGrady

Hey McGrady

I have no problem injecting some red-hot reality into boxing's macho fairytales and calling a spade a spade, but the word "bum" is not at all appropriate for Wilder. As I mentioned above, the man didn't even put on a glove until he was 20 and, whether you think he got a shortcut to the top or not, he DID have that main stage spot for five years and ten defenses, twice beating a universally acknowledged top 4 or 5 heavyweight in Luis Ortiz, as well as fighting Fury to a draw in their first fight. That's not a "bum" in the boxing sense. He stepped into the ring with Fury as a top two or three heavyweight, at worst. Again, not a bum.

Fury vs. Joshua?

Hi Paul.

Now that Fury has beaten Wilder and will probably beat him again in their contractually-obligated rematch, let's talk Fury vs. Anthony Joshua. Who do you pick and why?

-- Simon

Hey Simon.

If the Fury who shows up against Joshua is even half the fighter who showed up against Wilder, Joshua is doomed. Say what you will about the awesome physical tools of "AJ," but the man has shown himself to be a frontrunner in the ring-- someone who is great when in charge, but not capable of coming back from behind when things get really tough. I think, unless there's some sort of mental collapse from The Gypsy King, he mops the floor with Joshua. TKO 7 or 8.

Got a question (or hate mail) for Magno's Bulging Mail Sack? The best of the best gets included in the weekly mailbag segment right here at FightHype. Send your stuff here: paulmagno@theboxingtribune.com.