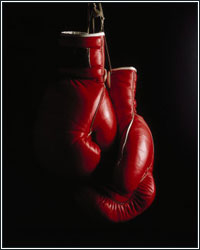 Welcome to Magno's Bulging Mail Sack in Quarantine, week 3. At this point, social distancing has really hampered my ability to shoot steaming hot ropes of justice and wisdom on any boxing bad guys. However, there's still a load of gooey, salty wisdom within just waiting for this lockdown stuff to be over. In the meantime, I have some future talk and a boxer word association game for you.

Bad Times

Magno. I'm not so optimistic about boxing being able to rebound from all this down time. DAZN is already cracking, not paying rights fees and laying off employees. PBC has boarded up completely for at least the next two or three months. ESPN and ESPN+ have to be hurting too. I don't know, my man, I don't think some of the major players are going to be able to continue once the green light is finally given. Who knows what the new boxing landscape will look like?

-- Chance (not the rapper)

Hey Chance.

I wouldn't worry too much about ESPN or the billionaire-backed DAZN. They're taking it square on the chin, but they'll be fine eventually. Us media folk will be fine, too, since we're used to not making shit and living on near-zero income. We're like the cockroaches of the sporting world. The ones who will really suffer, though, are the active participant small-timers—the small-time and mid-level promoters, the fighters who don't have a 7-figure (or even 5 or 6-figure) nest egg to fall back on. This shutdown may run a lot of these people out of business for good and, unfortunately, I don't see any of the millionaires at the top of the boxing food chain helping keep these infrastructure people alive. I just hope that June-July can be a realistic re-opening goal so we can see what's what.

Boxer Word Association

Hey Paul, long time no email. It's great to see you continuing to blast loads of truth into the faces of the ignorant boxing masses and corrupt boxing media. The enjoyment I get out of watching you do this only adds to my own personal confusion and makes me want to reassess my life.

Anyway, let's play a game. I list boxers from the past and present. You give me your immediate response to them, in 5 words or less. No deep thinking allowed!

Here we go:

Marvelous Marvin Hagler

George Foreman

Terence Crawford

Vasyl Lomachenko

Oscar de la Hoya

Felix Trinidad

Manny Pacquiao

Sugar Ray Leonard

Floyd Mayweather

Julio Cesar Chavez Sr.

Miguel Cotto

Mike Tyson

Lennox Lewis

Roy Jones Jr.

If this list is too long, free to knock any of them off.

Thanks for being the best boxing writer out there.

-- Jeremiah Davis

Hey Jeremiah.

Thanks for the kind words…and thanks for the content idea. Man, subject matter is getting scarce out there. Okay…let's have at this:

Marvelous Marvin Hagler : Smart, disciplined aggression

George Foreman: Power…Humility

Terence Crawford: Precision…Excellence of Execution

Vasyl Lomachenko: Fine-tuned gifted

Oscar de la Hoya: Underrated…Overrated…Fishnets

Felix Trinidad: Rocket fists

Manny Pacquiao: Buzzsaw…Extreme Southpaw

Sugar Ray Leonard: Close to perfection

Floyd Mayweather: Master ring technician

Julio Cesar Chavez Sr.: Tenacious, proud, single-minded

Miguel Cotto: True fight fan entertainment

Mike Tyson: Explosive…Bully

Lennox Lewis: Underappreciated

Roy Jones Jr.: Superhuman prime, sad post-prime

When We Come Back

Hey Paulie. I'll be so happy to see boxing come back that I'm gonna let them put up nothing but tune-up mismatches the rest of the year and I ain't gonna say nothing about it. Fuck, this sucks.

-- Damon

Hey Damon. I hear you. Hell, I'll be so happy I might even be nice to Dan Rafael and that lady with the ponytail at Ring Magazine. Maybe…but probably not.

Got a question (or hate mail) for Magno's Bulging Mail Sack? The best of the best gets included in the weekly mailbag segment right here at FightHype. Send your stuff here: paulmagno@theboxingtribune.com.