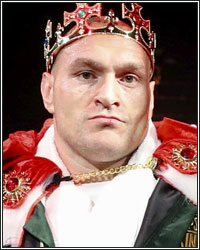 Sack in Quarantine, Week 10. If the "new normal" consists of me, on lockdown, shooting my loads of gooey, salty truth out the bedroom window and into the four winds, then so be it. I trust that my money shots will find their way into the appropriate ear holes and eye sockets. This week, we have questions/comments regarding the "unbeatable" Tyson Fury, the junior middleweights, more...

The "Super" Junior Middleweights

Hey Magno

I think the junior middleweight division is the most underrated in boxing. I'm fascinated at the possibilities at 154, with Jermell Charlo, Jarrett Hurd, Erislandy Lara, and newcomers like Jeison Rosario pushing their way on to the scene. Once we kick Covid's ass, who do you see emerging as the top dog in the division?

-- Damon

Hey Damon.

I agree that 154 is one of the more underappreciated divisions. This is one weight class where, for the most part, things have been done right and the best are pretty much fighting the best on a consistent basis. Because of this, there's a lot of parity and no clear dominant presence. On any given night, any of these guys can beat any other of these guys. Some are riding higher than others at the moment, but everybody in the top 20 or 25 represents a competitive challenge to those currently at the very top.

For me, Jermell Charlo probably has the best all-around chance to put everything together and dominate. But, honestly, you could probably also say that about Erislandy Lara, Jarrett Hurd, Tony Harrison, as well as guys like Jeison Rosario and Erickson Lubin. Julian Williams can't be counted out just yet, either. Outside of the PBC world, Jaime Munguia is a presence (if he decides to come back to 154) and Kell Brook can't be disregarded. There are other solid players at (or near) the top of the division as well. Like I said, there's a lot of parity right now and that makes for tremendous intrigue.

Having said that, though, I don't see anyone coming in to truly dominate the division until, maybe, Errol Spence moves up. And, even then, can Spence handle some of these top tier guys at 154? I don't know.

But all of this just makes things more interesting. It's a shame that more people aren't getting on board because this is what a lot of fans and media always clamor for-- parity and the best fighting the best.

The Unstoppable Tyson Fury

Hey Paul. Longtime fan, first time sack(er).

I admit that I'm somewhat of a Tyson Fury fan boy, but I got to say that I don't see anyone right in the here and now beating the man. His boxing skill is tremendous, so he can box circles around anyone and as we saw with the Deontay Wilder slaughter, he can do some real damage as well. Am I just being a fanboy or is the Gypsy King as unbeatable as I imagine him being at the moment?

-- John Dean Frampton

Hey John.

I don't see Deontay Wilder coming back to beat Fury. I have to favor Fury over Anthony Joshua as well. I just think Fury is a much more mature, well-rounded, stylistically confident, and versatile fighter than Joshua. I think he has that same edge, right now, over all the other top heavyweights.

The thing with Fury, though, is that he tends to fight down to the level of his opposition. So, I think he'll account well for himself against the guys he sees as dangerous, but will always be vulnerable to the guys he feels are lesser challenges. I see the end of his reign coming against some underdog he never saw coming. Who that underdog will be, however, and when the fall may happen, well, that's not a question I can answer right now.

A Top 10 to a Hater

Hey Fraud Magno

Everyone knows you're a joke of a boxing writer. You have zero knowledge and just exist to stir shit and get cheap clicks. Keep taking that dirty paycheck, you fraud. But here's a test for you that I bet you can't pass without cutting and pasting someone else's work. Give me your all-time top 10 pound-for-pound and explain your work so we all know you aren't just stealing from others. I bet you won't take this challenge because we all know you can't. Fraud. Fake.

-- John

Hey John.

How about this for a top 10:

1. Your Mother

2-5. Your mother's wonky eye

6-9. Your mother's crooked leg

10. Your mother's crusty, skanky bed sheets

I guess I shouldn't have even bothered with a response, but my sack is relatively thin these days and, well, sometimes it's fun to go after a dipshit loser.

Got a question (or hate mail) for Magno's Bulging Mail Sack? The best of the best gets included in the weekly mailbag segment right here at FightHype. Send your stuff here: paulmagno@theboxingtribune.com.