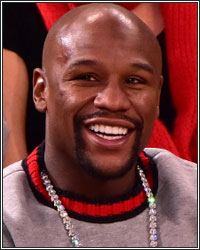 Sack in Quarantine, Week 11. Boxing's coming back, folks. By most accounts, we'll have our first real action in June and, if all goes well, there's no reason to believe we won't be in full swing by the fall. Let it be known, though, that I never stopped shooting ropes of gooey, salty truth from the depths of my beleaguered sack. Like Washington leading the troops across the Delaware, I led fight fans...Aww, never mind. Here are this week's questions/comments:

Best Divisions/What to Expect

Hi Paul,

Hope pandemics have been easy with you, now I will proceed with my questions.

Seeing how deep both super middle weight (Smith, Canelo, Jacobs, BJS, Andrade, maybe Charlo) and lightweight (Loma, Lopez, Tank, RyanG, Haney and Linares), which division are you most interested in and why? What are the chances that meaningful fights are landed on each of these divisions?

Keep the good work, greetings from Mexico

-- Miguel

Hey Miguel. I don't know if you know this, but I'm also down here in Mexico.

I like the junior middleweights because there's so much parity at the top. The welterweights still intrigue me because of the small handful of big fights still to be made. Super middleweight is good as well. But for me, right now, lightweight is the most intriguing. There's a lot of young talent there and, of course, Lomachenko at the very top. They have the young guns like Davis, Haney, Lopez, and Garcia. They have the veterans like Linares, Gamboa, and Burns. Then, there are the second-tier players (who are by no means second-class), like Luke Campbell, Javier Fortuna, Lee Selby, and Richard Commey). 135 is deep and interesting.

As for the chances of meaningful fights? I'd like to believe that this downtime will serve to wake up the boxing bossmen and make them realize the importance of putting on better, bigger fights. Realistically, though, we're probably going to get nothing but filler for the first six months of the comeback before settling back into business as usual.

With the lightweights, specifically, I don't see many of the big fights happening. I don't see anyone risking the futures of their 20-something stars-in-the-making in anything resembling a 50-50 fight, at least not until fans start actually demanding these types of fights.

Boxers' Pay Revisited

Hope all is well

I am a big fan of Terence Crawford and consider him the #1 p4p right now. He said something in a recent interview that I found unsettling. He stated that since there will be no significant amount of fans attending boxing matches for the foreseeable future that he would have to be paid more up front to make up for his inability to get a cut of the live gate. Since he is a must see fighter IMO I don't think he's being greedy but maybe unrealistic. What's your take on the "new normal" pay rate for top fighters.?

Best regards

-- John

Hey John.

I tackled this issue in Monday's Notes from the Boxing Underground column. Hell, I think your email may have actually inspired it, to be honest.

I think there's no way around the fact that pay structures have to be reassessed. You can't spend more on purses than you can generate in revenue and expect to keep rolling along. As I wrote in Monday's article:

" ...the sport has been floating atop a bubble for years as new companies came into the game, willing to operate in the red while getting their feet in the door.

Premier Boxing Champions first came along and was lambasted for jacking up pay expectations, then streaming service DAZN showed up to hyper-inflate purses to an even greater extent. But, to be fair, this too-much-pay- for-too-little-return dynamic was in place before PBC and DAZN (and ESPN). It was wedged into boxing common practice by premium cable companies HBO and Showtime who could also operate at a loss because the sport was just a showcase piece of their wider programming.

But this bubble can't last forever and, when it bursts, the boxing business will be in serious trouble..."

In order to secure both the quality of the product as well as the long-term success of the business, the sport needs to guarantee less to fighters and make more of their pay contingent upon the quality and salability of their match-ups.

Maybe the Covid down time will kick-start this into being. Guys like Bob Arum and Eddie Hearn are no longer afraid to raise the issue in public, so that means we're a little closer to action. We'll see what happens down the road. For me, however, I think restructuring payouts would help the business and help bring in more fans with better quality bouts.

Mayweather's Career vs. Pacquiao's Career

Mags...

The topic recently came up in the boxing media, so I thought I'd turn the question over to you. Whose career would YOU rather have-- Manny Pacquiao's or Floyd Mayweather's?

-- "Dutch" Jack Jackson

Hey "Dutch."

Call me superficial, but, as a non-competitor, I'm picking the money. Both fighters accomplished a lot and made a lot of money, but Mayweather's extra couple hundred million, for me, tip the scale in his favor-- not to mention the fact that Mayweather suffered significantly less physical punishment over the years. And I don't want to hear any nonsense about how you'd take your biased assessment of Pacquiao's "more honorable" career and legacy over a couple hundred million cold, clean bucks.

Got a question (or hate mail) for Magno's Bulging Mail Sack? The best of the best gets included in the weekly mailbag segment right here at FightHype. Send your stuff here: paulmagno@theboxingtribune.com.