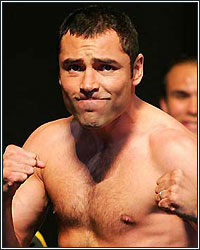 Hey! The Golden Boy is coming back! Or not. Or maybe. Or maybe Oscar De La Hoya just wants to make some headlines that don't involve him delivering mean girl cat slaps via social media to his own fighters.

Whatever the case, Oscar recently talked about the likelihood of returning to the ring in a Ring Magazine video interview-- all cutesy on a couch, socially distanced to hell-- with Cynthia Conte. When he laid out the big "maybe" about a ring return, the exuberant Conte ran with it like an extortionist running to the tabloids with a salacious Oscar De La Hoya sex video.

Do we take the "maybe" that he later built into an "I can do it, here's my plan" seriously...or do we blow it off as the fluffy distraction it probably is? I choose the former...because it's a slow news day.

So, given Oscar, his 47-year-old state of being, and the tinkle of info he gave in that particular Ring interview, here are 5 practical, signable, realistic opponents for a big, glorious, Golden comeback (But here's a head's up-- don't expect much):

Omar Figueroa Jr.

One of the things Oscar clearly stated in his interview is that he'd probably be looking at a welterweight opponent moving up to 154 or 160. I originally thought about mentioning Victor Ortiz as a possible foe. But even as much of a head case as he's become, with all of the outside-the-ring nastiness weighing on him, Ortiz would probably still beat the fishnets off of Oscar. So, let's go with Figueroa, who's smaller, weaker, and overall less talented than Ortiz. Even a 47-year-old De La Hoya could defeat the "Panterita."

John Molina Jr.

Another pick from the welterweight (but really lightweight) bargain bin. Molina would put up a fight, but eventually be served up for a novelty squash and 30 seconds on a De La Hoya comeback highlight reel.

Ricardo Mayorga

I'm sure "El Matador" could use a payday right now and I'm also sure he could drag up enough trash talk to sell a rematch of his 2006 beheading at Oscar's hands. De La Hoya-Mayorga 2 would be sloppier than the first and just as much of a mismatch, but did anyone think that this Golden Boy comeback WOULDN'T be bathe in cynicism?

Conor McGregor or Dana White

Here we go from the cynical to the ridiculously cynical. An old Oscar vs. a younger, sloppy-boxing McGregor or a beatdown of a bloated, pompous fellow promoter. Honestly, I'd pay to see either. Well, no...I refuse to pay for ANY fights. But, IN THEORY, I approve of Oscar versus either.

Mario Lopez

Maybe Oscar can pair off against his plastic-skinned Saved by the Bell "bro" and participate in some fun-glove back and forth...and then we can all vomit in a bucket.

Hopefully, however, Oscar doesn't come back at all. Maybe he can put some of that energy he has for self-promotion into promoting his young , 20-something fighters to bigger and better things. Or, at the very least, use that energy to stop himself from battering them on social media.