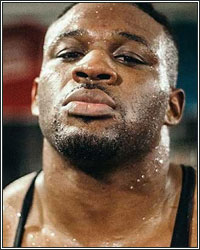 By now, most everyone probably knows that heavyweight contender, Jarrell "Big Baby" Miller, once again tested positive for a banned substance and, as a result, lost out on another payday. This time, however, the dirty test may signal the end of his career.

Last June, Miller was set to face Anthony Joshua for the WBA/WBO/IBF world titles in what was being planned as Joshua's triumphant invasion of America. However, in the lead up to the bout, Miller tested positive for three banned substances in the span of three separate days-- GW501516, EPO, and HGH.

The dirty tests resulted in him losing a $5 million purse and the chance to score a victory over a Joshua who, in hindsight, appeared to be lacking in focus and preparation for his New York challenge. Andy Ruiz would fill in for Miller and, famously, score the biggest heavyweight upset since James "Buster" Douglas stopped Mike Tyson in 1990.

It took a full year for Miller to get back into anyone's good graces. He got a second chance from heavyweight-hungry Top Rank and was scheduled to face Jerry Forrest on July 9 in a comeback bout on ESPN.

But, now, that's all in the trash. Miller reportedly tested positive for GW501516, one of the same substances in his system last June.

By all accounts, "Big Baby" is toast.

The undefeated Brooklyn native was likely saved from a permanent ban last year by, technically, being an unlicensed fighter when he failed his blood tests. The New York State Athletic Commission refused to license him, but had no jurisdiction to actually punish him.

This time, though, the failed test came under the supervision of the Nevada State Athletic Commission. It's very likely that a four-time drug cheat-- who got popped four times in a year-- could be served up as an example.

Promoter Eddie Hearn, who lost a lot by confiding in Miller's professionalism last June in the Anthony fight debacle, is declaring Miller's career all but dead.

"His career's over," Hearn told Behind the Gloves, "You may find a commission that in time will let him fight, but I don't think any credible promoter will ever let him fight again."

Last year, Miller took his case to the public, playing for sympathy and painting himself as the victim. He blamed the dirty tests on those around him and the "supplements" given to him to deal with injuries.

"I was heartbroken when I first got that information," Miller told Boxingscene in April. "I called VADA, I called the doctors and said: listen, this is what's going on. They could tell you, I was open throughout camp, what I was doing, all of my supplements and even they were kind of shocked because I was so vocal on doing the right thing. But that's how the cookie crumbles sometimes. It was a learning experience and it taught me a lot about myself, the people that I have around me."

Apparently, it wasn't too much of a learning experience because here we are once again, reporting on pretty much the same story one year later.

So, what do you do with a four-time loser?

The boxing world is going to bury Miller and his career. He's not big enough to escape this or valuable enough to have important people working to find him loopholes to exploit.

This is not to say that he won't find a payday here and there. Boxing is cruddy like that. Wyoming, for example, at one point had an HIV-positive Tommy Morrison as its heavyweight state champ.

But Miller's main stage career is over and done with at 32 years of age. He'll never have that career-defining bout or life-changing payday. And it's all his own fault.