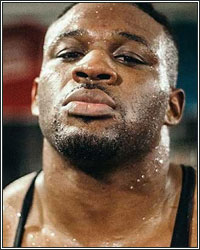 Welcome to another Thursday edition of Magno's Bulging Mail Sack-- the only boxing mail bag column that shoots hefty loads of wisdom into the hair and ear holes of boxing ignorance. This week, we have questions/comments regarding Jarrell Miller's predicament, more on boxing's "new normal," and the anti-American element in American boxing.

More on the "New Normal"

Hey Magno.

This new normal in boxing sucks. Those Top Rank shows on ESPN are sterile, boring snoozefests. Without an audience, these shows seem almost meaningless, like they're just exhibitions and not real professional prizefights. If this is the new normal and we're going to have to experience boxing like this, boxing would be better off canceling everything until the fighters can fight for real.

-- Antonio

Hey Antonio.

I see where you're coming from. I understand it. I really do. And if you know me, you know that I'm usually a pretty tough critic. But I've been liking these Top Rank/ESPN shows. Maybe some of it is because I'm just so happy to have some live sports to watch. But, for the most part, I've liked the matchmaking and even the squashes have usually been interesting. I also don't think that the lack of a crowd has hurt the shows one bit. To be brutally honest, the crowd for most boxing shows these days is usually pretty dead, anyway.

I know that this can't go on forever, though. The big fights and fighters will demand so much money that these little studio shows would represent massive financial losses and I just don't see any of the stars lowering their per-fight asking price just to accommodate fan demand during the pandemic.

I see pay-per-view being pushed as the direct response to this no-audience reality. If there's a reasonable price tag attached and good quality delivered for the money, I could support the idea. But do I trust the boxing powerbrokers to not overcharge and under-deliver? Hell no. They'll botch it, just like they do everything else and for the same reason-- because they're greedy and shortsighted.

In the meantime, I'm good with these small ESPN shows and I'm looking forward to the other boxing companies following suit this summer.

Baby Love?

Hi Paul,

Now that Jarrell "Big Baby" Miller got popped again for PEDs, is he finally done? What a pathetic waste of human flesh. A coward. He had a chance to make some real money for himself and his family and to make history, but he had to try and take shortcuts. I hope he never fights again and has to live with his failure the rest of his life. Zero tolerance for cheats in a sport where someone could be murdered by a cheater.

-- Clyde

Hey Clyde.

It's just sad for everyone-- Miller, his people, the sport, the fans. Miller claims innocence (again) and claims that his team is somehow to blame (again). I don't buy it, but I guess he deserves to have his say and at least try to prove his innocence. But, yeah, this sure looks like a case of extreme self-destruction. You just have to shake your head when someone can't push through his own inner weaknesses and scoop up the millions being dumped at his feet.

Anti-America Double Standard

How's the quarantine holding up? Excellent piece on Muhammad Ali....

I'd like to mention the bias comparisons to Muhammad Ali. Two years ago Lomachenko was the best showman since Ali and was more skilled than Ali. Earlier this year Tyson Fury was better than Ali, Bob Arum even stated that Ali would struggle with Fury. Funny how foreign fighters are just as good or better than Ali, but American fighters can't come close to Ali. The same occurs with Mexican fighters as well. GGG was the Mexican style fighter compared to Julio Cesar Chavez, but somehow Canelo was never compared to JCC.

It seems like the Boxing media in America refuse to give credit when credit is due, and are poised to build a star out of a European fighter. Do you think that negative portrayals of American and Mexican fighters are partially to blame for the demise of boxing?

-- Nail Rahman

Hey Nail.

Good stuff. I definitely think that the unwillingness to embrace American fighters (and select Mexican fighters) has hurt the sport at the domestic level.

I remember the old excuse that American fighters (back in the days of Mayweather, B-Hop, Chad Dawson, Devon Alexander, etc.) were "boring" and that nobody wanted to see them fight because they didn't opt to engage in battle. However, when Billy Joe Saunders and Tyson Fury "boxed" rather than battled, these same people fell all over themselves in praising their ring IQ and "sweet science."

In the present tense, there are many American fighters who go to war and deliver real impact in the ring, yet they still don't get pushed the way Euro-imports do. So, it clearly isn't style that has turned the media away from championing the cause of America's own.

What is it then?

I can make some educated guesses.

I think race IS a factor. Current boxing culture is another factor. Combine the both, and these people just prefer to deal with a white complexion who never talks business and is pushed as someone who only exists to kick ass and win titles. That feeds into the macho fairytale media and some fans embrace so desperately when it comes to this sport.

But this mindset has definitely hurt the business. You can't dismiss, belittle, and ignore your own domestic talent and expect the domestic scene to flourish. The European contingent will go back home and count their cash after awhile and we'll be stuck with a diminished product that we diminished ourselves.

Got a question (or hate mail) for Magno's Bulging Mail Sack? The best of the best gets included in the weekly mailbag segment right here at FightHype. Send your stuff here: paulmagno@theboxingtribune.com.