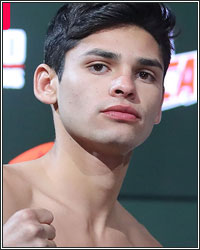 It's the Thursday after the 4th of July and the red, white, and blue body paint still won't come off my bulging, bulbous sack. But, whatever, I'm still gonna shoot my load of righteousness all over boxing ignorance. This week, we have comments/questions regarding my USA fighter rankings, Ryan Garcia, and barroom brawls.

Treason in USA Rankings

Mags,

Do I have to put you back in line again? WTF? You don't have Jermall in the top 10 [of Magno's annual Top 10 American Boxers rankings]? It's not his fault that all the competition ran from him. Yes, I'm talking about Canyellow and that 155 pound bullshit. GGG and that I'll fight Floyd at 154, but I won't think about anybody else at 154. Let's talk about Benavidez who is beating the brakes off of everybody he faces, and should be ranked higher. Canyellow don't want that at 168. Tank at #3? Can I get some of that you smokin? How you gonna put head-butting Shawn Porter in the top 10? What about Ugas? He's the most dangerous welterweight in the game right now, and he beat Porter, even though the judges robbed him. You might as well give Fishnets his ranking back with all that bullshit he's talking about coming back with. Am I gonna have to do you like Monday Night Football? I think so. Mags, C'mon Man!!!

-- William Newton

Hey William.

Man…That's a long list of disgruntleness (Yeah, I just made up a word), so let me go point by point.

Jermall Charlo didn't get a spot on the USA top 10 because all he did since last year's list was beat an extremely overmatched Dennis Hogan. I can't control any of the business stuff going on behind the scenes that may or may not have affected his matchmaking, I can only rank according to what actually goes on in the ring. I'd be a hypocrite to do otherwise since I've held guys like Golovkin and Canelo similarly responsible for their black and white ring resumes and not any outside-the-ring things that may affect their level of opposition. Charlo underwhelmed. Period. Underwhelmed more the 10 guys before him, anyway.

I'll concede that David Benavidez may deserve a higher spot on the rankings. But beating J'Leon Love will only get you so far and, while the Anthony Dirrell win was impressive, it wasn't earth-shattering impressive. I like Benavidez, but, all in all, I think other American fighters just did a bit more this past year.

I think Tank Davis probably deserved a ranking last year and that, this year, his ranking benefited a lot from other American fighters falling from grace. But if we're considering talent, ability, and body of work, you can't deny him a spot in the top 5. The kid is superstar material.

As for Porter. Well, the guy lost a close, close battle to the no. 1 guy on my list, Spence, and gave him his toughest physical battle. That should count for something. He's also got quite the body of work with wins over Danny Garcia and Ugas (who's Cuban, btw), among others, as well as razor-thin losses to Keith Thurman and Kell Brook that easily could've (and maybe should've) been wins. Porter has earned his spot among the elites.

As for Goldie Fishnets? He might deserve a Pornhub ranking, but that's about it.

Barroom Brawl

Hello Sr. Magno.

Here's one from way out in right field. You're in a bar room brawl. Which three boxers, past or present, do you want by your side and why?

-- Simon

Hey Simon.

No offense, but it must be a hell of a thin mail sack when I post a question like this. But, that's alright. We're all scraping for content at this point. Here's my answer, as someone who's actually been in a few cantina fights down here in Mexico:

Mike Tyson (because you want someone really quick and explosive to deliver instant, fight-ending destruction in a very chaotic atmosphere).

Roberto Duran (because, pound-for-pound, he may be the most mean-spirited bully to ever put on the gloves).

Randall "Tex" Cobb (because he was a big, iron-chinned fucker you could hide behind as you escape).

Hating on Kingry

Ryan Garcia hater here

Hola Paul, question for your mailbag.

I gotta say I got no love for Ryan's personality, he seems to believe he is an elite fighter when his resume is not the best (struggled against a guy Linares blew away in quick fashion and Jayson Velez), I am not sold on his progress under Reynoso (who I consider a creative coach).

What is your stance on him? Like I said I don't like his personality but I gotta admit his approach of quickness+power is good.

A little bit bothered by him feeling good when sending non-boxers to hospitals due to body shots. Anyways, enjoying your work as always.

Saludos de Ciudad Jrz

-- Miguel

Hola Miguel.

I said it a few years back, but Garcia's got all the makings of a fighter with superstar potential. It's not only his hand speed and power, but also his look, charisma, and the fact that he'll have plenty of possible high-quality opposition available to him as he grows. And I like him hooking up with Reynoso and Team Canelo.

The problem I see right now is one of ego. He may be reading his own clippings too much at the moment and buying into his own hype. Just based off what I'm seeing and reading, the bravado is going beyond the healthy cockiness a young, blue-chip prospect would be expected to have. Too much drinking one's own Kool-Aid will lead to disaster. He's got to keep his ego in check and stop hanging with the social media dipshits like Logan and Jake Paul. Money and true superstardom will come, but he's got to keep his focus. Otherwise, he becomes less Oscar De La Hoya 2.0 and more Adrien Broner 2.0.

Got a question (or hate mail) for Magno's Bulging Mail Sack? The best of the best gets included in the weekly mailbag segment right here at FightHype. Send your stuff here: paulmagno@theboxingtribune.com.