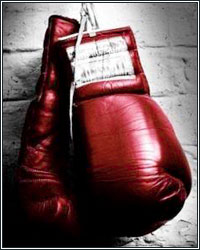 "In order to rise from its own ashes, a Phoenix first must burn."

-- Octavia Butler

Back in May, as we first started to feel the pains and pangs of a boxing-less Covid-19 world, I wrote a somewhat insensitive piece (as I was told at the time) about reveling in the total destruction of the sport as it is.

"Burn, Baby, Burn," I wrote. "As fans and media count the days to boxing's return and daydream about a resumption of business as usual, I'm here hoping that this pandemic stuff completely levels the sport's house of cards. I'm rooting for a collapse. A full collapse."

I continued:

"Why be so mean, so cruel, so inconsiderate of those making a living in the business or from the business?

Because, honestly, a total collapse is the only way we're ever going to get a full-- and much needed-- rebuild. And a rebuild would do everyone good, fatten everyone's wallet, rebuild a lost base while strengthening and fortifying the sport's future."

Well, we're almost halfway through July already and boxing's slow, tentative steps forward have been met with mass indifference. Twelve shows into their ESPN return, Top Rank has only managed Billy Mays-overnight-infomercial numbers, averaging just over 335,000 viewers per show. Other American boxing companies have yet to even try dipping their big toes into the pissy waters.

What better time for a rebuild?

And this is not a rhetorical question. There is no better time for rebuilding, restructuring a sport that has gone through a cycle of constant shitting of its own bed for the better part of fifty years.

Fans have tired of being told that the fights they want can't be made. They're tired of being sold inferior matchups as "premium" content. They're just tired of all the entanglements and politics and business obstacles created by a sport run by people pulling it apart from every direction.

This is a time for the figurative five families to have a sit-down and work out some sort of cooperative effort, a bartering of talent for dates. A gentleman's agreement to work together and build up the sport-- a rising tide lifting all boats-- rather than keep everything self-contained, small, and, ultimately, less than what it should be.

Unfortunately, gentlemen are hard to come by in boxing. Almost as hard as finding shrewd, proactive businessmen with an eye on the future.

Most fans won't be verbal, won't publicly revolt. They just walk away. And, in the present tense, they aren't bothering to come back from the forced break. The lack of urgency in seeing boxing's return is telling.

There are several possible reasons for these poor, poor showings in the current world where boxing has, almost literally, no live sports competition. The lack of high-end established stars on the cards is a contributing factor, of course. The promotion for these Top Rank cards has not been great, either. There's also the reality that people just may not be up for watching the sport during these crazy, depressing times.

But let's not pretend that the recent Top Rank/ESPN numbers are too far removed from the general downward trend already established before the pandemic shutdown.

January's Joe Smith Jr.-Jesse Hart card on ESPN drew an average viewership of 388,000 (which rose to just 515,000 for the pretty solid main event). Other recent pre-Covid Top Rank/ESPN cards had danced around the 600K-800K mark, with the biggest of their stars managing to barely break into the 1 million-1.5 million range (when they're not being spirited to the members-only private ESPN+ club).

PBC on Fox was doing better numbers before the shutdown, but hardly the earth-rattling viewership tallies that one hoped for from a live, primetime network TV sports event. Streaming service, DAZN, meanwhile, still keeps their numbers hidden in a lockbox, protected by Satan's black magic.

It's safe to say that boxing fandom (and the excitement coming from its fandom) has been on the steady decline for a good, long while. Just 20 years ago, an HBO main event with less than 3 million viewers was considered a heads-will-roll flop. These days, 3 million viewers would bring Bob Arum to his first orgasm since the Carter administration. Charting viewership numbers, we're, literally, talking about a 400% to 500% decline in ratings in less than one full generation of fandom-- even with the sport now on much more accessible platforms like ESPN, Fox, and internet subscription services.

In reality, the present tense malaise is an extension of an already-established downward trend.

With everything up in the air and everyone in the business hemorrhaging money, there has never been a better time for a rebuild. There has never been a better time where things COULD be restructured to everyone's benefit.

It's not likely to happen, but it damn sure should.