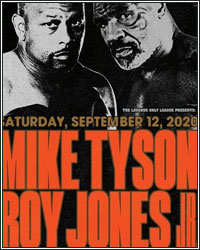 On another gloriously dystopian Thursday, the true believers, half-believers, and a handful of hopeless haters gather around my bulbous, bulging sack for another horse-load of wisdom shot into the hair of boxing ignorance. Enjoy. This week, we have comments/questions regarding Tyson-Jones and the rest of 2020.

50 Bucks for Tyson-Jones?

Hey Paul.

Word is they're going to charge $49.99 for the Mike Tyson-Roy Jones PPV. Do you think people will buy it at that price? What's your prediction on number of buys? I think it could do 500K if the promotion is good and 200K at the lowest.

-- Luis

Hey Luis.

I'm telling you, whoever put that $50 price tag on the Tyson-Jones pay-per-view either has balls the size of cantaloupes or a brain the size of a pea. Imagine trying to charge 50 bucks during a pandemic…during the worst economic crisis since the Great Depression…during a time of mass unemployment…during so much crazy, crazy uncertainty…for a goddamn exhibition fight? An exhibition fight, by the way, where there probably won't even be a winner and where, per CSAC guidelines, even the slightest hint of a cut will get the "bout" waved off.

It'll definitely be interesting to see how many people can and will throw their precious money at this nothingness—especially considering how infinitely "piratable" internet stream PPVs are. There's also the reality that the older target demo group won't be all that enthralled with a platform that'll require some tinkering to get on the big screen TV.

My lowball guess on buys is about 250K. I'd be shocked if it did 500K and absolutely gobsmacked if it did more. A million buys at 50 bucks a pop would make me doubt whether America has any damn common sense at all.

After Tyson-Jones

Hey Magno.

I gotta get your take on this Tyson vs. RJJ "fight." Pull that shiny crystal ball out of your bulging sack and tell me where all this leads Tyson, Jones, and the burgeoning legends circuit in boxing.

-- Damon

Hey Damon.

If the event is a financial success, expect more and more of these exhibitions. That's neither good nor bad-- unless it pulls money away from the actual fights and from boxing in general as it tries to get back on its feet after this Covid stuff.

My concern is that a less-than-awful showing in these "legends" exhibitions will result in some of these fighters being coaxed into bouts with actual, present tense elite opposition. Roy Jones against any top heavyweight, for example, would be ugly.

As long as they stay in their old-timer lane, Tyson's Legends Only League is just a harmless bit of fluff.

The Best to Come

Hi Paul.

Admittedly, there's not a lot that's been signed, sealed and delivered on the boxing schedule for the rest of 2020. But give us the skinny on what you think are the best fights booked for the year. Also, what fights do see being signed for the coming months as we deal with the Rona.

Thanks for being the voice of honesty in a sometimes sleazy business. I've been a fan ever since you called out the nefarious kingpin of our Texas boxing commission, Dickie Cole, as "the biggest dick in Texas."

-- Heriberto Santillon

Hey Heriberto.

Thanks for the kind words.

I really, really like the Charlo Brothers double-bill on September 26, with Jermall against Derevyanchenko and Jermell against Rosario. I've been buzzing inside my own head about Lomachenko vs. Teofimo Lopez since it was first being rumored. I'm not sure if it's 100% signed for October yet, but I hold firm that there's a decent possibility of something shocking happening. Eleider Alvarez vs. Joe Smith Jr. on August 22 is very solid. Erickson Lubin and Terrell Gausha on September 19 should be interesting. Errol Spence vs. Danny Garcia, if it happens as rumored, should be good too. Hopefully, more gets added to the schedule. I honestly don't even mind Fury-Wilder 3 happening before Fury-Joshua because I expect a lot more fireworks from the former than the latter. Crawford vs. a live body would be nice, too.

Got a question (or hate mail) for Magno's Bulging Mail Sack? The best of the best gets included in the weekly mailbag segment right here at FightHype. Send your stuff here: paulmagno@theboxingtribune.com.