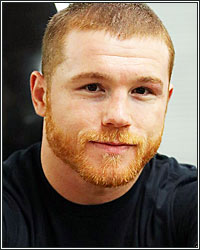 On Thursdays, fight fans gather around my bloated, bulbous sack, waiting for me to rub out another load of gooey, salty truth-- and this Thursday is no different. So, put on your splash guard and face visor and let's see what comes out from the depths of my sack. This week, my sack was bombarded with comments/questions regarding the whole Canelo/DAZN/GBP lawsuit thing. So, let's just dive in.

First, Canelo Sucks Anway

I don't see & won't ever see Canelo as a P4P. Or as the superstar he claims to be. To me he is just another fighter. People like yourself put him on a pedestal, but it isn't so. Canelo is just as corrupt as Oscar DLH. A Diva. GGG beat him twice. But remember Las Vegas must protect the golden cow. My opinion. I'm sure you disagree. But oh well.

-- Julieta Torres

Hey Julieta.

I'm not putting Canelo on any sort of pedestal. Just being real. I think the whole pound-for-pound ranking stuff is ridiculous, but if we're going to do it, then let's be honest about it. Of the consensus pound-for-pound candidates, Alvarez has, by far, faced the toughest level of opposition and is, really, the only one who has faced high-end foes with a legitimate chance of beating him. Take your own look.

As for being a superstar, well, that's a much less subjective claim. He draws more money and more attention than anyone else currently in the sport, like it or not.

It seems to me that a lot of people make up their mind about a guy early on and then just never budge, always finding a reason to justify their bias rather than acknowledging the reality that a fighter can be both worthy of praise and deserving of scorn. Canelo has done a lot to merit both praise and scorn.

My own coverage of the guy over the last 10-11 years has reflected this up-and-down career trajectory. At various points of his pro run I've referred to him as a "rising superstar," "red-headed step-champion," "pound-for-pound elite," and "jaded, self-important businessman."

I have no problem calling things as I see them, even when they disagree with popular opinion.

Defending Canelo...and a Side Order of Keith Thurman

Hi Paul

I guess there is no neutral view on what is happening with the Canelo drama, I know I am no neutral and I am always defending Canelo.

The way I see it is pretty much what you are seeing (or believe this based on what I have interpreted). DAZN preaches spectacles rather than the best fighting the best, there is a reason why ODLH announced his comeback and my inner conspiracy theory individual believes that he was inspired by DAZN and the current monetary dependency of Golden Boy from Canelo. It seems Canelo has wanted to fight the 2 biggest British threats (BJS and Smith) at super middleweight since the beginning, but he has been stopped...by DAZN. Anyway, this is just my point of view. I might be wrong.

Moving on, someone I just wanna slam, Keith Thurman. I saw the headliner of an article yesterday that reads his fight with Spence will happen during 2021, but I just don't care about reading what he has to say because his interviews express that he feels he is at the top of the ladder and that he is a cash cow. How much of a threat do you see him vs. the current welterweights? I thought his "One-Time" moniker applied when he was fighting low-level opposition, but One-Time switched to "Sometimes" (as pointed out by Shawn Porter) or "Run time."

Best regards, stay safe.

--Miguel Roa

Hey Miguel.

For me, it all boils down to this-- Canelo is living up to the terms of the contract that he signed. It's definitely not his fault that DAZN isn't happy with the deal they signed or that Golden Boy may have royally messed things as an intermediary. Saunders and Smith are acceptable opponents at this point and, by all accounts, Canelo was willing to take a paycut to fight them. DAZN only seems to want GGG and a handful of stupid exhibition-level fights (a comeback-minded Oscar De La Hoya and UFC stars Khabib Nurmagomedov and Jorge Masvidal) and were reportedly offering an obscenely reduced payout to Canelo for anyone else. That's where things broke down-- and rightfully so.

As for Thurman? I just don't pay attention to the talk anymore. I mean, literally, I just blow by all of it. Thurman is a talented fighter with all the tools necessary to be a long-running elite player. I just don't think he's ever been able to put it all together to be greater than the sum of his parts. At 31 and with the mileage he has on his body, I don't see him being anything more than what he is right now-- a good fighter, a good test, capable of beating anyone on any given day, but not an elite player over the long haul

DAZN: Staying or Going?

Hi, Paul. As always appreciating your work, keep it up. As a private practice lawyer in Puerto Rico for nearly 9 years, something I have learned is, the higher the stakes in any particular case, the higher the probabilities that a settlement is reached. Even though I don't know the details of the contract, based on what has been made public, I believe Canelo has the leverage. The only chance DAZN can have is the current pandemic crisis. There is usually a clause to cover these types of situations, but think of it, it's September and Canelo hasn't fought. If it's true that he was willing to fight just once in 2020 with a reasonable paycut facing Callum or Saunders, then he's showing good faith and taking the pandemic into consideration. Again, if what's been made public is accurate. At least with this turn of events, we will know if DAZN wants to stay in the mix or if they want out. If they let Canelo go, paying him a large sum, they want out. If they honor their contract , then they are serious about staying in the boxing business. Let's see. I won't subscribe until I see what evolves.

-- Benjamin

Hey Benjamin.

As I wrote in Monday's Notes from the Boxing Underground column, I think Canelo is angling to become a free agent. I wouldn't be surprised to see him break free from Golden Boy and then come back to the table with DAZN for a re-purposed, re-configured deal. I also wouldn't be surprised to see him go elsewhere. DAZN better hope that Canelo is leaning towards the former and not the latter.

Got a question (or hate mail) for Magno's Bulging Mail Sack? The best of the best gets included in the weekly mailbag segment right here at FightHype. Send your stuff here: paulmagno@theboxingtribune.com.