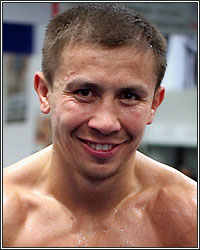 In the whole mess between Saul "Canelo" Alvarez, Golden Boy, and DAZN, there's some real good that's been had by all parties. Canelo got a shit-load of money. Golden Boy got some money and a broadcast outlet for their fighters after HBO Boxing went belly-up. DAZN got a hefty boost in subscribers with the addition of Canelo, whether they felt he was fighting "premium" opposition or not.

But what did anyone get in the DAZN-Gennadiy Golovkin deal? Who else came out winning, other than a nearly 37-year-old Golovkin, who somehow managed to get a 6-fight deal for himself, reportedly worth in excess of $100 million-- plus DAZN stock and an output deal for his fledgling promotional company?

That's an easy question to answer. Only Golovkin came out ahead. REALLY out ahead. Like, "Goddamn, did he come out ahead."

Admittedly, it doesn't seem to take much to outsmart the DAZN boxing brain trust. But this Golovkin deal looks increasingly awful as time passes and as we begin to realize just how truly flawed the premise was behind his signing.

The wannabe "Netflix of Sports" was banking on a big-ticket Canelo-GGG part 3 when they signed the Kazakh KO artist. But they were banking on that based, allegedly, on a promise from Golden Boy and/or Oscar De La Hoya that they could actually get Canelo to sign off on the fight. As things turned out, they COULDN'T force Canelo into a part 3.

And now all the streaming service got from all that GGG investment is the lesser half of a big-ticket fight who is not all that valuable on his own and, in reality,is actually much harder to wrangle into a big, competitive bout than Canelo.

Golovkin got a courtesy soft touch signing bonus fight against no-hoper Steve Rolls in June of last year. Then, because he needed a world title as leverage coming into a Canelo fight (that would never actually materialize), he was roped into a bout with Sergiy Derevyanchenko in October that took him to the physical brink and should've resulted in an "L." And now he's getting ready to fight Polish patsy Kamil Szeremeta-- a fighter whose greatest accomplishment to date has been decisioning a badly-faded, 11-years-past-prime Kassim Ouma in 2016.

Soon to be three fights into a six-fight deal, DAZN has nothing to show for their investment. And nothing on the horizon, either. As picky as Canelo is portrayed when it comes to matchmaking, Golovkin is even more so-- maybe by necessity.

Bouts with slick, tricky fighters like Demetrius Andrade and Billy Joe Saunders are not even under consideration because of an unfavorable styles matchup for Golovkin. A move up in weight is also not an option for him, because he refuses to consider it. There's constant tap dancing around picking anyone too threatening to Golovkin and his image, in part because Golovkin is Golovkin and he was brought up with this sense of easy-money, matchmaking entitlement and also in part because DAZN doesn't want to get him beat, just in case a Canelo fight does make itself available.

So, this is what that deal has come to. Waiting on Golovkin, who is 38-years-old and counting, to finalize the date for a fight against a stiff NOBODY wants to see as it becomes increasingly clear that this has been a nine-figures-down-the-drain investment.

2020 is totally sucking for DAZN, the billion-dollar-budgeted saviors of boxing.