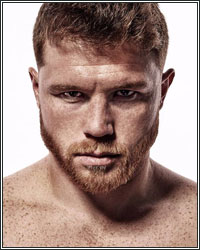 I'd be remiss as a boxing writer (wrangling for salacious, click-friendly content on a fairly slow news day), if I didn't toss out an update on boxing's latest and bestest legal soap opera (or telenovela, in deference to Canelo).

Rumor and buzz abound that Saul "Canelo" Alvarez is more pissed about Golden Boy's job as intermediary in his deal with DAZN than with DAZN, itself. Apparently-- and this is just going by Canelo's side of the story and by unnamed DAZN sources who've talked to media-- the Oscar De La Hoya outfit stood between both parties, at times offering contradictory statements and promises while not allowing the fighter and the streaming service to actually speak to one another directly. Allegedly. Allegedly. Allegedly. Alvarez even claimed in his lawsuit that he has yet to see the actual contract drawn up between Golden Boy and DAZN despite numerous requests to look it over.

If this is how it's being portrayed, the deal was actually drawn up in a way that had Golden Boy working directly with DAZN and then ostensibly delivering on DAZN's wishes, working within the boundaries of Alvarez's own contract with Golden Boy. In a worst case scenario for the promotional company, all of this would make them liable for failure to deliver the fights DAZN wanted and also responsible for making good on the $35 million per fight promised to Canelo.

All of this puts Golden Boy-- again, if all of this turns out to be true-- in deep shit.

As for DAZN, insiders there seem to be growing more and more confident that they may have a shot at meeting with Alvarez directly, sans GBP, to work on patching things up.

Lance Pugmire of The Athletic recently quoted an anonymous "official close to DAZN" about the company's new found optimism.

"DAZN and Canelo can patch things up, because the middleman (Golden Boy) is the heavy here," Pugmire quoted.

"(Golden Boy) misrepresented the sides...Golden Boy had got its money to bring (DAZN the non-Canelo) fights, but it didn't put the same rigor into it to ensure Canelo would take a Golovkin fight and keep the terms of (DAZN's) deal with Golden Boy.

"(DAZN) understands why Canelo's frustrated, and hopes he understands why (they) are too...This lawsuit is about Canelo trying to get the truth out, trying to start a good-faith dialogue and (DAZN) wants things to be resolved, too. DAZN can now talk directly to Canelo. (DAZN) has never seen the Golden Boy-Canelo contract and Canelo has never seen the (DAZN)-Golden Boy deal. The truth will be aired. The dark day is for Golden Boy. Canelo was deceived by them."

Meanwhile, the ever-so-accommodating WBC has pushed back the purse bid for the Alvarez-Avni Yildirim bout, which will be for the vacant WBC super middleweight belt. The bid hearing was originally to be held on Monday, September 21, but has been put off until October 6. This (not) surprisingly plays into Canelo's scheduled September 28 re-filing deadline for his lawsuit against his promoter and broadcast partner.

The WBC and ONLY the WBC want this Yildirim fight (and the 3% sanctioning fee it brings with it), but it could serve as a door opener to another TV deal for the Mexican star if he manages to become truly independent (really, really quickly). This could also open the door for Al Haymon and Premier Boxing Champions, who works with Yildirim, to make a crazy bid and win Canelo's services as foreplay to a more formal working arrangement.

At the same time, this Yildirim stuff could be just one gigantic bluff from Alvarez and his team, used as leverage in the fight with Golden Boy and DAZN.

As usual in this big drama show, more will surely be to come.