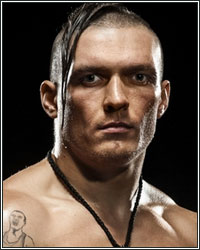 Welcome to a special Friday edition of Magno's Bulging Mail Sack, the only boxing mailbag feature fully endorsed by both Peter North and the now-defunct Rogue Media Roundtable clique. So, slap on that splash guard, put on a shower cap, and brace yourself for another load of gooey, salty truth coming right at ya. This week, we have comments/questions regarding Kell Brook, Oleksandr Usyk, and ME.

Special/Not Special K

Hi Paul,

Big fan of the mailbag.

Wanted to ask you about Kell Brook. Over here in the UK he was billed up as the next best thing to challenge the American stronghold at 147. He got past Porter which was extremely impressive, but since then he has been terribly disappointing in his choice of opponents. His first title shot came as he was mandatory, prior to this he reportedly turned down a fight with champion at the time Tim Bradley, this was 25 or so fights into his professional career. Then once he won the belt gave us the mandatory excuses fighting Jo Jo Dan, Kevin Bizier and Frankie Gavin before fighting Golovkin.

Do you think his career is based off of poor promotion or someone who seriously lacks competitive edge or even a combination? I would have thought after the Porter fight he would have been able to secure much more lucrative bouts. Looking back he must think his career has been wasted, now he is jumping on what would seem like the Mikey Garcia bandwagon in only wanting to fight the most lucrative opponents and letting his career pass him by.

What is your opinion?

Thanks,

-- Courtney

Hey Courtney.

Good question. Thanks for contributing.

I've been back and forth about Kell Brook since he first came into my line of boxing sight.

In the very beginning, I saw him as a quality prospect who maybe lacked the mental and physical toughness to be a true, long-term elite player. His first bout with Carson Jones in 2012 did a lot, IMO, to toughen him up and get him on the right track as something more than a regional UK/Euro talent. His win over Porter in 2014 proved that he had taken that big step forward.

Then, however, there was that patch of soft touches you mentioned that got me thinking that he had reverted back to his pre-Carson Jones mindset. He was doing the bare minimum, taking the least amount of risk, perhaps exploiting a booming UK market that allowed him to make good money for lesser challenges.

The Golovkin fight in 2016, for me, proved that he was now primarily focused on the money. I mean, most fighters are primarily focused on the money-- and I don't hold that against them-- but there was zero chance he was going to beat GGG. A fighter who cares about his legacy and his level of present tense accomplishment simply doesn't offer himself up as a human sacrifice like that.

After being crushed by Golovkin, he was forced into an Errol Spence Jr. bout in 2017 and, eventually, was crushed by Spence as well. He accounted well for himself in the Spence fight, showing some of the skill and talent that always had him firmly placed in the "he can do it at the highest level" category, but he ultimately got bested by the better man.

After, literally, having the left and right side of his face crushed by Golovkin and Spence in back-to-back losses, he was pretty much a spent shell. Mentally and physically, he was done.

And everything since Spence has been a "Greatest Hits" tour for quick, easy payouts. He'll be fighting Terence Crawford next and, on paper, he has some things going in his favor. But he's not really going to have all that much of a chance.

The frustrating thing about "Special K" is that we don't really know how special he could've been. I think he fought his way to the top of the world scene and then, rather than take that momentum and go even further, he stood in this holding pattern and drifted back into being a regional talent, making good money for relative soft touches. He played the risk/reward game to his benefit at the time but, IMO, it backfired on him over the long run.

Maybe it was bad advice from his people or just a lack of drive on his part, but he could've cashed in a lot more over a longer period of time if he had chosen to dive into the deep waters of 147 when he had the chance to make real waves.

Is Usyk "For Real" at Heavyweight?

Hi Paul.

Looks like Usyk-Chisora is going to be made. Any thoughts on Oleksandr Usyk and how well he can do in the heavyweight division? Is he a Big 5 guy along with Fury, Joshua, Wilder, and I guess Povetkin now?

-- Simon

Hey Simon.

When it comes to skill, I think Usyk can hang with anyone. The question, for me, is durability. How well can he take a big man's best punch and how many can he take? That's always a nagging doubt when it comes to a cruiserweight moving up in weight. You're looking at a fighter accustomed to taking punches from a 200 lb. man now taking punches from a 245+ lb. man. That's a big step up. And let's not pretend that we didn't see his legs get wobbled a bit early on in his first real heavyweight bout against Chazz Witherspoon last October.

I guess the Derek Chisora fight is a done deal now for October 31. It's a fight that makes sense for Usyk as he works his way closer to the big dogs in the division. But there's also an element of danger in this fight because, although Chisora is not a top shelf fighter anymore, he IS stubbornly defiant and belligerent. He'll come into the fight thinking that he has a real chance of cracking Usyk and will push forward accordingly until/unless Usyk shuts him down.

...and what about me?

Hey Magno.

Love your work and your attitude. In you, we got someone who talks the truth like the regular man and speaks with the hard edge attitude of real fighters. I've been reading you since your Boxing Tribune days and always find you a valuable read, even when I'm pissed off in disagreement with you.

My question is about you and not really about boxing. What are the best and worst parts of your gig as a boxing writer. It seems like a fun profession, but maybe kind of frustrating, too.

Thanks again for all that you do.

-- Lincoln

Hey Lincoln.

I appreciate your support.

Yeah, writing is a trip. And it sure beats the hell out of everything else I've done for a living-- sales, teaching, bodyguarding, even the boxing business stuff like training and management. The money is not great, of course, and you have to do some juggling and prioritizing to make ends meet if you do this honestly. Moving to Mexico allowed me to pull this off and live the life I wanted.

And the best part of writing? I mean, how many people wake up every morning, blessed to make a living doing what they love? I think sacrificing a few bucks and some creature comforts for freedom and peace of mind is a fucking awesome tradeoff.

As for the worst part? Probably the idiots who accuse me of being paid off or in someone's back pocket, not knowing the hard 12-year journey of being blackballed from the business and struggling to find a home for my work, precisely BECAUSE I refused to sell out and "play the game." That's frustrating, but, at the same time, it doesn't bother me all that much. Some people, such as yourself, know my struggle and know how bad things got when I started writing about the business beneath the business and about the boxing media's hardcore shadiness.

If I die tomorrow, I die with a big "W" in the game of life.

Got a question (or hate mail) for Magno's Bulging Mail Sack? The best of the best gets included in the weekly mailbag segment right here at FightHype. Send your stuff here: paulmagno@theboxingtribune.com.