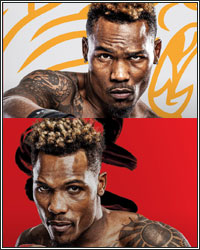 First, some quick notes about Saturday's Charlo Twins pay-per-view...and then some deeper, actual fight-related stuff:

-- This show was just too damn long. The card was well-put together and all of the bouts had their own intrigue to them. The main events were especially well-made from a matchmaking standpoint and they delivered on their promise. But we're talking a 6-fight show that started at 7 p.m. ET and ended at about 1:30 a.m. ET. That's six-and-a-half hours, with a half-hour intermission between the two 3-fight chunks. I seriously doubt that anyone, with the exception of boxing writers covering the show and super, mega-hardcore fans, sat through the entire thing. Too much of a good thing can be a drag. I was interested and engaged throughout the card, but found myself pulling at my own ears in fits of impatience when Luis Nery, who fought before the Charlo-Rosario final bout, was not demolishing his opponent in usual fashion, but was, instead, rolling into a 12-round decision.

-- This card reminded us that the PBC folks are lining up some interesting 122 lb. stuff. There's WBA champ Brandon Figueroa (who's always a compelling watch), WBC Champion in Recess Rey Vargas, Luis Nery (who won the WBC 122 lb. title in his division debut Saturday), new WBO titlist Angelo Leo, former 2-belt world champ Daniel Roman, undefeated top prospect Stephen Fulton, and maybe Guillermo Rigondeaux (if he can be lured back up to his old weight). Super bantamweight stuff won't ever break the bank in the US market, but good fights are good fights and real boxing fans always appreciate quality content.

-- Financially, will this PPV be a success? There was much talk about the $75 price tag and about all of the competition this card had (NBA playoffs, NHL playoffs, UFC 253, college football, and key baseball end-of-season pennant race games). I'm of the mind that anyone willing to pay for a boxing PPV (beyond the blockbusters that draw impulse buys from casual fans) would choose boxing, regardless of what's up against the card. Boxing is such a loyalty-driven specialty niche sport that I don't think other sports draw all that much from the hardcore fan support. The question is whether the hardcore fans would be motivated to buy a Charlo Bros. PPV and, sadly, just how many hardcore fans are still out there from which to draw paying customers. I don't have high expectations when it comes to buys. I get the gamble, though-- and some may say that it was a necessary gamble-- to push the Charlos out on to the main stage. But if the show is a commercial flop, this gamble may have the exact opposite result of what they wanted. Rather than be pushed a step closer to guys like Canelo and Golovkin, the fail may provide yet another excuse to NOT allow them any closer to these star-making fights with the elite earners.

And now, as for the headliners, themselves:

-- I've always been somewhat non-committal when it comes to Jermall Charlo. Yes, he's talented . Yes, he's got skills. Yes, he's looked outstanding against the fighters against whom he's supposed to look outstanding. But, try and corner me and get a "yay" or "nay" on his long-term viability among the elite of 160 and I'd give you an honest "I don't know."

And I was right about that. We just DIDN'T know. Mostly because he had never been in the ring against someone who could push him.

It became clear in recent years that he wasn't the angry, spiteful killer many were led to believe he was by dominant performances early in his career. As things played out, we learned that he was more clinical, more calculated, more skills-first than balls-first. And that's fine.

But what would happen when Jermall met someone good enough and tough enough to really push him? Would he hold firm in his mindset and stick to his disciplined game or would he drop it all and go to war? And would he be tough enough, in general, to deal with someone giving him extreme pushback?

Now we DO have a definitive answer to all of that. It's "Yes."

On Saturday, Sergiy Derevyanchenko did what he does. He came in tough, pushed hard, kept coming forward, never gave up, and never stopped trying to win. He pushed Charlo like Charlo had never been pushed before and, because he's a true top dog at 160, he occasionally had the defending WBC champ bending.

But Jermall never broke. When Derevyanchenko began bending reality with grit and will, Jermall regained his composure, made adjustments, and kept to his plan. He ended up winning a well-deserved unanimous decision.

Seeing what we saw on Saturday, we now have a clearer idea of what might happen if Charlo met with guys like Canelo or Golovkin. At least we know for sure that he belongs in the same sentence.

-- Jermell Charlo, early on in his career, was known as the boxer of the brothers. Since then, he's proven himself to be the more emotional, more fiery of the twins, the one who might pull away from his well-laid plans if pissed off enough. This distractibility led to his first professional defeat in 2018 against a Tony Harrison who got deep under his skin and took away his WBC 154 lb. strap. His ability to come back and NOT be thrown off his game by an irritating Harrison led to him regaining his belt one year later.

Coming into Saturday's bout with WBA/IBF junior middleweight titlist Jeison Rosario, Charlo was facing a guy who could be hurt, could be outboxed, but who would never stop coming forward, swinging two very heavy hands with bad intent. Jermell would have to be disciplined and focused. He had to keep himself from going too far, pushed to sloppiness by the rush to grab two more world title belts.

And he passed this test with flying colors.

Rosario has his moments, as everyone thought he would, but Charlo was never NOT in control. The fight-ending jab to Rosario's gut in the eighth may have been a shocker, but the result really wasn't. In constant threat of danger against the tenacious Dominican, his discipline kept him from ever actually BEING in danger.

Jermell showed that he could be fiery without being reckless, mature without being offensively diminished. Now, as a 3-belt junior middleweight champ, all money roads (and pretty much all world title hopes) in the division lead through him.

On Saturday, the Charlo Twins delivered star-level performances. Now, we'll just have to wait and see whether business and economics and politics allow those performances to also be star-MAKING performances.

Got something for Magno? Send it here: paulmagno@theboxingtribune.com.