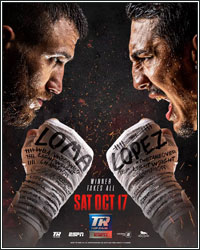 My sack always itches from strain in the days following a big fight and this week is no different. We got lots of Lopez-Lomachenko stuff since Lopez's unanimous decision win over the Ukrainian pound-for-pound darling. Here's some of it:

Lomachenko: No Mayweather, Whitaker, Pep, etc...

Paul,

I hope that you're doing well. The Vasiliy Lomachenko vs Teofimo Lopez bout was an interesting fight.

One thing that I noticed is Loma's lack of a ring IQ compared to some of the all-time greats. What I mean is that he appeared to take the 1st half of the fight off with hopes of taking Lopez into deep water. It wasn't a terrible plan, but my point is that Loma gave up 5 of the first 6 rounds by not throwing any punches and just using his legs in retreat.

Greats like Willie Pep, Pernell Whitaker, Floyd Mayweather Jr. and Muhammad Ali have utilized that strategy during their careers. However, the difference is that they were able to give an illusion or the perception that they were doing more effective work than what they were actually doing in the rounds that they coasted. Legend has it that Willie Pep won a round and never threw a punch. Whitaker used to say that he wanted to pull off the same feat as Pep and at times he won rounds by throwing minimum punches. They were ring-savvy enough to sell the illusion.

Loma is a tremendous athlete, but in my opinion he has not had to beat anyone in the pros with his mind since he appears to have always been superior athletically. I thought in the 2nd half of the fight, Loma actually landed the more effective blows and possibly won 5 of the last 6 rounds. As a stretch, I thought the fight would end as a draw based on Loma's reputation. However, I don't have an issue with the decision since Lopez threw more shots and gave off the perception that he was in complete control.

It's hard for me to see where Loma goes since his shield of invincibility has been cracked. Possibly back to 130 lbs. since he's small in stature or a fight against a small 135 lb. guy (Tank Davis).

Lopez may have a future at 140 against Josh Taylor, Jose Ramírez or Regis Prograis. I like Lopez but he has holes in his game like everyone else. Fighters at 140 or 147 and above have the size and power to take advantage of Teofimo's hands-down-chin-up fighting style. I'd love to read your thoughts and thanks for all you do!

-- Meredith Miller

Hi Meredith.

Yeah, as I wrote in my Notes from the Boxing Underground column on Monday, one of my takeaways from Saturday's fight is that Lomachenko is not as boxing-clever as credited. A real ring technician would've found a way around Lopez's size and strength and, actually, would've used those assets AGAINST Lopez. Lopez, as good as he proved himself to be, has exploitable flaws that Lomachenko simply couldn't (or wouldn't) exploit. I guess it took this kind of challenge-- really, the first of this kind that he's faced-- to get a proper read on who Lomachenko is. As things turn out, he's more Roy Jones than Floyd Mayweather, benefiting more from supreme reflexes and unorthodoxy than craft and guile.

But let's not go too far with this. Lomachenko is still elite and deserves the accolades he's received for what he's accomplished. I think he'll be back and dominating soon enough. A move back down to 130 would be ideal, but it's hard for an older fighter to move down in weight without losing something. Team Lomachenko may decide to pick up a belt or two vacated when Lopez moves up in weight (I say "when" and not "if").

As for Lopez, I think he'll do well at 140 and will grow into welterweight. Remember, the kid is just 23. He's not even in his full physical prime yet and will (hopefully) continue to mature as a fighter.

All Hail King Teo!

Hi, hope you and your family are well. I was very surprised with Lopez. Even though I was rooting for him, I thought the only chance he had was to maul Loma, something similar to what Duran did to Leonard in their first match. Boy, was I wrong. At 23, this young man showed that he is destined to be an all-time great even though he still has a long way to go for this. But think of it, he was the one that demanded the fight to his promoter, that right there is hardly seen with this generation, except for Canelo. They usually follow their promoter's and manager's plan to slowly build their resume until the promoters feels their investment is ready, especially Top Rank. But Lopez is cut from a different cloth. Then, even though he followed his trainer's game plan, he took his own decisions in the ring to secure the victory, which made him go after Loma in the twelfth round. Even though it was not a classic, Loma finally made it entertaining after the seventh round. I had it 116-112 for Lopez. Side note: I cannot believe Juan Manuel Marquez had Loma winning this fight, I really don't understand how he scores fights, but have to respect his opinion, he does the same with Canelo.

-- Benjamin from PR

Hey Benjamin.

I always liked this kid and now, post-win, I like him even more. He's certainly talking the right talk and it's hard to doubt his professional integrity when his first move on to the main stage was a grab at the biggest dog in the lot. He has everything lining up for him right now, including a deep roster of potential star-making opponents in his weight range. Politics, business, personal failings could all cockblock his rise to next-level stardom, but, right now, he has the right attitude and everything else needed to get really big.

As for Marquez? The guy judges and analyzes with his fighter's ego still in place. As an analyst, he's notorious for harboring odd grudges against specific fighters. I respect the guy's knowledge, of course, but his occasional vendettas are glaring.

Loma's Bum Shoulder?

Hey Magno.

Loma says he hurt his shoulder. He supposedly had surgery and had to get a shot before the fight. Is this a Pacquiao face-saving thing? Is it real? Is it a legit excuse for the L to Lopez? What's your take?

-- Ant

Hey Ant.

I don't know how much weight I put into this story of Lomachenko and his bum shoulder. I'm usually of the mind that if a fighter chooses to climb into the ring for his payday, he kind of forfeits the right to complain afterwards. He didn't seem to be favoring his shoulder during the fight and he didn't seem to be hampered at all when he did decide to throw punches. So, I'm saying "no excuses." The best man won.

Got a question (or hate mail) for Magno's Bulging Mail Sack? The best of the best gets included in the weekly mailbag segment right here at FightHype. Send your stuff here: paulmagno@theboxingtribune.com.