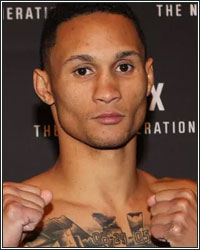 Two years ago, junior welterweight rising star Regis Prograis had just dominated former world champ Terry Flanagan as part of the WBSS 140 lb. tournament. The two-knockdown performance in his home town of New Orleans was thought to be a breakthrough of sorts.

Although he already had impressive wins over solid opposition such as Julius Indongo and Joel Diaz Jr., the Flanagan win truly cemented his place as an elite in an increasingly interesting division.

Prograis seemed to have it all-- speed, power, and charisma. He even had his Cajun werewolf Rougarou gimmick, which brought a bit of flash to the package. Ask most keen boxing observers and it would've seemed a given that Regis, despite getting a late start in the game and approaching a main stage breakthrough while already in his late 20s, was headed for stardom.

A sixth-round TKO of the tough Kiryl Relikh in the next round of the WBSS tournament brought him his first world title. It also set him up for his biggest bout to date, a title unification contest with IBF 140 lb. champ, Scotland's Josh Taylor, in the tournament finals.

Prograis-Taylor was the rarest of all matchups in boxing these days. It was a battle between two elite-level talents, taking place BEFORE either had fully established their stardom and marketability on the world stage. It was a battle to establish a star the hard way, by immediately meeting the challenge of their stiffest divisional rival. No marinade. No years of bait-and-switch from promoters. It was damn refreshing.

But, after losing a razor-thin majority decision to Taylor in the UK, however, Prograis had to be wondering whether doing the right thing as a competitor was the right thing for him, financially.

Post-Taylor loss, Prograis drifted with no real direction. There was no direct path to a rematch with Taylor and other potential division rivals, like Top Rank's Jose Ramirez, were out of reach as well. Josh Taylor's signing with Top Rank would subsequently give the Bob Arum outfit full control of the junior welterweight division. A move up to welterweight would, similarly, see plenty of business obstacles blocking his path as Premier Boxing Champions (PBC) had locked up most of the top welterweight talent. Then COVID-19 hit and a drifting career came to a complete halt.

An amicable split with promoter Lou DiBella in August of this year and a move away from broadcast partnership with streaming service DAZN are opening the way for a re-start to a stalled career.

Prograis signed a one-fight deal with PBC and will be showcased against undefeated Juan Heraldez this coming Saturday on the Gervonta Davis-Leo Santa Cruz undercard in San Antonio, Texas.

A more permanent bond with Al Haymon's PBC team could be coming, though, as the now-31-year-old Prograis weighs the realistic options currently out there.

Although PBC offers some decent possible 140 lb. opposition for him, the really big fights from them are up at 147.

A move up to welterweight would open the door to any number of lucrative possible matchups, from compelling lower-level fights with the likes of Josesito Lopez and Omar Figueroa Jr. right up to the top level guys Errol Spence, Danny Garcia, and Shawn Porter. There's also the ever-sought after Adrien Broner, who is always good for a few bucks and some easy publicity. The PBC roster at 147 is absolutely packed and Prograis could be deep in money fights for the rest of his career there.

But does he want to be signed, exclusively, to anybody? His career history tells us "no." But, then again, is he "big" enough to command a fight-by-fight free agent deal with PBC (or anyone else)? Maybe the answer to that is also "no." He needs the big fights to be big, himself.

Prograis is in a tough spot right now as he starts to slip past his physical prime. There's no time for hedging bets or playing business-coy. The Heraldez fight this Saturday at the Alamodome is an alright come back/stay busy/let-me-think-on-this fight. After that, however, he needs to make some real, definite career decision. The Rougarou is too good to be drifting aimlessly.