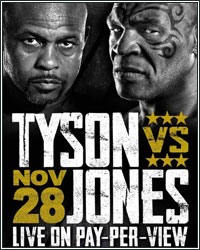 If you've followed my work for any period of time, you'd know that, when it comes to this sport that I love, I don't mind the circus coming to town one bit. I was fine with Mayweather-McGregor, fine with the YouTuber boxing nonsense, fine with a rumored Pacquiao-McGregor dust-up.

As a matter of fact, I think it's actually good for the sport to occasionally stage a publicity stunt bout or two from time to time. Depending on the matchups made, they can be good for bringing in some new eyeballs and/or good for satisfying the nostalgia needs of the long-time marks.

The November 28 Mike Tyson-Roy Jones Jr. exhibition bout and its undercard definitely satisfy the requirements for an acceptable business-friendly circus.

Tyson-Jones was, at one point, a dream fight for many fans. I mean, it wasn't REALLY a REAL dream fight. When Jones won his WBA heavyweight title against John Ruiz in 2003, Tyson was nine months removed from his TKO drubbing at the hands of Lennox Lewis and one month removed from his infamous "My back is broken...spinal" post-fight patheticism. But Tyson-Jones was allegedly discussed at the time, with, supposedly, $40 million in it for Jones. It never happened, though, and both fighters lost out on a killer payday for a fight that would've pitted two vulnerable entities-- a depressed, destitute Tyson and a small, past-prime Jones-- against one another.

But the heyday for both fighters kinda, sorta happened around the same general 5-7-year period. And, fuck it, that's close enough to peddle an exhibition bout, 20 years later, as a mega, super, dream fight FINALLY coming to fruition. Nostalgia tends to have a faulty memory sometimes.

It would be wise to not expect too much from the 50-somethings in the main event, despite the "this is a real fight to me" bluster being floated out to media. California State Athletic Commission (CSAC) executive director Andy Foster has made it very clear that this will NOT be a "real" fight and that if it does become "real," it'll be shut down posthaste. Expect something similar to the three Julio Cesar Chavez-Jorge Arce exhibitions, with each fighter getting to do a bit of what they do best, firing off at about 60% of full capacity, and pulling punches like they're photo-op sparring with a celebrity friend.

Fine...as long as you know what you'll be getting and aren't paying to see what's being sold in boxing website headlines.

If Tyson-Jones is the "circus," then the card underneath it is straight-up boardwalk carnival, with a bit of low-rate sideshow thrown in for good measure.

YouTuber Jake Paul is fighting retired NBA star Nate Robinson in a six-round light heavyweight bout. Former world champ Badou Jack is facing unbelievably limited Northern California club fighter Blake McKernan in a cruiserweight bout. Then, there's the 23-year-old boxer and YouTube personality Viddal Riley versus 39-year-old former UFC journeyman Rashad Coulter in a cruiserweight contest.

Honestly, all of this is so damn off the rails, such crazy-ass matchmaking, that it's almost interesting. But, make no mistake about it, this is NOT a real night of boxing. It's boxing-like. It's total circus and accompanying sideshow with a cloak of boxing thrown over its shoulders.

And, again, that's okay. And it's totally your call whether you want to pay the 50 bucks to see it streamed on Triller or anywhere else it may be available.

This first show in Tyson's fledgling "Legends Only League" promotional effort, will be a mishmash of odd pairings and celebrity boxing. If you've got the disposable income to indulge yourself, you might get a few chuckles from the hot mess being dished for consumption. But, given the reality of what's on the plate, there's probably no benefit to boxing coming from this particular circus.

And, once again, that's okay. It's fun to have the circus in town from time to time-- just as long as it eventually moves on and the big tents and carny rabble don't mess with a town's vital businesses.