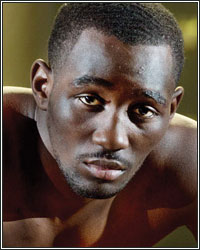 Welcome to another day spent huddled around my bloated sack, waiting on a money shot of gooey, salty truth aimed straight into the earholes of boxing's bad guys. This week, we have comments/questions regarding Terence Crawford, Canelo's return, and Deontay Wilder's redemption.

Bud Crawford and His Haters

Paul,

I hope that you're doing well! There are a lot of haters out there of Terence Crawford's resume and his boxing abilities. I am not one of those haters! The first time that I saw Crawford fight live against Breidis Prescott, my instincts and eye test told me that I was watching a great fighter in the making. I truly believe that Crawford is already a HOF fighter and at this point in his career he's fighting for all-time great legacy. Terence has ascended to greatness similarly to Floyd Mayweather Jr. but a little bit in reverse order. Let me explain, Floyd was a killer at 130/135, but as he rose in weight he became more of a tactician, a potshot boxer who picked his spots. Terence on the other hand was more of a tactician at 135 and 140. However, since toying with Viktor Postol and Felix Diaz at 140, Terrence has become more of a killer as he's grown in weight, which is opposite of how Floyd fought at 147 and 154. I personally think that Crawford is already an ATG just based on the eye test. Is it his fault that PBC guys do not appear to be willing to get into the ring with him? I've heard scuttlebutt that the Errol Spence vs Danny Garcia winner will fight Shawn Porter. I don't want to see that retread fight with Porter, frankly I don't want to see Spence vs DSG and didn't want to see Crawford vs. Brook (but it was needed to silence some of Crawford's critics). If Terence doesn't get Errol or Manny Pacquaio next, then I will boycott all 147 PPV's until one of those fights is made (I urge others to do the same). It's a little confusing as to why Crawford has so many critics. I believe that it might be due to Crawford being affiliated with Bob Arum. The PBC is owned by a black man that has assembled a rainbow coalition of fighters and pays them well, which is a sense of pride for many including me. However, I can't disparage another man's greatness because he chose a different path for his career with Bob Arum and not with the PBC. I'd love to hear your thoughts.

-- Meredith Miller

Hey Meredith.

Boxing fans have a million reasons for their prejudices. I've stopped trying to understand them. For me, personally, Crawford passed the eye test early on and has proven himself against quality opposition, although he's yet to face a true elite. But, honestly, how many "true elites" have been out there, sharing top 10 space with him during his run? Spence and Pacquiao? Maybe you could throw in Shawn Porter and Danny Garcia as top guys who would add some needed heft to his resume. So, we're talking four guys he's missed out on so far. All this bashing and diminishing and general vitriol from the critics over four guys. I can see the frustration and the wanting to cut Crawford off at the knees if you've been looking for a reason to cut him off at the knees. But I don't entirely get the growing wave of disrespect.

More and more, though, I do see the critics' side. In recent months/years, I haven't been so eager to sing his praises based solely on what I know to be elite-level skill and execution. For a fighter to establish a legacy, they must have legacy-defining fights. There's no way around it. I can't blast someone like Gennady Golovkin for not having established a true legacy and then make excuses for Crawford. At the end of the day, we can only judge fighters based on the black and white of their ring record. Crawford had a chance to jump into deep waters, but he chose to take the Top Rank/ESPN deal. He had to know how hard it would be to get access to the big fights at 147 if he walled himself up from the rest of the top welters. But, then again, how can you criticize a guy for taking a great deal offered to him, one which guaranteed a good future for his family?

Arum's got to find a way to get these big fights made for him. He's got to humble himself and his financial expectations to get Crawford's foot in the door for a big fight. He's got to make concessions because history judges harshly when it comes to elite talents who never get the legacy fights they need. Crawford is 33 now, walking into the back half of his physical prime, and there should be urgency in getting him the fights he needs, even if the first one is a money-loser for Team Crawford and a zero-gain for his host network.

Canelo...Wilder

Hi Paul

I am sorry I am always focusing most of my questions to Canelo, I just can't have enough of his old school boxing techniques. Anyways, rumor has it he is fighting Callum Smith. I have been calling out for this fight for more than a year. I watched Canelo's fight with Liam Smith and, just like his fight with Alfonso Gomez, it seemed to me Canelo was trying to have some rounds to display his defensive skills. I see him doing the same things he did on Liam and breaking down his body. What do you think about this?

Another topic...It seems annoying Wilder is focusing now on a rival apart from Fury. Based on his latest comments, I would like to see him against someone who can just KO him. I am not sure if Andy Ruiz can be the guy, but he is the only one I might give him a slim chance of doing so. Who would you like to see him against? Besides, he talked about hooking up with Foreman or Derrick Gainer. It seems Foreman thinks he can rebuild him like he did with himself after Rumble in the Jungle...let's see what happens.

Best Regards

-- Miguel

Hey Miguel.

Callum Smith is a quality fighter, but I don't think he has anything to concern Canelo. Alvarez-Smith will be a showcase for Alvarez's ability and it will probably go on for as long as Alvarez wants it to. I'm not knocking the bout, just acknowledging reality. Smith is, at worst, a top 6 or 7 super middleweight and that's respectable. Not every opponent can be a top dog, a pound-for-pound darling, or a future Hall of Famer.

As for Wilder...man, he just keeps digging the public relations hole deeper and deeper for himself. He needs someone to stop him from harming himself with all the conspiracy theory nonsense.

I like a Wilder-Ruiz matchup from a competitive standpoint and I can make a case for both fighters having an edge. It would also be a redemption bout for both. If I were Team Wilder, though, I'd take a lesser challenge first. Maybe notch a couple KOs under his belt before going after a tougher test. Wilder clearly needs to get his head together. A couple of tune-ups would buy him about a year to do that.

No matter who is working with Wilder, though, don't expect any major changes in style or technique. The man is who he is now and has enough of a support system around him to fend off any changes he doesn't want to undergo-- and that's not a good thing, developmentally.

Got a question (or hate mail) for Magno's Bulging Mail Sack? The best of the best gets included in the weekly mailbag segment right here at FightHype. Send your stuff here: paulmagno@theboxingtribune.com.