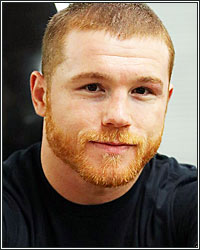 With Saul "Canelo" Alvarez seemingly intent upon setting up shop at super middleweight and, in the process, possibly enticing Gennadiy Golovkin and Demetrius Andrade along for the ride, there's a temptation to say that the 168 lb. division is set to explode.

Already there are talents such as Callum Smith, who will be facing Alvarez on December 19, and high-end players such as David Benavidez, Billy Joe Saunders, Caleb Plant, and Daniel Jacobs (who faces Gabriel Rosado this weekend).

No doubt, the division will soon be top-heavy with talent. But the question is whether the presence of talent-- and much of it bankable talent-- will lead to anything real and substantial. Could we just be seeing the survivors of a cock-blocked middleweight class haul up their baggage to cock-block the next highest weight class?

There's no guarantee that Golovkin will move up. Fight fans should all know by now that the man feels entitled to easy times and he's going to be hard to nudge beyond his comfort zone, unless it's, maybe, for some Canelo cash.

Will Andrade, who'll officially be experimenting with a move to 168 early next year, have any more luck in getting a marquee fight? At 168, just as he was at 160, he's going to be the ass end of any risk-reward assessment from opposition.

Daniel Jacobs remains Daniel Jacobs-- a very good fighter with not a lot of selling power. He's a fighter too good to be a stepping stone, yet not big enough to be a marquee solo act. Plus, he's already come up short in breakthrough shots against Alvarez and Golovkin and neither will likely give him a second opportunity.

Much of the top talent at super middleweight is divvied up among rival business entities, making cooperative matchmaking efforts tough. And the newcomers to 168 bring their own conflicting business ties with them.

Even "in-house" rivalries have proven themselves tough to wrangle into actual fights. Benavidez and Plant, both fighters who do business under the Premier Boxing Champions (PBC) banner, have legitimate bad blood, but there's been no real movement in actually pitting them against one another. Golovkin and Andrade have been DAZN fighters together since Golovkin signed his 6-fight deal with the streaming service in March of 2019, but there hasn't even been the slightest hint of a rumor regarding real efforts to make that fight. Hell, DAZN couldn't even push together a Canelo-GGG part 3, despite having invested nearly a half-billion dollars into signing both fighters.

So, how likely are we to get the best possible bouts from this division that will soon be packed with salable fighters?

Honestly? Not all that likely. At least not right now in the present tense, with in-person attendance limited or not allowed at all. If the business entities behind these fighters were reluctant to take the risks before this Covid stuff, they're not going to leap forward into the great unknown now.

A lot of the divisional movement hinges on Alvarez and how he goes about his run at 168. His presence in the division could actually freeze things up as top contenders avoid risking a loss while they have a chance at a big-money Canelo bout.

Low-end Top 10 and fringe contenders like David Lemieux, John Ryder, Anthony Dirrell, and Fedor Chudinov (among others) make for interesting side challenges for anyone and everyone at the top. Nobody, though, wants the top guys to be concerning themselves with the lower-tier guys until they take on one another.

So...yeah. On paper, big things are happening at super middleweight.

On paper.

In the real boxing world, unless there's a huge shift in business practices and mindsets of the ruling class, the obstacles, hurdles, and general baggage that froze much of 160 will simply be exported to 168.