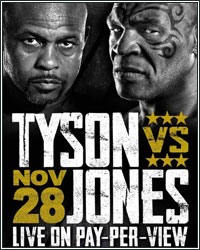 Welcome to a Thanksgiving edition of Magno's Bulging Mail Sack where boxing's bad guys are forced to gobble, gobble on the gooey, salty, cranberry-infused truth coming straight from my bloated sack of giblets. This week, we have comments/questions regarding the Terence Crawford saga, Canelo's resume, legends returning, and heavyweight new blood.

Crawford's Laments

I'm not saying Crawford needs to promote himself. But he didn't have strength to gamble on his own talents. Most those PBC guys are fighting on a fight by fight basis. Whereas Crawford signed a deal with Top Rank, that offered guaranteed long term money. He took the guaranteed money. Terence Crawford was never concerned with career defining fights. I assume he's bought all the finest things money can buy, and now he wants to rant about Bob. I'd like to ask Crawford one question. What the f**k else did you expect? Did you honestly think Bob was going to sit down with Al Haymon to get you a fight?

ESPN and Top Rank's covering of the Terence Crawford saga is just despicable, and bad for the sport. Timothy Bradley, Andre Ward, Bob Arum, and Bernard Osuna, have turned every Crawford fight into the bash Al Haymon show, or PBC Welterweights are cowardice sitcom. It's absurd and disgraceful for former fighters like Ward and Bradley to partake in that propaganda. When will the boxing media, analysts, and pundits educate the fan base on the cruel cold wars that takes place in the fight game? A fight between a Top Rank and PBC fighter ain't happening. Plain and simple.

-- Nail Rahman

Hey Nail.

It's absurd how some people conveniently forget boxing politics when it suits their own business interests. People can go on and on about the PBC fighters "ducking" Crawford, but the truth is that if the shoe were on the other foot and Arum had a majority of the major players while PBC had just one, Arum wouldn't give PBC the time of day.

After awhile, the whole "it's the other guy's fault" routine gets pathetic. People don't care about excuses, they just want results and will hold a fighter responsible for what is or is not on his record, regardless of politics or promotional failure. That's where Crawford comes in. That's where he has to step up and assume full control for anything and everything tied to his name and reputation. Despite a lot of public grumbling about not needing any of the PBC guys to cement his legacy, it's clearly been an issue with him personally. The letter issued to Top Rank from his attorney, complaining about Top Rank's inability to give him legacy fights, as well as his general behind-the-scenes petulance are proof positive that legacy is weighing heavily on his mind. And why wouldn't it be? He's arguably the best fighter in the division who hasn't thus far been able to truly prove his mettle.

It's true what you wrote, Crawford opted for the secure money offer from Top Rank and put all the competitive stuff on the back burner. I can understand that and I get wanting to put your family's financial security above all else. But a back door has now opened up and there's a path to make the big money while also notching legacy wins. And, given the way his relationship with Arum has deteriorated, there may be a way to possibly buy his way out of the TR/ESPN deal before it expires officially in October 2021.

Canelo's Resume

Hey Paul! Keep writing these interesting pieces for us. They're much needed now with covid cases rising, when we all need to take precaution and stay home. On to the topic. I'll be the first to admit that, on paper, Canelo has the deepest body of work when it comes to who he has fought. That being said, I don't think his resume is as good as the boxing media makes it out to be. He has plenty of names on it, but the only quality fighter on his resume that he fought before they were 30 was Austin Trout. The only three he fought before they were 35 were Trout, Lara and Jacobs. To me this is why I didn't pay much attention to the Caleb Plant rumors. He doesn't fit the mold. He's 28 and entering his physical prime. He has a height and reach advantage and he has better lateral movement. I doubt this fight ever happens unless he looks vulnerable in the near future. This is also why I doubt we see a fight with Benavidez or Charlo in his next few fights. I think a couple years down the road a fight with Beterbiev at 175 is more realistic considering he's 35 and hasn't been very active. What are your thoughts on Canelo's resume and what do you think his next 1-2 years in the ring look like as far as opposition goes? Keep up the good work!!

Best.

-- Jack

Hey Jack.

Thanks for the kind words.

There's an art to matchmaking and everyone-- especially at the top level-- tries to execute it to perfection. The idea is to face the biggest name at the best possible time for yourself and soak up as much reward with as little risk as possible. It's standard practice in the business. Again, EVERYONE does it. And when you have a degree of star power, you have even greater flexibility in this kind of matchmaking.

Having said that, what impresses me most about Canelo's earlier body of work is not who he fought as much as what styles he chose to face. Trout and Lara were at the top of nobody's list of opponents. They were tricky as hell and brought with them the ability to make a young fighter like him look absolutely awful. I don't hold it against a 22 and-23 year-old Canelo one bit that he barely won and looked less-than-stellar doing so. Remember, he also signed on to face the much-avoided Paul Williams before Williams suffered his career-ending motorcycle accident. Losing to Mayweather as a 23-year-old was also no shame.

So, the kid has tested himself, often against the advice of his own people. He's also had some soft touches, just like everyone else who plays the game and can claim some business leverage.

All things considered, I still hold Canelo's resume above all others at the moment. But, of course, that doesn't mean that cold, hard calculations on risk vs. reward aren't a major part of his opponent selection.

Comeback Fighters/New Blood Heavyweights

Hi Paul

Hope I can still make it in time for next article. My questions for this week are regarding this week's fights:

1- What is your take on old fighters coming back? I am really not that interested in Tyson vs. Jones. I might watch the replay but I would just like to see them stay retired, maybe they can find another way to stay relevant. If I were a DAZN or some other network, I would have old school fighters invited as commentators for broadcasts.

Now let me switch to ODLH. He was one of my favorite fighters during the 2000s, now he's got this idea of coming back. I thought that after the Pacquiao fight he might need a 2 year rest and he could come back to fight one more time at MW or Super welterweight. Right now, I am not interested in seeing him come back, especially if he can get hurt.

2- Daniel Dubois is my pick for next Saturday, Joe Joyce seems to have a good chin and rocks in his hands, but he is just toooooooooo slow, what is your take on this one? I think we should now start thinking about future heavyweights, as Joshua, Fury and Wilder are 3-4 years away from retiring.

Best regards Paul, have a nice Thanksgiving

-- Miguel

Hey Miguel.

I honestly think that the comeback talk from Oscar De La Hoya was just a lot of BS. It was an effort to temporarily placate the bossmen at DAZN, who were putting pressure on Golden Boy to deliver bigger events for Canelo Alvarez. One of the "events" the streaming service brought up was a possible Canelo-Oscar fight. I think Oscar was trying to blow some smoke up their collective asses to temporarily get them off his back. He'd be legitimately insane to seriously consider a comeback.

As for other retired fighters, the sad fact is that many have not handled their money well and continue to need major cash infusions 5, 10, 20, 30+ years after their last ring payday. There aren't all that many boxing-related gigs paying the kind of money they need, so they tend to gravitate towards returns to the ring.

There's also the pull of the limelight and attention that comes from fighting. That's a major draw for them, too.

I don't see this dynamic changing any time soon, unless some sort of decent pension program is put into place. In the past, I advocated a central boxing commission withholding a certain portion of fighters' earnings for a retirement plan. There are problems with implementing something like that, though. First and foremost, there'd have to actually be a central boxing commission able to handle such a task.

As for your second point of interest-- I agree with Joyce being slooooooow. I don't think much of him, tbh.

My heavyweight-of-the-future choice is Jared Anderson, the 21-year-old from Toledo. He's got some size to him at 6-foot-4, 240-247 lbs., but is also fairly athletic with quick hands. He's just 7-0 right now, so there's a long way to go, but I like what I see so far.

Got a question (or hate mail) for Magno's Bulging Mail Sack? The best of the best gets included in the weekly mailbag segment right here at FightHype. Send your stuff here: paulmagno@theboxingtribune.com.