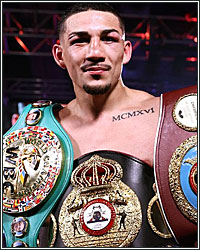 Welcome to another Thursday spent around my gloriously bulging sack waiting for a load of gooey, salty truth to be shot into the face of boxing ignorance. This week, we have questions/comments regarding the red-hot lightweights and the Charlo Brothers.

The Lightweights/The Charlos

Happy New Year brother.

I'm a fan of Ryan Garcia and Devin Haney. I think they have what it takes to be the next mega stars of the sport once Canelo and Pacquiao pass the torch. I love their passion and desire to want to fight each other, Tank and Teo. However, I think all those fights are premature. I love when the best fights the best - but I believe those fights need to marinate for a while (but not too long). I would like to see Tank vs. Teo this year, as I believe that will be one of the biggest fights to make in boxing. Thoughts?

Secondly, the Charlo brothers are 2 of the most exciting knockout boxers in boxing, but aren't getting shown much love from the main stream. What fights would you like to see them in this year?

-- Van Davis

Hey Van.

We have a unique situation at 135 right now. Four 20-something elite talents with superstar potential at the top of the division, alongside an established world class star still at (or near) his physical prime. I agree with there being a need to marinade a bit and also with not taking too much time in doing so. We're looking at a relatively small window of opportunity where we can get all these fights done.

Teofimo Lopez is quickly outgrowing the division and, in a year, will likely be competing at 140. Soon after, he'll settle into welterweight. Ryan Garcia and Devin Haney will be kept at 135 for as long as possible-- and that may be awhile since both are young and can still make the weight comfortably. Gervonta Davis seems set at lightweight, but outside-the-ring exploits and distractions will always make him just one bad decision from losing everything. Vasiliy Lomachenko, meanwhile, has no real route to matchups with any of the four young stars and could be frozen out of the picture until he shows some real decline.

There's an argument to be made for fast tracking these matchups, though. Maybe the only way to create boxing's next superstar from this crew is by having one be the last man standing after everyone fights everyone.

I also agree with your assessment regarding Teo and Tank. That's the big one at the moment and the one that will be lost forever if it doesn't get put together now.

As for the Charlos-- Yeah, there definitely seems to be some disconnect with some fans and media when it comes to giving them their just due. I think part of it is because of the holdover from the very real media bias against all things Al Haymon/PBC when Premier Boxing Champions was first getting off the ground.

Another part probably has to do with the way they first hit the main stage scene. They were boisterous and scoring brutal knockouts, so, they got an early reputation as killers. As they upped their level of opposition, however, it became clear that they were much more calculated and cautious. They were fighters who picked their kill shots carefully and waited on the right opportunities to do so, not balls-out KO artists. That reality was a letdown for some fans and gave the impression that their growth had plateaued as they faced better opposition. It gave the impression that they were hype jobs. That's not the case, though. They are better fighters now than they were a few years ago and remain among the best in the sport.

For Jermell, I'd like to see him unify all four belts by facing the winner of the Teixeira-Castano WBO title fight. Beyond that, there's Erislandy Lara and Jarrett Hurd. For Jermall, only the really big fights remain. Anything other than Canelo or Golovkin would be a letdown, although bouts with Andrade, Eubank, Munguia, and Murata are decent consolation prizes.

More on the Lightweights

Hi Paul

Hope you had happy holidays around your loved ones...hopefully 2021 is a good year for us boxing fans.

I will start by asking about lightweights (again)

1- How do you rate the top 4 (attractions) of the division?

2- How do you assess Ryan's performance? I am putting on my harsh critic hat and believing that there are a lot things he can't polish such as closing his eyes, not using his jab, not using combinations and no defense other than raising his arms.

3- Which fights do you foresee being done deals?

4- How much of a factor is Lomachenko in the equation?

5- Do you think that Jackson Marinez, Jorge Linares or Isaac Cruz might be able to get into the mix of this division?

Lots of questions, but these keep circling my thoughts.

Regards

-- Miguel

Hey Miguel.

Thanks for the well-wishes.

Let's tackle those questions in order.

1. In terms of "who beats who" order, I see it, right now, as: Gervonta Davis, Teofimo Lopez, Devin Haney, and Ryan Garcia. However, I think anyone can beat anyone on any given night. In terms of box office, I have it: Garcia, Davis, Lopez, and, way in last place, Haney. You still have to factor Lomachenko among the best in both categories, but, as I wrote in the last response, he's put himself in a really tough spot with that Lopez loss.

2. Garcia looked like who he is-- a very talented kid who is still developing. He has some very exploitable flaws in his game at the moment, notably a lack of fluidity on defense and real problems transitioning from offense to defense. The lack of a quality jab, as a tall, lanky fighter, is also a big issue. He fights like someone accustomed to getting by on talent, someone who hasn't had to develop nuance and fluidity yet. Luke Campbell was, by far, the best fighter he's faced yet, but he wasn't really a major threat to him. The Brit simply didn't have the talent level. But that hard knockdown may have been a wakeup call for Garcia. He has to keep developing if he wants to be an elite.

3. I don't see any of the lightweight fights as done deals and I honestly don't see any of them getting made anytime soon. It makes no sense for the suits to potentially risk losing years and years of revenue by putting their 20-something assets at high risk before the real money even starts rolling in.

4. I addressed Lomachenko above. Being frozen out of the picture has to be very frustrating. He was very capable of beating Lopez, decisively. When he let his hands go and stopped trying to skirt around the bigger guy, he was very effective. Lopez had no answers for Lomachenko's speed. Maybe that caution, that pause, is the fatal flaw we're finally seeing in Loma's game, especially against the bigger, stronger lightweights.

5. I think Cruz could bull his way to the fringes of the main stage mix. He's got fight-flipping one-punch power. Marinez shows flashes of potential, but it's not realistic to believe that he can develop to where he needs to be at 30 years of age. Facing Richard Commey next month will be a real test.

Got a question (or hate mail) for Magno's Bulging Mail Sack? The best of the best gets included in the weekly mailbag segment right here at FightHype. Send your stuff here: paulmagno@theboxingtribune.com.