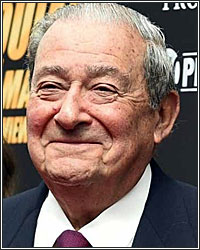 Promoter Bob Arum is 89-years-old. And to risk sounding indelicate, if he were a football game, he'd have 39 seconds left in the fourth quarter. He's also a very wealthy man who could stop doing whatever he's doing right now, live mega-large, and still pass a bundle to his family when the end of the line comes.

And there's one more thing about the Top Rank bossman-- he owes his great wealth and life success to the sport of boxing.

That's why it's so damn vexing to see the guy doubling down on the same shortsighted thinking that put boxing in a tough spot in the first place-- shortsighted thinking, by the way, that he helped perpetuate in the first place. Not only is he absolutely NOT paying his great fortune forward for the benefit of the long-term health of the sport, he's making sure that he drags what he can into the grave with him when he leaves this plane.

I could be talking about a lot of areas where he's doing this, but for this piece, I'll focus specifically on the welterweight division and, even more specifically, Terence Crawford.

Crawford may or may not be the best welterweight in the world, but he's definitely the key to unlocking the best 147 lb. battles yet to be made. He's also languishing over at ESPN, under Arum's watch. As Arum excruciatingly made public not too long ago, he's a money-loser for him, a walking debt whenever he steps into the ring. Arum could've built a mansion in Beverly Hills with what he's lost on Crawford. Remember?

So, why continue to sit on Crawford? Why run out the clock on a guy who is key to the sport, but worthless to your bottom line? Ideally, Arum would think outside the box a bit and try to get Crawford money/legacy fights with PBC talent by tweaking the business model and/or hustling his way to a new cross-company arrangement or two. In a world where Arum doesn't (or can't) think outside the box, however, Crawford stays put, fights don't get made, and everybody loses.

In a recent interview, Arum talked about plans to get Crawford a two-fight arrangement with PBC against either Keith Thurman or Shawn Porter first and then Errol Spence. Ultimately, the plan proved itself to be pure fantasy as Thurman reportedly out priced himself and Porter balked at an unbudging flat $1 million offer. Talks went no further.

One has to ask, then, whether Arum's all that interested in representing Crawford anymore, now that it's clear he can't lure big welterweight names to his side of the proverbial fence with the prestige of an ESPN deal and the promise of a blockbuster Crawford PPV.

It's only logical that-- if Crawford is such a liability and there's neither the will nor the money to make some sort of deal to get him the fights he needs to have-- the best option would be to just move on. Offer to accept a buyout of Crawford's contract and part ways amicably. Arum has no welterweight investments beyond Crawford, so it really shouldn't matter if "Bud" moves on and flourishes elsewhere.

Nobody is suggesting that he should go into his pockets "for millions of dollars to make the fight happen" as he said in his recent interview. Nobody is asking that he hemorrhage money for the sake of cementing Crawford's legacy. Fans are just asking for him to piss or get off the pot when it comes to all of this. Cut Crawford free or find a better way to get the big fights done.

At this point, it seems that the only thing keeping Arum from letting go is spite. If he can't have the Crawford legacy fights, nobody can.