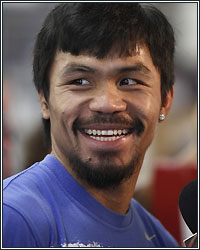 Where there's smoke, there's usually fire-- except in boxing where smoke is routinely misdirected to be blown up asses. That's why we really can't be sure what's what with this Manny Pacquiao vs. Ryan Garcia story.

Garcia was on social media over the weekend, sharing a fan-made Pacquiao-Garcia fight poster and declaring that the pairing was a done deal.

"A dream turned reality," the 22-year-old Garcia wrote on his verified Instagram account. "It's an honor to share the Ring with @mannypacquiao I will always respect what you did in and out the ring. Here's to the best Man Winning."

But in the two days since that post, nothing has been confirmed or denied by Team Pacquiao or, even, Garcia's promoter Golden Boy. There's been plenty of buzz in the media and among fans, though. And one particular rumor is more than a bit vexing. Pacquiao-Garcia is supposedly going to be an exhibition.

If true, that's some serious bull shit right there.

If you're familiar with my work, you know I'm hardly a boxing purist prude who rails on and on about the "purity of the sport" or weeps over dignity lost. I think, at this point, anything that brings some eyeballs to boxing and opens the door to possible mainstream exposure is a positive. I have no issue with exhibitions featuring retired legends, MMA vs. boxing clashes ,celebrity tussles, or even celebrity vs. boxer fluff. The idea that any of this is harmful to boxing is laughable.

But I do have a problem with Pacquiao-Garcia as an exhibition, though.

Something like that IS potentially harmful to the sport. There's a real issue to be had with active fighters who COULD have a real fight, deciding to take easier money by doing away with the actual fight in favor of an exhibition. It sets a horrible precedent and creates the ultimate slippery slope for a sport that is already buried in its own inability to get big fights made.

Why would any top fighter take a tough bout with a fellow top fighter and risk losing everything if they could simply face that guy in an exhibition, make some easy money, and be guaranteed of losing nothing no matter what? They could keep their title(s), their undefeated record, etc., but still get a hefty payday for "meeting the challenge" in a very controlled setting. It would be a win-win for the fighters, but a lose-lose for fans and for the sport in general. You might as well have these guys fight on EA Sports Fight Night.

Granted, the payday probably wouldn't be as big for a Spence vs. Crawford exhibition, for example, as it would be for a real fight. But a risk-free encounter for both for half (or even a quarter) of what they would've made for the real thing...and the chance that they could do it again...while maybe still building toward a real fight (or not)? Something like that would be insanely hard not to explore if the idea were somehow legitimized.

And if the fans actually bought into it and made these types of exhibitions a pay-per-view money-generating success? Well, that would be an Andrew Golota crotch shot underneath the cup of the sport's big-fight matchmaking.

But, in boxing, rumor is a quarter-step removed from bull shit at all times. We don't really know anything about Pacquiao-Garcia beyond what Garcia, himself, said on Instagram.

Personally, I don't care if Pacquiao does fight the kid. Whether or not it's a smart move for both parties can be debated when/if the fight actually gets confirmed. All I ask is that if it happens, let it be a real fight and not some full-of-crap exhibition.