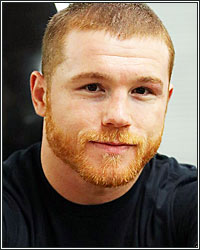 Okay, it's time to break out the "what to make of Canelo Alvarez" talk during another Canelo fight week.

His opponent selection for this Saturday's contest-- Turkey's Avni Yildirim-- begs the haters to come in swinging the hate, even if it's an Avni Yildirim fight sandwiched between Callum Smith and Billy Joe Saunders in a six-month period.

Like most true boxing stars, Saul Alvarez generates the kind of big-time interest that polarizes the fandom. Some illogically hate and diminish the guy no matter what. Others ride the jock like they get a cut of his purses.

I've tackled this subject several times before and, rather than re-type what I feel, here's what I wrote back in October of 2019, as Alvarez was preparing for his light heavyweight title bout against Sergey Kovalev:

"Only in boxing—a sport cursed with a perpetually crooked and/or befuddled media, as well as a supremely fickle, illogically biased fan base—can a fighter be both overrated AND underrated...Saul "Canelo" Alvarez falls into that category of being unfairly bashed in some quarters while being oddly coddled in others.

...My own coverage of the three-division champ has reflected this off-putting career trajectory— as, at various points of his career, I've referred to him as a 'rising superstar,' 'red-headed step-champion,' 'pound-for-pound elite,' and 'jaded, self-important businessman.'"

Canelo Alvarez exists in a loopy boxing world where he is both underrated and overrated-- although, really, the case for him being overrated is falling apart quickly.

After all, the guy just one-sided a defending super middleweight champ, Callum Smith, ranked no. 1 in the division by most analysts. Alvarez dominated Smith and battered him from pillar to post en route to what should've been a no-rounds-lost unanimous decision. You just can't do all that much better than dominating the consensus no. 1 ranked fighter.

Yes, there were various points in his career where Alvarez was gifted favorable opposition. And you can say the exact same thing about every other top fighter in the game. But he's stepped things up and challenged himself with stylistic tough opposition more so than any other "elite" in the sport. That's not even debatable anymore...or, it shouldn't be, anyway.

And what about his upcoming opponent, Avni Yildirim?

He's solid. He's not as talented or as skilled or as all-around good as Canelo and he probably doesn't have much of a chance, but he's not pure chum, either. If you're not familiar with him and who he is as a fighter, here's something I wrote about him for Premier Boxing Champions in the preview of his 2019 bout with Anthony Dirrell:

"As a fighter, there's not much finesse to Yildirim's game. Sporting a high-guard defense, he likes to come forward and crowd foes, getting under shots and then firing back with arcing punches from the left and right.

Yildirim's nickname of 'Mr. Robot' most likely refers to his unflappable nature and efficient execution in the ring. But it could just as well refer to an almost single-minded offensive strategy that delivers constant pressure to opposition. There's no explosive element in his game, but there is a constant march forward that tires, bends, and sometimes breaks those put in front of him.

In 2017, however, Yildirim was blown away by Chris Eubank Jr. in his only real test at the world class level. The third-round KO spotlighted his deficiencies as a fighter. For all his work and recent move to train in American gyms, he still struggles mightily with hand speed and superior athleticism. And, as someone who likes to fight at a measured, controlled pace, the proverbial wheels seem to fall off the cart when things get fast and chaotic in the ring."

Yildirim, by the way, accounted very well for himself in his bout with Dirrell and, in many eyes, deserved the nod when the fight ended in a technical decision due to a cut over Dirrell's eye.

Still, if Yildirim were Alvarez's only opponent of the year or even one of two opponents in a year's time, I'd be bitching alongside the serial critics. But, again, this one is happening between unification fights against Smith and Saunders, all within a six-month period of time.

So, cut Canelo some slack and enjoy what should be another quality performance against a guy who is not coming to lose.