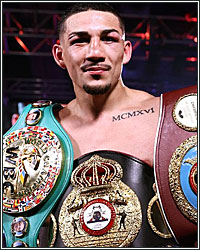 The real reason "they" hated Floyd Mayweather was because he knew his true worth as a fighter and insisted on receiving his true worth on his own, completely removed from the old guard boxing business structure. Don't let anyone tell you otherwise.

Mayweather and adviser Al Haymon, who set the ball rolling on Mayweather's full and total liberation, became public enemies number one and two because of this ultimate boxing sin and, accordingly, received plenty of hate and derision from the old guard bossmen as well as the lapdog boxing media.

The business decision to take himself to the free market made Mayweather into, by far, the most financially successful fighter in the history of boxing with a net worth of anywhere between $500 million and $1 billion, depending on who you ask.

It would be impossible to keep THAT kind of genie trapped in the bottle for long, even in a sport like boxing, rooted in shadowy deals, disorganization, and quick, desperate money grabs.

23-year-old unified lightweight champ Teofimo Lopez may not yet have a true sense of his own worth as an attraction, but he does know enough to know that promoter Top Rank is not paying him his full worth.

Lopez, who is the sport's hottest young fighter, fought for a larger purse prior to his breakthrough bout against Vasiliy Lomachenko last October and he got even more aggressive for his first defense, an IBF mandatory against Australia's George Kambosos.

With a low-ball $1.25 million contract minimum offer made to him by Top Rank, Lopez would simply refuse to come to terms with the deal, thereby forcing a purse bid where he felt he'd get his market value worth.

Online streaming service, Triller, would win the purse bid with an offer of over $6 million. Per IBF rules, the split will see Lopez taking in over $3.9 million of that bid-- more than three times what Top Rank offered. So, that means Top Rank's hottest property, coming off a star-making performance that drew nearly three million viewers on ESPN, will be fighting his first fight as a true star on the stage of a rival broadcast entity.

After losing the purse bid, Top Rank bossman and founder, Bob Arum, doubled down on his decision to offer Lopez a bare minimum purse, calling the Kambosos fight "not a premier attraction...not a must-see fight." The aged promoter, who is just a few months removed from an ugly, public falling out with another of his stars, Terence Crawford, would also go hard on an 'I'm the boss' mentality, pretty much flat-out telling Lopez that he'll fight under his terms or sit out the remainder of his contract.

"If he wins and comes back to us and wants the same money that he got before, the answer is 'no.' So he sits out for a while," Arum told Boxingscene. "He either fights, or he doesn't fight. It's easy. Teofimo has a contract with us. There will be regular negotiations on his fights. Maybe Triller is so happy with Lopez they will give us a big number and buy out our contract with Lopez, which is fine also."

This public 'take it or leave it' power play obviously didn't sit well with Lopez.

"Bob Arum just announced to not expect the same pay when I come back after this fight and if that's the case might as well buy yourself out. It's crazy; this is just business," Lopez told The Athletic. "And if they can't...treat their fighters — or at least me — in a way of respect, then I'll find it somewhere else because I know what I'm worth.

"I'm very happy and I'm very thankful. But I'm hurt by it. My father and my mother were crying...Obviously, Triller knows my worth and if anything it was a wake-up call for Top Rank."

And in a market where there are several big-money entities bidding against one another to scoop up boxing as the last "major" sport not entirely tied up in an exclusive network deal, Lopez will find more money elsewhere-- significantly more if he finds a route to promotional free agency.

In this current market, a fighter with star power has all the leverage.

Saul "Canelo" Alvarez, the sport's current top draw, leveraged his marketability into a $365 million deal with billionaire-backed streaming service DAZN. He also leveraged that marketability OUT of the deal, forced promoter Golden Boy out of his professional life, and then leveraged his way BACK into a fight-by-fight deal with DAZN that affords him absolute flexibility and total career self-determination.

Alvarez followed the blueprint crafted by Mayweather and Haymon. Teofimo Lopez is also following that blueprint. Expect more and more fighters, with the leverage to do so, coming to the realization that they can make much more money on their own.

Athletes are waking up to the fact that today's promoters are not really promoting as much as facilitating business deals with networks-- something which can be done with a manager and/or adviser. This is an absolute nightmare for the sport's major promoters, who got to be the all-powerful entities that they are by rigging the boxing business to favor their own best interests, channeling all areas of the sport-- from matchmaking to officiating to financial considerations-- through themselves.

"The game's changed," promoter Eddie Hearn told Fight Hub TV, commenting on the Arum-Lopez situation. "The fighters are the bosses. The fighters are the ones — they're the talent.

"Bob Arum's not the boss of Teofimo Lopez. He's not the boss of Terence Crawford. Bob Arum works for them. And he could never say that to you because he's old school, you know what I mean? And that's not what he thinks.

"The fighters aren't getting the respect from him because he's old school. And the game's changed, it's not like that anymore. So it's a car crash for them. He should just be quiet now and move on and make another big fight."

There's an old, corny song from way back in 1919 called "How ya gonna keep them down on the farm" that talks about the difficulties in keeping the returning World War I vets at home, modest, and god-fearing after seeing the wild life of Europe. The chorus goes: "How ya gonna keep 'em down on the farm/After they've seen Paree?"

Boxing in this new era is facing a similar dilemma.

How are the old guard boxing bossmen gonna keep boxing stars "down on the farm" when the stars increasingly know greater fortune lies in independence?