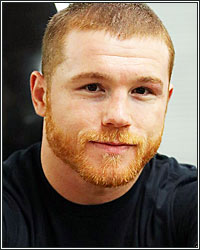 Hello boxing fans and dedicated haters. Here's another week's worth of my bulbous sack, bulging with gooey, salty truth, in your face. Enjoy. This week, we have comments/questions regarding boxing's favorite red-headed Mexican, Saul "Canelo" Alvarez, following his recent destruction of Avni Yildirim.

What's Next for Canelo?

Hi Paul.

Here comes the obligatory What's Next question for Canelo Alvarez. Saunders is next and Plant seems to be lined up after Saunders. Where does he go next, though?

Thanks for your work and insight over the years.

– Simon

Hey Simon.

If there's one thing we've learned about Canelo, it's that he's a very focused, order-minded kind of guy. He maps a course and pretty much sticks to it. We're seeing that with the way he's managed this career these last few years and we're seeing it now in his planned attack on the super middleweight division.

WBA champ Callum Smith was first. Then, Avni Yildirim, supposedly to fulfill a WBC mandatory, but really to make up the payday he lost in 2020 thanks to the Covid shutdown. Now, he's signed to face WBO titlist Billy Joe Saunders in May and is openly talking about IBF belt holder Caleb Plant in September. After that, there's a pretty clear course he'll take. I think a part three with Gennadiy Golovkin, this time at 168, could happen in May of 2022 and, possibly, Jermall Charlo in September. David Benavidez may or may not force himself into the picture at some point.

Barring someone coming out of nowhere to a spot of prominence in the division, that pretty much looks like the open field ahead of Canelo. IMO, it's a really good road to travel if the goal is an "all-time" legacy.

Canelo and Boo Boo's Boo-Boo

Hey Paul.

We saw that farce of a fight last Saturday with Canelo and Yildirim. Why is there even half an excuse now for Canelo not fighting Demtrius Andrade? If he's avoiding Boo Boo because he doesn't have a super middleweight belt or isn't a big enough draw, how does he explain fighting Yildirim? The guy was worse and less deserving than Andrade in every possible way. Let's just call a duck a duck and say that Canelo's ducking. Canelo is getting all this credit for beating ready-made opposition that's limited and made to be beat, but he's not going to touch someone who can really give him a run for his money. Boo Boo stays avoided and ducked. Boxing's got real issues when they let the inmates run the asylum and let fighters cherry pick their own opponents.

– H. Jackson

Hey H.

I used to be really high on Andrade, like, ten years ago. But all we get is the same sad sack story about the guy year after year. 'He's being avoided...being ducked...nobody wants to fight him'...blah, blah, blah. Lots of fighters are avoided for lots of reasons. At some point, though, a fighter has to make the decision to carve out his own path to stardom, force the big guys to answer his call, and/or make it worthwhile to take him on. Andrade could be more active, move up in weight, take on more stylistically tough match-ups in pursuit of legacy-defining, market-creating wins. At the very least, he could be more entertaining against the second and third-tier guys he's facing.

Maybe he's working the GGG strategy-- fighting tailor made fall guys because the one guy he really want to fight won't pay attention to him. If he's doing that, he's clearly delusional because, for a number of reasons, he's not going to ever receive the type of fawning deference and red carpet treatment Golovkin got.

And, speaking of Golovkin, why don't these two "avoided" fighters just go ahead and face one another? It should be an easy fight to make since both work for the same company. A win over the other may provided the type of piggyback ride needed to get a really big fight next. But we all know GGG-Boo Boo ain't happening and it's probably because the "avoided" are also doing a fair share of avoiding.

Andrade's been buried in this same "nobody will fight me" nonsense for more than a decade now. For me, that means he's either not being guided very well or is not pushing forward to change things all that hard. If you're still on the Boo Boo bandwagon after so many years of this go-nowhere ride, you have a few screws loose. The man is 33 now with, literally, nothing on the horizon and practically nothing in his past. And from a man who has/had elite-level talent, this degree of time wasting has gone from frustrating to disappointing to just plain boring now. Wake me up when Boo Boo wakes up.

Canelo as an ATG

Magno.

Where do you rate Canelo Alvarez on the all-time great scale? If it's too early to tell, where do you see him rating when he finally hangs up the gloves?

– John

Hey John.

Yeah, it's too early to start any ATG talk, but Canelo is only 30 and he has a ways to go yet. I think I read somewhere that he only wants to fight until he's 35 and, even if that's true (I doubt he stops that young), five years at the elite level he's at now is enough to earn him some all-time love if he does things right. Wins in the immediate future against Saunders, Plant, Benavidez, and Charlo, as well as a stoppage win against Golovkin in the rematch of the rematch would push him close to a choice spot on the all-time top something or other. But all of that would just take him to 33 years of age. There'd still be plenty of time to add more to the legacy.

Right now, I'd say he's already a first ballot Hall-of-Famer, pound-for-pound top dog, and an easy placement among the very best of this last decade or two. That's good enough for now. Let's see how the rest of the career plays out.

Got a question (or hate mail) for Magno's Bulging Mail Sack? The best of the best gets included in the weekly mailbag segment right here at FightHype. Send your stuff here: paulmagno@theboxingtribune.com.