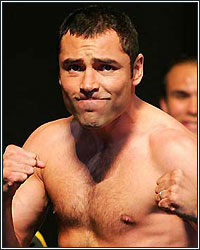 By now, you've probably heard that Oscar De La Hoya's September 11 bout with former UFC champion Vitor Belfort has been switched from an exhibition tussle to a fully sanctioned pro fight. Reportedly, though, this "real" fight will be of the eight round, two-minute-per-round variety, at a weight limit of (more or less) 180 lbs.

But as someone who truly believes in the honor and integrity of Oscar De La Hoya and his deeply-felt push to bring respectability back to boxing, I can't just let this go without comment. And who better to rally the troops, fighting for boxing decency and purity, than Goldie, himself?

So, I'm just going to re-print Oscar's righteous open letter from May, 2017 about the evils of Floyd Mayweather vs. Conor McGregor-- a despicable money grab featuring a retired boxer-turned-promoter, who should've been tending to the fighters he promotes, against a UFC star with no pro boxing experience-- with appropriate edits made to make it applicable in the here and now.

To my fellow boxing fans:

I write in the hopes that together we can protect the sport of boxing

With each passing day, it looks more and more likely that the circus known as Me Vs. VITOR BELFORT will be coming to town in the near future.

As undercard fights start to take form, athletic commissions give their blessings in exchange for millions of dollars and the fighters start counting even more cash, one group will eventually be left to make sure this farce doesn't occur.

You, the fans, who are the lifeblood of our sport.

Boxing is starting to dig out of the hole that Floyd Mayweather and Manny Pacquiao shoveled by waiting seven years to put on a fight that ended up being as dull as it was anti-climactic.

But if you thought Mayweather/Pacquiao was a black eye for our sport — a matchup between two of the best pound-for-pound fighters that simply didn't deliver — just wait until (one of) the best boxer(s) of a generation dismantles someone who has (only) boxed (once) competitively at any level — amateur or professional.

Our sport might not ever recover.

I fully understand the initial attraction from any fan of combat sports. BELFORT WAS A VERY GOOD MMA fighter. I am the Golden Boy. But success in one sport does not guarantee success in another. Far from it. And let's be clear, these are two different sports — from the size of the gloves fighters wear, to the size and shape of the ring, to the fact the one sport allows combatants to use their legs to strike.

Furthermore, it's not like BELFORT would be fighting a good fighter, let alone a mediocre one. He would be fighting (ME-- a Hall of Famer).

Now, I know critics will say that I'm only writing this letter because I'm (bitter/loopy/fucked up on something/dumb/starving for attention/all of the above).

But my interest is in the health of boxing as a whole. It always has been. And if I were to come out of retirement to take on someone like Keith "One-time" Thurman, Errol Spence or some other top welterweight, not only would I applaud the fight, I'd be the first one on line for a ticket.

That kind of fight is what the fans — and I am a fan first — deserve.

Which brings me back to the circus.

MY and VITOR's motivation is clear. It's money. In fact, WE don't even pretend it's not. But it's also a lack of consequences for when the fight ends up being the disaster that is predicted. After this fight, neither of US will need you anymore. I will go back to retirement — presumably for good this time with (HOPEFULLY) a nine-figure paycheck — and Vitor will go back to RETIREMENT.

It's a win-win for US. It's a lose-lose for you. You'll be $49.99 lighter and we will have squandered another opportunity to bring boxing back to its rightful place as the sport of kings.

At this point, only we can shut the circus down by making it clear that we won't pay to see a joke of a fight and telling your casual-fan friends that they shouldn't either.

Sincerely,

Oscar

So, yeah…

Vergil Ortiz Jr., Ryan Garcia, and other Oscar-promoted fighters, struggling to get a headline while Oscar mega-promotes his "comeback," would probably co-sign.