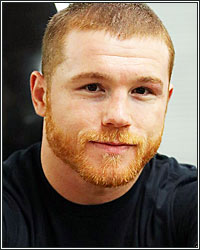 Welcome to another Thursday edition of Magno's Bulging Mail Sack, the only boxing mail bag column that requires two wet-naps, a splash guard, and an extra shot of hand sanitizer. This week, we have comments/questions regarding the Canelo-PBC-Plant debacle and Keith Thurman vs. Gervonta Davis.

Canelo vs. PBC

PBC is up for renewal with FOX real soon. Al Haymon wants to secure a deal that brings boxing's biggest star to FOX. Which will in return put him in a better bargaining position while renegotiating with FOX. I don't see Haymon letting Canelo fight anyone on PBC without a multi-fight deal.

According to reports, the deal included $40 million guaranteed each fight. The upside on PPV and live gate, along with 100% Mexican TV licensing revenue. Why would Canelo say no to that deal?

It was revealed by Caleb Plant that Canelo wanted to choose his replacement and be paid the same amount in the event that Plant gets injured or pulls out. I believe that to be true as well. I can see Canelo's team telling Haymon. "Look we'll take the multi-fight deal and fight your stable, but in the event someone pulls out or gets injured, we want to still fight the replacement of our choice. If you're giving us $40 million a fight, it has to happen regardless of the opponent or circumstances."

I don't see anything wrong with that at all. Haymon and PBC needs to meet Canelos demand. Canelo's team is smart for making that request. If the PBC wants to ink Canelo they have to take some sort of risks. Based on the reports, it sounds like PBC aren't taking any risk. It's a slam dunk deal. Canelo on FOX PPV at $40 million a fight. That's an easy sell for FOX. They'll market Canelo throughout their NFL and MLB programming and it'll be a slam dunk return on profits.

Conversely, it isn't a slam dunk deal for Canelo. Yes, he'll make $40 million, but what say so does he have? Zero! Canelo can run through every Euro in Hearns stable at $20 million a pop.

I think his DAZN relationship only exist due to the power that he holds in terms of matchmaking. DAZN will let Canelo fight whoever, whenever. That's something that Al Haymon has to match to some degree. Which is why there's nothing wrong with team Canelo asking to pick the replacements. Sounds like Canelo wants the deal on FOX, he wants to fight Plant, Charlo, Benavidez, etc. But he wants some sort of control and leverage. The PBC needs to sacrifice and take the risk if they want Canelo.

-- Nail Rahman

Hey Nail.

I can't disagree with anything you just wrote. Canelo's got the stroke and the leverage to make all the demands. What I will point out, however, (as I always do when negotiation details go public), is that we only know what's been leaked to the press. We don't really know what's been happening behind closed boardroom doors and between the parties actually involved. In cases like this, I generally withhold placing blame.

But, let's assume that everything we've read is true.

You're right. The ball is in PBC's court to make the concessions and suck up the sacrifice. If those concessions are too much and the deal becomes too problematic, then they should walk away. But they shouldn't expect Canelo to bend when he doesn't have to.

Money-wise, I think the green could be there. Paying $40 million to Canelo means that they'd have to sell a little over a million PPVs (at $75) to cover his purse, alone. Factor in Plant's reported $10 million and the break-even point would be a bit over 1.3 million buys. All of that is doable. And when you factor in corporate sponsorships, overseas rights (excluding Mexico), and a negotiated cut of the live gate, you're guaranteed to, at the very least, not lose any money.

Plus, as you alluded to, it'll make a huge impression on the FOX folks and serve as leverage in negotiations to re-up their network deal.

On the other side, though-- what good is a big money event if FOX isn't guaranteed a continued Canelo presence? If Alvarez fights Plant on a FOX/PBC pay-per-view and then leaves to fight for someone else, what does FOX have? I can see where there'd be an effort made at locking him up for at least two or three fights.

But I agree with you. One fight and done with Canelo is better than no fights with Canelo. Maybe Alvarez sees the kind of attention a network performance can bring him and he likes it. Worst case scenario, the fight serves as a huge promotional event for FOX and PBC and showcases some Haymon fighters on the undercard.

There could've been some sort of compromise on replacement opponents, if that was the hang-up. Maybe pick from a list of PBC-approved replacements if Plant can't make the date for some reason. But, again, we don't REALLY know what happened in negotiations and all of the above is conjecture until we get some actual info (if we ever get any actual info at all).

One Time vs. Tank?

Hi Paul

What's this crazy talk about Keith Thurman fighting Gervonta Davis? This can't be real, right? But if it is-- who you got?

– Damon

Hey Damon.

Yeah, that IS crazy, out of the blue. I've been out of the loop, dealing with some personal, family issues and when I finally checked back in, this Thurman-Davis stuff was all over social media.

It does kind of make sense from a cynical matchmaking perspective. Thurman would be willing to fight the naturally smaller Davis because it bags him a big name with a perceived minimal risk (because of the size factor). Davis would be willing to fight Thurman because Thurman is, arguably, the most vulnerable of the name-value welterweights and beating him would give him a huge publicity pop as a 4-division conqueror.

But, well, in my not so humble opinion, the idea of Thurman-Davis is absolute shit.

Both fighters have plenty to do-- and plenty more important to do-- inside their own divisions. Davis needs to be addressing the big names and viable contenders from 130 to 135 (and, begrudgingly, at 140 if he chooses). He has no business fighting at 147 right now, for any reason. Thurman, meanwhile, has to regain his standing at welterweight-- and there's plenty of opposition out there for him to try and do that.

Fighting each other would be a waste of time and a pointless detour for both.

But if they DID fight? I think Davis wins-- either by stoppage or, more likely, by unanimous decision as he chases a defense-minded Thurman for a full twelve rounds.

Got a question (or hate mail) for Magno's Bulging Mail Sack? The best of the best gets included in the weekly mailbag segment right here at FightHype. Send your stuff here: paulmagno@theboxingtribune.com.