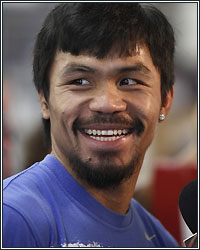 Welcome to another Thursday spent crowded around my bulging, bulbous sack waiting on a money shot of gooey, salty wisdom into the flinching face of boxing ignorance. This week, we have comments/questions regarding the futures of Yordenis Ugas and Manny Pacquiao.

Pacquiao Sadness

It was tough watching Manny Pacquiao fight Saturday night. I saw a 42-year old boxer who looked like he didn't want to be there. I saw a guy who appeared to have let the ugly side of boxing get the best out of him.

As the boxing media boasted about Manny's bravery to fight anyone, anywhere at any time. The so-called moral victory of bravery and pursuit of legacy was all hogwash to cover up the truth behind the real question everyone in boxing should be asking. WHERE THE FUCK IS MANNY'S MONEY?

I've heard the stories in Vegas and LA from people on the boxing scene about the fees Freddie Roach was taking as a trainer from Manny. I've heard rumors about his former advisor Michael Koncz robbing him blind.

They're all rumors, but when you look at his current situation you can only assume that it's more than likely true.

For the sake of the game and out of respect for his greatness! I don't ever want to see Pacman fight again. His Legacy was cemented nearly a decade ago. His position in history hasn't changed. To me, he's the greatest offensive fighter of all time. He had an illustrious career. But like many of the all time greats. His pockets were stretched thin by scavengers.

Based on what we saw out of Manny on Saturday Night. Would it have gotten embarrassingly ugly if Manny fought Spence? Do you think that Manny will fight again?

-- Nail Rahman

Hey Nail.

We've all heard the rumors about Manny's finances and, in the past, I've written plenty about it. I stopped writing about it because nobody seemed to care all that much and some readers were pretty hostile in insisting that I stop. So, whatever, right? But, according to a 2011 official document issued by the House of Representatives in the Philippines, Pacquiao had a net worth of approximately 1.134 billion PHP (Philippine Pesos), which comes out to just over 26 million in American Dollars. He had generated approximately $384 million in boxing revenue up to that point, plus a ton of endorsement and merchandising earnings. I also wrote extensively about that general period of time when he had briefly hired an outside accounting firm to review his finances and found disorder, disorganization, and all kinds of shadiness going on.

All of that was 9-10 years ago, though. He's been a promotional free agent handling his own business for four years and four fights now and there's been a lot less out there in public when it comes to his finances. We do know, however, that Manny still has an ungodly huge crew of assistants, hangers-on, and ambitious fringe associates pulling for his attention and his money. He also still has a very lavish lifestyle.

Having said that, though, I don't think money is the primary reason Manny is still fighting and may continue fighting. He's fighting because of pride and, maybe, a bit out of a sense of duty. He's a superhero to his people, a real icon that represents the ability of the Filipino to rise above rough circumstances. His boxing feeds the hopes of the masses which, in turn, feeds his ego and his feeling that he needs to keep going forward for his people.

But there's no point in going forward and fighting to inspire if you're no longer at your best and likely to get beaten.

Unfortunately, Manny has enough yes men around him and those who desperately need him to keep a revenue stream flowing that he may be talked into thinking that Saturday's fight was an outlier performance and that he still has enough to keep fighting. I don't think we've seen the last of him in the ring, whether he becomes President of the Philippines or not.

I think if last Saturday's Manny Pacquiao had fought Errol Spence, he would've been bludgeoned into submission. It would've been ugly. But it may have been for the best if he HAD been brutally crushed. That kind of loss may have forced him into accepting reality.

Next for Ugas?

Hi Paul.

Yordenis Ugas has to be on top of the world right now. He turned in a solid, mature performance and should be proud of himself. The question for me is about how high he can go. He did what he had to do against a faded Pacquiao, but I just don't see him as an elite talent. What do you see next for him? Can he become THE man at 147?

-- Simon

Hey Simon.

I've been high on Ugas since he took that time off from 2014 to 2016 and rededicated himself to the sport. He had been on a low-key outstanding run of 11-1 coming into the Pacquiao fight, with his lone defeat coming via very controversial decision to Shawn Porter. Other than Errol Spence and Terence Crawford, nobody at 147 has been on a better multi-year run than Ugas.

But...

Ugas is not the kind of fighter who's going to be that fan-attracting, headline-grabbing elite talent people expect to sit atop the welterweight glamor division. Even in beating Pacquiao we saw that. As you said-- solid and mature. And solid and mature do not translate into stardom or, really, dominance.

As for his immediate future, I'll just quote myself from this Monday's Notes from the Boxing Underground column:

"Ugas' immediate future seems fairly mapped out. A unification bout with IBF/WBC champ Errol Spence will likely enter the planning stages as soon as Spence's torn retina is fully mended. Before or after a Spence fight (depending on Spence's recovery time), Ugas may be matched against Jamal James, who won the interim WBA title against Thomas Dulorme last August and then was elevated to full champ status this past February when Ugas was declared "super" WBA champ. Since the WBA is pretending to be on the side of the angels after being busted for their scumbaggery in the whole Mykal Fox-Gabriel Maestre debacle earlier this month, they've been calling for unification of their many, many world titles and this means, probably, a consolidation of their 147 lb. belts as well.

Around fights with Spence and James, standby bouts could happen with anyone in the WBA welterweight top 4-- Eimantas Stanionis, Abel Ramos, Radzhab Butaev, or Gabriel Maestre-- all PBC fighters). A shamed WBA might even toss Mykal Fox an "I'm sorry" prize and line him up for a shot at Ugas."

Got a question (or hate mail) for Magno's Bulging Mail Sack? The best of the best gets included in the weekly mailbag segment right here at FightHype. Send your stuff here: paulmagno@theboxingtribune.com.