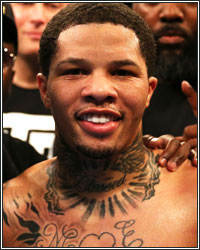 Welcome to another edition of Magno's Bulging Mail Sack, one of only two major boxing mail bag columns not written by a lady-man and/or inveterate industry shill. This week, we have comments/questions regarding the best not fighting the best and Gervonta Davis.

Best not Fighting Best, Even "In-House"

Hi Paul

I was thinking that all us fans have focused on saying that the multiple promoters have made it difficult to deliver good fights. We wanna see Errol Spence vs Terrence Crawford, Anthony Joshua vs Tyson Fury, Tank Davis vs Ryan Garcia, but if we think about it, promoters have not even focused on their best in-house fights, let me give you some examples:

PBC:

-Gervonta Davis vs Gary Rusell

-David Benavidez Vs Caleb Plant/Jermall Charlo

-Keith Thurman (top 1 of my I want him to be KOed list) vs Jaron Ennis

Top Rank:

-Lomachenko vs Oscar Valdez

GBP:

-Ryan Garcia vs Jo Jo Diaz

Matchroom:

-Demetrius Andrade vs Golovkin

I always believed that even though Al Haymon started something good with maximizing the fighter's purse, he also started fighters being reluctant from fighting good challenges. Nowadays, I would think that fighters and managers have more leverage than promoters when setting up fights. What do you think?

Best regards to you and your family.

--Miguel

Hey Miguel.

I think the big in-house fights aren't happening for the same reason the big cross-promotional fights aren't happening. It's all about money and the financial realities facing the sport that nobody but me seems willing to address.

There's just not that much more money in the risky fights than the safer fights. Boxing has gotten to a point where all that's really left of the fandom are the hardcore types who tune into everything no matter what. So, if we're talking just a few thousand more fans tuning in to see a fight that could get your main guy knocked off his pedestal, why bother taking that risk? It's the same deal with those high-end, cross-promotional fights. Why would Spence, for example, care to fight Crawford when he can make almost the same amount of money fighting less risky opposition? It's not about "ducking" or being "chicken." It's smart business, especially in a sport where the longevity of your money-earning prime is not at all guaranteed. If there was crazy money in fighting one another, Spence-Crawford would be made without question or much delay.

But if Spence-Crawford generates 500-600K buys (and that's a fair estimate, no matter what fans may LIKE to believe about its sales potential) while Spence-Porter generated slightly over 300K buys, with a sweeter built-in contractual deal for Spence, then there simply wouldn't be enough extra money for the extra risk.

First and foremost, boxing's inability to reach the mainstream casual fan is what's keeping the bigger, more competitive fights from happening (whether in-house or out-of-house). Then, there are the fighters, themselves, who demand so much for the lesser fights that making the big fights becomes economically unfeasible for their promoters and networks. If a guy is making $750K for fighting his sparring partner, how the hell are you going to convince him to fight an opponent at his level in a pick 'em bout for $1 million?

As much as I hate to say this, purses may have to go down for the lower level fights, so there's some incentive to sign up for the better fights. In the meantime, the boxing bosses need to work on growing the sport so there's a bigger base to market to when they want to create a mega-event.

I don't think it's unhealthy that fighters and managers have more leverage in making fights. The problem is that the business around them is busted.

Tank Tanking?

Hi Paul.

What's it gonna take for Tank Davis to get into the ring with someone who matters? I like the kid and recognize his immense talent, but this slow march towards real boxing relevance is maddening. Mayweather's matchmaking for him has been brutal and him fighting Rolly Romero next is just another go nowhere empty challenge for a guy who could and should be knocking out elites.

– Charlie from Chicago

Hey Charlie.

Mayweather is clearly employing the matchmaking strategy he employed for himself in the latter part of his career. The problem is that Mayweather was alright in taking those calculated matchups because he actually did put in a good, legacy-building run in the first part of his career.

By Gervonta's age right now (26), Mayweather had already fought Diego Corrales, Genaro Hernandez, and Jose Luis Castillo (twice). Davis doesn't have any names like that on his resume yet. Leo Santa Cruz at any weight will be tough, but he was giving up a considerable amount of weight against Davis. Mario Barrios is a good, solid high-end fighter, but he's not an elite yet. Jose Pedraza, Yuriorkis Gamboa, and Jesus Cuellar are solid names to have on a resume, but they're not legacy-definers.

For all his live, in-person drawing power, Davis still doesn't have a true defining victory. That wasn't an issue when he was 23-24, it's becoming an issue now that he's 26-27 and fighting on pay-per-view. The bubble is going to burst at some point soon and fans will not buy into a PPV that simply exists as a showcase for the next PPV.

I agree that he's good enough to beat most (if not all) of the elite names at 130-140. He just has to actually fight those fights, or at least one or two of them.

Got a question (or hate mail) for Magno's Bulging Mail Sack? The best of the best gets included in the weekly mailbag segment right here at FightHype. Send your stuff here: paulmagno@theboxingtribune.com.