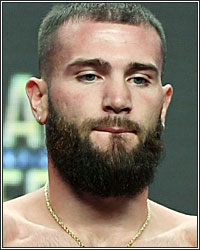 No matter what happens in the 4-belt super middleweight unification on November 6, you can't say that IBF titlist Caleb Plant isn't doing his part to not only get himself ready for Saul "Canelo" Alvarez, but to also help sell the pay-per-view.

For the last couple weeks, the 29-year-old has made headlines all across the online Universo Pugilistico , chiming in on all things Canelo-- alternating in tone from respectful tips of the hat to burning condemnation. And, in doing so, he's selling the hell out of a fight that many think he has almost zero chance of winning.

"I'm not doing this for the money," Plant told media prior to the Manny Pacquiao-Yordenis Ugas pay-per-view at T-Mobile Arena. "If I was doing this for the money, then I would've jumped on a five-week camp, with four weeks to train, like Callum Smith did. I'm not in this for the money. I really want my name in those history books. That's why, you know, I've worked so hard. And like I said, I sacrificed a lot. I want to be in those history books, and that's why I'm doing this."

That boast would be seen as empty rhetoric from almost any other fighter, but Plant has the kind of chip on his shoulder that screams "I mean what I say."

As I wrote back in 2019, when Plant was first starting to establish himself as a main stage player:

"Life's been a struggle every step of the way for Plant, nothing's been easy. From extreme poverty as a youth to the horror of dealing with the death of his beautiful 19-month-old daughter, life has conspired to pull him away from his dreams, to stop him from becoming who he always thought he'd become.

Even after beating tough-as-nails Jose Uzcategui for the world title, the 26-year-old had to deal with the tragedy of losing his mother, who was shot in an altercation with a police officer.

Through it all, Plant has held firm in his self-belief and rock-steady in his focus. He's crawled his way through the broken glass of a shattered life and staked his claim to a spot on the world stage."

It's the chip on his shoulder and attitude of blatant defiance in the face of adversity, along with a skill set that flashes bits and pieces of brilliance, that makes some believe, come November 6, he won't just be a Callum Smith-ish speed bump on Canelo's road to bigger things.

Plant's extreme self-confidence also makes him unafraid to stir up the proverbial hornet's nest.

After super featherweight titlist Oscar Valdez, who is trained by Canelo's trainer Eddy Reynoso, tested positive for the banned substance phentermine, the Tennessee native let loose with a brutal attack on Reynoso, Alvarez, and all of Team Canelo.

"(Eddy Reynoso) and Canelo deserve BITCH of the year!" Plant said via his verified Twitter account. "All of them are suspect. Everything out of that camp is intentional. They have the knowledge and experience to know better and the resources to have the best of the best in whatever they want but (tacos) or (beef) or some (tea) is the reason.

"...people don't take this stuff out of confidence, they take it out of FEAR! They don't wanna let their NUTS HANG so they take shit that'll make them shrink...I said what I said and I stand by it so fuck whoever don't like it. The people INNNNN the sport know what's up but the ones who don't speak up are the same ones who cheat just like them…There's a whole other world out there when it comes to banned substances that people in the fight game don't wanna speak up about but I could care less."

Plant has even sought the guidance of former consensus super middleweight and light heavyweight kingpin Andre Ward for this upcoming Alvarez bout. Although it's not known to what extent Ward is helping in his preparation, it is known that they've been spending time in Ward's Bay area home gym.

Of course, being loud, confident, and basking in wise words from a savvy boxing mind like Ward might ultimately be meaningless when the opening bell sounds. Alvarez's body of work is vastly superior to Plant's and, frankly, his skills have also been battle-tested superior.

Plant does a lot well and is a lot better than critics care to acknowledge. Some of the more nuanced work he does in the ring is next-level stuff and trained eyes recognize that. He's yet to put it all together, though, and his efficiency ebbs and flows moment by moment and opponent by opponent.

Could he be one of those fighters who fights up to the level of his opposition and the grandiosity of his stage? Maybe. Maybe not. Odds are, not.

But Plant sure as hell is selling the shit out of this fight and painting himself into the kind of corner that demands a stellar performance.