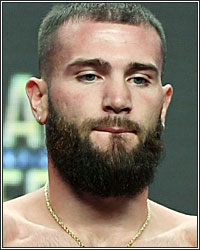 Every Thursday here at FightHype, boxing fans gather around my bulbous, bulging sack in anticipation of an Ol' Faithful money shot of gooey, salty truth. This Thursday is no different. So, put your goggles on and cinch up your plastic poncho, here it comes. This week, we have comments/questions regarding Saul Alvarez vs. Caleb Plant, the realness of David Haye, and the weaknesses of boxing's top fighters.

Don't Write Off Caleb Plant

Yo Paulie!

I hope you're staying safe, and keep up the good work as always. Never listen to the haters!

I'm on record saying I never thought the fight between Canelo and Plant would happen ('til the bell rings it hasn't) because fighting an undefeated, confident fighter in his 20's isn't Canelo's style. But the fight is signed. So unless there's a fishy injury that causes him to pull out of the fight, I need to eat my words. When the fight happens, win or lose I'll give Canelo credit for getting in the ring with a young, hungry undefeated champion.

So, now that the contracts are signed, how do you see this fight playing out? Personally, I think Plant is being written off by damn near all of the media and the vast majority of the fans. I think comparing Plant to either Smith or Saunders is criminal. Smith has fundamentals, but is very plodding with not much hand speed. Saunders is somewhat mobile with an awkward style, but he doesn't have much power and his speed is overrated along with almost everything else about him. His best performance was outpointing Lemieux. In my opinion, Plant is faster, has better fundamentals and punches much better in combination than either of them. He seems to understand the nuance of the game and he does some things that stylistically resemble Mayweather. His defense is also underrated. In watching Smith and Saunders fight, nothing jumped out about them. Plant looks leagues better than either of them if we're talking about the eye test.

I don't think he should be the favorite in a Canelo fight, but he should be taken more seriously by the people who are writing him off. I am interested to see how Canelo deals with his combination punches and use of the ring. I am also interested to see how Plant deals with the pressure Canelo will bring after the opening rounds. Long story short, this fight has intriguing aspects to it. Canelo's last few fights haven't. What do you think happens?

Keep being you bro!

– Jackson D

Hey Jackson.

Thanks for the kind words. Don't worry, I never listen to the haters. A hater is just an angry loser.

I love getting smart emails like this-- and I'm not just saying that because I happen to agree with your assessments (Okay, maybe part of it is because I agree with your assessments).

Callum Smith and Billy Joe Saunders were definitely overrated coming into their bouts with Canelo, carried aloft by that crazy, cheerleading UK media and rabid fandom. Saunders had decent legs and a little bit of fluidity to his game, but he wasn't/isn't much more than a high-end regional/Euro fighter. I didn't see much in Smith at all, to be honest.

Plant doesn't have media support like Smith and Saunders did and American fans tend to not support their homegrown talent. So, of course, he's not as well regarded. But I agree with you that Plant is an overall better fighter than both Smith and Saunders.

I've always liked Plant and, as I wrote earlier in the week, there are flashes of brilliance in his ring work. I see a bit more of James Toney than Floyd Mayweather in him. He also has the mental makeup of greatness, that self-confidence and defiance in the face of adversity all greats have to have.

I wouldn't go so far as to pick Plant to beat Canelo, but I do think he'll offer up some interesting looks and have more moments than many think he will. Canelo is the real deal when it comes to his skills and ability. For me, he's legitimately pound-for-pound no. 1 (if you believe in such things) and I think he also gets unfairly slammed for level of opposition. Yes, he plays the smart matchmaking game when it comes to risk vs. reward, but every fighter does that, especially as their star rises and their business leverage increases.

But, yeah, Plant is no patsy. He may fall, but he's no fall guy.

As for what happens? I see the fight being fairly close in the first seven rounds or so. Plant will be sharp, employing angles and smart movement with his solid jab as insurance. Canelo will eventually find his way inside, though, and begin to take over. I see a unanimous decision in favor of Alvarez. Maybe 116-112 or 117-111 on an honest scorecard.

Weaknesses of the Best

Hey Paul,

Thanks for all you do. I remember there's an old adage from the talk radio industry: those that call in are not representative of the wider audience. In your case, I hope you don't conflate what some commenters on your articles may say (and when I say "some," I specifically mean 1 particular commenter who uses emojis like a 12-year-old girl and has the spelling/typing skills of a drunken baboon. Seriously, imagine being a grown adult and typing the things he types. It's insane).

Your work makes being a fan of boxing and reading about it more palatable than it would be otherwise. I don't always agree with you, but I know that you are always giving your informed, honest, and unvarnished opinion.

To make this more fun, in a word or short phrase, tell us the primary in-the-ring weakness of these current top level fighters:

Terence Crawford

Errol Spence

Canelo Alvarez

Anthony Joshua

Tyson Fury

Teofimo Lopez

Josh Taylor

Tank Davis

Vasily Lomachenko

Naoya Inoue

Once again, thanks for everything you do.

– Jeremiah Davis

Hey Jeremiah.

Thanks, also, for the kind words. Yeah, I find it funny just how angry and obsessed some of these shit-head comment section jockeys can be. There's nothing that screams "bitch" more than a grown-ass man stalking a writer's articles and leaving catty insults. I'm just a guy giving his opinion on boxing. If you're so violently opposed to what I believe, get your own writing gig and set forth with what you believe to be the honest, sincere, "real" truth. Otherwise, you're just hanging off my nut sack like some emaciated tick.

I love the meat of your email, by the way. This should be fun. I'll go fighter-by-fighter in the order you listed them (and in as few words as possible):

Terence Crawford-- Crawford's biggest weakness is his own mindset. He sometimes lacks sufficient respect for his opposition and that leads to slow starts and getting hit with the occasional big shot. Honestly, he's untested against a true elite, so none of that may be an issue against someone he actually respects. I think he rises to the occasion and we see 100% of Crawford against a real challenge.

Errol Spence-- He struggles at times against opponents with hand speed and has some defensive lapses (head movement).

Canelo Alvarez-- Fluidity and speed are his biggest weaknesses. He's worked hard to turn himself from a flat-footed, stiff-legged banger into a more mobile, well-rounded fighter, but mobility is still not something natural to him. When an opponent shows speed and agility, you can still see his discomfort (albeit to a much lesser degree than before).

Anthony Joshua-- Joshua is a front runner. When things are going well for him, he's a beast. When he finds himself in a hole, he struggles to regain ground. That wasn't the case against Wladimir Klitschko, but Klitschko was also an infamous front runner.

Tyson Fury-- Fury is Fury's greatest weakness. He sometimes has lapses in focus and doesn't always prepare his best before fights.

Teofimo Lopez-- Hand speed. When Vasiliy Lomachenko finally let his hands go in their bout, Teo had no answers. We'll see how that chink in his armor plays out.

Josh Taylor-- Taylor is all-around good, but there've been some indications here and there that he has some issues when a boxing match becomes a chaotic battle. Like a lot of stylists with impeccable fundamentals, he prefers a nice, orderly boxing match.

Tank Davis-- Tank may eat his way past his prime weight of 130-135. He also falls in love too much with his power, sometimes allowing for his opponents to work their game and lay hands on him because he's so confident that he can knock them out. Against true elite-level opposition, that kind of big-punch reliance may cost him dearly.

Vasily Lomachenko-- Lomachenko's ego is his biggest weakness. One gets the idea that he feels he only has to show up to get a win. He's outclassed so many of his opponents-- in both the amateurs and as a pro-- that one can see why he thinks that. In the two cases where an opponent took the fight to him and put him in a hole (Orlando Salido and Teofimo Lopez), however, he was late to snap into an "I gotta get this going" mindset. That's ego. He's slow to process that he CAN be beat and IS being beat.

Naoya Inoue-- The Nonito Donaire fight shined a light on two flaws in Inoue's game. He has issues with next-level hand speed and, like a lot of offense-minded fighters, he's not nearly as all-powerful when forced to box going backwards.

David Haye: Real or Not?

Hi Paul

Hope you and your family are fine. We got David Haye fighting this weekend and I want to discuss about him now. What are your thoughts on him?

1. Was he ever good and was he restrained by his constant injuries?

2. There were lots of rumors when speaking about his sparring sessions. First, Bellew claimed he and David Price beat him up real bad, then there were rumors about Wilder mopping the floor with him during his camp for Fury (there are videos on youtube which suggests otherwise). When I look into rumors like these it makes me think that answer for question 1 is simply he was not that good.

3. Would a healthy version of himself during 2013 beat Tyson Fury? I thought that he would, seeing how Fury was decked by Steve cunningham who was never a puncher

Best regards

-- Miguel

Hey Miguel. I'll take these in order.

1. David Haye, IMO, was an ATG-level cruiserweight. As a heavyweight, he just never clicked. He wasn't naturally big enough and the speed that made him outstanding at cruiserweight, was diminished because of the added weight. I think the chronic injuries were due, in large part, to his added weight.

2. Rumors are rumors and sparring is sparring. Muhammad Ali used to get his ass kicked in sparring.

3. Haye wouldn't beat Fury at any stage of his heavyweight run (assuming Fury is in the right state of mind, of course). He would just never get inside of Fury's range to do any damage and, like against Klitschko, he wouldn't risk getting hit on the way inside, either.

Got a question (or hate mail) for Magno's Bulging Mail Sack? The best of the best gets included in the weekly mailbag segment right here at FightHype. Send your stuff here: paulmagno@theboxingtribune.com.