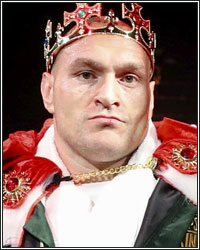 If I were a big shot at Premier Boxing Champions (PBC), I'd have a firm Plan B for their main heavyweight player and former WBC champ, Deontay Wilder. History tells us that getting Tyson Fury into the ring can sometimes be a frustratingly unfruitful task.

Team Wilder has already had to deal with a bit of this odd character quirk from the "Gypsy King" and they should know by now that no Fury fight is a sure thing to go down until Fury actually steps foot inside the ring.

Following the controversial late 2018 draw between the two big men, there was a needlessly long delay in making the rematch, brought on by Fury signing a whopping deal with Top Rank and ESPN, reportedly worth in excess of $100 million.

The rematch did eventually happen-- after two pointless Fury "stay busy" bouts for his new network bossmen-- and Fury absolutely wiped the canvas with Wilder to take the WBC title in February of 2020. The one-sided rout was supposed to be immediately followed by a third bout, but a reported Wilder injury opened the door to plenty of hemming and hawing from Fury and an apparent total disinterest in living up to his end of the rematch clause.

Then, after Wilder won an arbitration ruling to get his rematch and Fury-Wilder was set for July 24, Fury pulled away again. The defending WBC champ had allegedly tested positive for COVID-19 along with several members of his camp. However, subsequent photos of Fury out and about in Vegas, sans mask, and Instagram snapshots of supposedly infected camp mates at public events made many doubt the veracity of this supposed Team Fury outbreak. Shortly after these doubts started gaining traction in the media, it was announced that Fury had tested negative and was flying back home.

So with a new date of October 9 set, there's really no guarantee that we're going to get the fight into the ring on that day. It's not just Fury's history of dealing with Wilder, either. Fury has a long-established history of this kind of stuff well before crossing paths with the "Bronze Bomber."

In 2012, Fury vacated his British and Commonwealth heavyweight titles rather than be forced into a mandatory bout with David Price.

In 2014, Fury pulled out of his fight with Alexander Ustinov-- on the day of the fight-- because his uncle Hughie had been taken to the hospital.

In 2016, Fury had a mental and emotional collapse after his career-defining unanimous decision win over Wladimir Klitchschko in late 2015. The collapse would lead to him pulling out of a contractually-obligated rematch and stepping away from the ring for nearly three years.

In 2020, the big Irishman called out top contender Dillian Whyte and then, just as quickly, pulled back on his call-out as the businessmen started actually putting the fight together.

Also in 2020, we saw Fury and three-belt champ Anthony Joshua fail to make a bout that was considered almost a sure thing to happen. Although Team Joshua was held partly accountable for the fail, along with the arbitration ruling insisting on a third Wilder bout, Fury didn't exactly fight to keep a Joshua four-belt unification on the schedule.

None of this is a question of Fury being "scared." After curb stomping Wilder with very little problem in their second outing, there shouldn't be any fear coming into part three.

No, there's something else at play with the mercurial Gypsy King and his strange run of non-fights. It wouldn't be wise to even hazard a guess about what may be going on in his head and heart. All we know is Tyson Fury's history of a fight not being a sure thing until it actually happens.

Another thing history tells us, though, is that Tyson Fury can deliver some magical performances when he's in the right frame of mind. We'll just have to see if we get magic or an empty fight night on October 9.