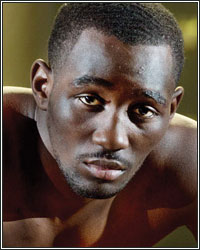 Welcome to another Thursday edition of Magno's Bulging Mail Sack, the only boxing mail bag column that requires two wet-naps, a splash guard, and an extra shot of hand sanitizer. This week, we have comments/questions regarding Teofimo Lopez, Keith Thurman, and Crawford-Porter.

Disappointing Teofimo

Hey Paulie.

Am I the only one really disappointed with Teofimo's entire existence post-Lomachenko? I know he had COVID for a part of his eleven months after that fight, but I was disappointed before COVID. I just don't see him doing anything to actually take on any real challenges and his recent statement about never rematching Lomachenko is weak. I expected much better from this kid.

– Saul "Not Canelo"

Hey Saul.

I hear you. I expected a lot more too. I don't necessarily blame him for this pointless Kambosos fight, although he has a lot to do with how long it's been taking to actually happen. What disappoints me more than anything is this star trip he seems to be having and his apparent lack of interest in fighting anyone he really should be fighting at 135. The diva attitude has been oozing from his pores. I suppose, at 24 years of age and with all of the praise heaped on him so quickly, this ego bulge should've been expected. But nothing he's done since beating Lomachenko has been at all conducive to helping the sport or even helping himself become an even bigger star.

And speaking of Lomachenko…

I agree. Teo dismissing the idea of a rematch is weak and it diminishes what he accomplished back in October. Everybody who saw that fight knows that Lomachenko came on strong late in the contest and nearly swept the last five or six rounds. It's not like Lopez walked away with a dominant win or even closed the show in a conclusive manner. It was a damn close fight, despite the oddball scores issued by the judges and that, along with Lomachenko being a star and a legit pound-for-pound guy, as well as the fact that it did big numbers on TV, should make a rematch a no-brainer. Completely blowing off the idea of a rematch looks like a duck from Lopez. It looks like a young guy looking to skate by a tough challenge for easier paydays. Or, maybe, the kid can simply no longer make 135. Whatever the case, Teofimo has taken himself from being a young fighter on the verge of crossover stardom to a guy many fans are already "over."

One Time = Once Upon a Time?

Yo, Mags.

Where oh where is "Once Upon a Time" Keith Thurman? We're going on 14 months since he last fought and there's nothing concrete on the horizon for me. This guy's only fought twice since the Danny Garcia fight in March of 2017 and against Josesito Lopez he almost got KTFO and he lost to Manny Pacquiao. All this dude does is yap, yap, yap about who he wants to fight and about how he wants to come back, but he never actually fights. The boxing writers should just ignore this fool and move on to covering somebody serious.

--Clyde

Hey Clyde.

I'd like to say that Thurman is another guy who has disappointed me, but I was one of the few in the media who didn't expect all that much from him in the first place. Obviously, the guy is talented. Coming up as a young pro, he had all the pieces. But he could never stay healthy enough or focused enough to put it all together. And now, I just don't know how much serious interest there is in getting things back on track. There are a lot of words from Thurman and a lot of hyping up fights that will probably not happen, but not a lot of movement in getting anything done. Maybe he's on the Amir Khan career plan now-- get back in the ring for a token appearance whenever he needs a payday and stop taking things like development and legacy seriously. I agree, though. It's time for everyone to just move on from Thurman until there's a reason to pay attention again.

Terence Crawford vs. Shawn Porter

Hey Paul.

I guess Crawford-Porter is official now for November 20. Who you got and how?

– Jose Villa

Hey Jose.

It's going to be a great fight if Porter comes into the ring with his best all-aggression mindset (and not his "I'm gonna try and box" mindset). This will be the biggest test of Crawford's career and the kind of fight he's been needing. I think "Bud" rises to the occasion and turns in his best performance ever. He'll have to fight Porter off him and maintain his focus while he gets fists, elbows, shoulders, and an occasional head thrown his way. That's hard to do and even the usually calm and cool Errol Spence got thrown off his game to an extent under Porter's pressure. But I think Crawford is going to prove why so many think so highly of him. I'm calling a late-rounds stoppage for Terence Crawford.

Got a question (or hate mail) for Magno's Bulging Mail Sack? The best of the best gets included in the weekly mailbag segment right here at FightHype. Send your stuff here: paulmagno@theboxingtribune.com.