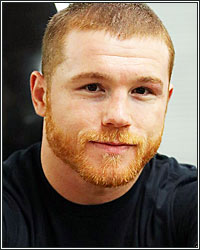 It's Thursday tradition here at FightHype that I make crude double entendres about my "sack" while introducing my weekly mailbag column. So, why break historical convention now? Here's my sack. It's bulging and bulbous. It's full of gooey, salty truth. Here comes a money shot of wisdom. Yadda, yadda, yadda. This week we have comments/questions regarding DAZN and TV boxing in general and the fall boxing schedule.

DAZN and the State of Boxing on TV

Hi, Magno.

Hoping you and your family are healthy and well. In a previous opinion I had written to you that the DAZN commitment in the USA would depend on how they would respond to the Canelo lawsuit. When they let Canelo go rather than deal with a long and contentious legal battle, I figured they were not so interested in the USA market, and unfortunately this has been the case. All we get is C-level fights, with the exception of a Canelo fight, which they now understand is their major subscription driver. They have found out that they can't consistently show an A or B-level fight without having to overpay, as American fighters are being well compensated, so we can't have good fights consistently throughout the year. ESPN+ is doing a little better, because they understand the market, but not that much better. The PBC schedule on Fox is free, but really they are showcase fights you watch if you happen to be home. So, as always, the fan is left with having to choose which big fights they really want to see on pay-per-view. In the near future we have Canelo vs Plant, Crawford vs Porter (I have a feeling this one will not happen on November 20), Fury vs Wilder, and maybe a Tank Davis fight in December. Let's see how well or poorly they sell.

-- Benjamin from Puerto Rico

Hey Benjamin.

I've written a lot about the fatally flawed DAZN business model. It was never going to work. They were going to need a massive subscriber base to operate in the black and there just isn't that kind of base of boxing fans to make that happen. With zero outreach effort to build the base and an inability to lure more top talent away from their current network/promoter homes, they were never going to turn a profit, especially given the insane pay scale they helped establish by overpaying fighters who did walk through their doors. And it only took them two years to figure out what all of us already knew.

Anyway, as you said, how they handled the Canelo situation pretty much tipped their hand when it comes to their long-term boxing plans in the US. They're not taking any deep dives that involve long-term commitment. And without the boldness to take those deep dives or the boxing smarts to make things work without the fat billionaire checkbook, they've pretty much relegated themselves to B-side players. This is especially true if they continue to invest zero effort in bringing new fans to the sport.

The ESPN effort benefits from having a boxing person at the helm-- Bob Arum-- although that plus comes with plenty of minus, too.

PBC's free FOX stuff has been a mixed bag, but none of the bouts have been the kind of newbie-friendly matchups that help build the base. They're still pretty much playing to the already-sold base and trying to flip them to a pay-per-view impulse buy.

All in all, the new boxing market has been a big fail. We're still stuck with the same problems we had in the old marketplace. Conflicting business ties stand in the way of many big fights and mainstream fans remain walled off from the content by paywalls and uninspiring matchmaking.

I don't see things getting any better unless there's a full-scale business collapse and a total rebuild of the business model.

This Fall's Fights

After a summer loaded with disappointments. We got 4 exciting fights lined up for this Fall, "On paper" this is the best 8-week stretch of boxing that I can recall in recent memory. Which fight are you most interested in and what are your predictions?

Joshua v Usyk

Fury v Wilder 3

Canelo v Plant

Crawford v Porter

-- Nail Rahman

Hey Nail.

I touched on some of this in this Monday's Notes from the Boxing Underground column, but we can go there again for a bit.

I'm most looking forward to Crawford-Porter. I just think that, stylistically, it's the best high-end fight to be made at 147. Porter will barrel in as usual, applying pressure, and Crawford will have to fight him off and beat him down to win. I think we see the very best Terence Crawford that night and that we're in for a modern day classic between two throwback fighters with huge chips on their shoulders.

As for my predictions--

Joshua-Usyk: I think Usyk will account well for himself-- until he gets clipped with something big. I don't think Usyk is a real heavyweight and I haven't liked how he's looked thus far when taking shots at heavyweight. I say he gets stopped inside of 7.

Fury-Wilder 3: The smart pick is Fury, because it's old boxing wisdom that whoever won the first bout wins the second more convincingly. Many felt Fury deserved the decision in the first fight and everybody saw how completely he manhandled Wilder in the rematch. So, convention tells us that Fury should win part 3 even more decisively. But Wilder carries that big eraser that can flip scripts in a heartbeat. Wilder's one-punch power will always keep him in a fight and you just can't rule him out. Plus, he has to know that his back is up against the wall in this one and he absolutely needs a victory. I'm still going to pick Fury by stoppage, but I wouldn't be surprised one bit if Wilder lands something big, stops Fury, and turns the heavyweight scene upside down.

Canelo-Plant: Canelo is obviously the huge favorite, and rightfully so. But I think fans and media are really overlooking Plant's heart and ability. That's why there's this nagging voice in the back of my boxing brain that says Plant has a good chance of accounting well for himself. I'm still picking Canelo by UD, but I don't think this is going to be the blowout many seem to think it will be.

Crawford-Porter: Crawford via late stoppage in a Fight of the Year war.

Got a question (or hate mail) for Magno's Bulging Mail Sack? The best of the best gets included in the weekly mailbag segment right here at FightHype. Send your stuff here: paulmagno@theboxingtribune.com.