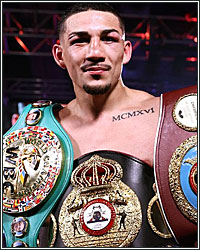 There's more than a fine line between confidence and bat-shit crazy delusion...and Teofimo Lopez is slowly creeping past that line.

In a recent interview with iFL TV, the 24-year-old unified lightweight world champ raised some eyebrows and inspired a lot of scratching of heads with some comments he made or, perhaps more correctly, a tone he took.

"We had to have these greats," Lopez told the ever-fawning head honcho at iFL while expanding on his place among the top lightweights in the world. "We had to have Tyson, the [Muhammad] Alis, the Joe Louises, the Willie Peps, the Rocky Marcianos, I mean we had to have all these guys. The list can go on and on. Boxing has been around since the 1800s.

"If anything ever happens to me, shit I'm always going to be good, because I'm with the greats," Lopez continued. "You know what I'm saying? I'm with the greats. Come at me when you're with the greats. Come at me when you're hanging with the greats. When you're hanging with the greats, then you can come at me sideways. Until then, you can disrespect me all you want, but that ain't gonna faze me."

This wasn't the first time Lopez or someone from his team mentioned him in the same breath as an all-time great. It's beyond presumptuous for a 24-year-old kid with one elite-level win on his 16-fight resume thus far to be this inflated. And, honestly, his win over Lomachenko was a close one where he seemed to be struggling greatly in the latter half of the contest. This kind of talk may be a beyond-borderline red flag when it comes to how much this young man is starting to be wooed over to delusion by wallowing in his own press clippings and the heavy adulation of fans and yes men in his circle of contacts.

"I thought by me becoming undisputed lightweight world champion and by doing all these things that people would be motivated by it...but, instead, it made everybody hate me," Lopez would lament.

"Ain't no love in this, man," he would add later on, coming back to his 'they hatin' on me' line of though. "I thought there was so much love in this, but you know what happened? It came down to this...I stood for something while everyone else fell for anything...know what I'm saying?"

Umm...no, Teofimo. We don't know what you're saying. As a matter of fact-- what the flying fuck ARE you talking about?

Again, this wasn't the first time Lopez seemed to be inching towards "too big for his britches" self-delusion. Back in March, this writer penned a Fight Hype piece entitled "Slow Your Roll, Teofimo Lopez." It talked about the way Lopez and his team were burning bridges and stunting Teo's professional growth by insisting on receiving star treatment so early on in his career and in big fight negotiations (also, by the way, they invoked Muhammad Ali's name to draw a line between Ali's fight for self-determination to Teo's "struggle" to have promoter Top Rank step aside and let video sharing service Triller handle his upcoming fight).

From that article:

"Beating Lomachenko is not a guarantee that Lopez is automatically a superstar. It was merely the first real step in that direction. And, as Lopez emerges out of his bubble, out of that enthusiastic showering of fan love he generated for himself by beating Lomachenko, he may be in for a rude awakening."

Well, the rude awakening should've been sitting his ass for a full year after what should've been a mainstream breakthrough victory while the mega-incompetent Triller folks tried to wrap their heads around scheduling and boxing business conflict resolution.

Now, the IBF mandatory title defense against George Kambosos Jr., which had been eight excruciatingly long months in the non-making, is dead and there will be an even longer career delay while Lopez works to step out of remaining legal entanglements to get a next fight.

He may still get to the mainstream superstar status he clearly aspires to, but it would've been infinitely easier getting there had he struck while the proverbial iron was hot, quickly building buzz off the Lomachenko win. It also would've been easier if he wasn't intent on moving past his top lightweight rivals and flat-out denying Lomachenko a rematch.

They say pride comes before a fall. And, although Lopez likes to talk about himself as the level-headed throwback to a better time in boxing, he's been giving every appearance of being someone on the precipice of a humbling tumble.