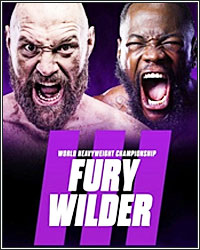 Every Thursday here at FightHype, I pull out my gigantic, bulbous, bulging sack and give truth-minded boxing fans a gander. This week, I shoot ropes of truth all over comments/questions related to the big heavyweight title fight this Saturday.

Was Fury-Wilder 2 a Fluke?

Hey Magno.

I was looking at both Wilder-Fury fights this week and a question popped into my head-- how much of Fury's domination in fight 2 was caused by a fluke? In the third round of that fight, he clipped Wilder with a big punch right around the left ear. From that point forward Wilder never regained his equilibrium. Ear punches can definitely do that. Up until that point, in all twelve rounds of their first fight and in the first two rounds of the second, Wilder was not at all bothered by anything coming from Fury. So, the question you have to ask is where would that second fight have gone if Wilder had not been disabled by that fluke ear punch? This should be something to concern Team Tyson Fury and give hope to Team Deontay Wilder in this rematch.

– Clyde.

Hey Clyde.

I see what you're getting at and I'm kind of half or one-quarter agreeing. But you can say that about almost any KO/TKO. If so-and-so hadn't taken that big shot, he wouldn't have gotten buzzed/flattened/stretched and would've had a chance at winning. If Roberto Duran hadn't run into that big shot from Thomas Hearns, he might've walked Hearns down and beaten him. So, yeah, I guess. If Wilder hadn't taken that ear-area shot, he would've had his legs underneath him more and would've had a better shot at getting things done. But, with a firm footing in reality, you could see Fury pushing Wilder backwards in that last fight, forcing Wilder to fight in reverse (something offense-minded fighters typically can't do well) right up until that shot. One could say that the ear shot was precipitated by Fury pushing Wilder into a backwards position, making Wilder uncomfortable and vulnerable. In their first fight, Fury was not doing this. He was trying to box from the outside and be cute. Wilder was infinitely more comfortable in his usual position as the aggressor. In the second fight, Wilder was never allowed to be comfortable and he was forced to fight in reverse by Fury, who was using his jab and general physicality to get Wilder off his game. That, right there, facilitated Fury landing a game-changing shot, IMO. If Fury is smart, he'll pick up where he left off and apply the same strategy. It'll be on Wilder to not let that happen and to keep himself from being positioned for big shots.

Gotta Feeling

Hi Paul.

I got a feeling that Deontay Wilder is going to do something big this Saturday. I think maybe he was off the road a little, a little bit in denial after that last Fury fight. It was his competitor's pride that got the best of him. It looked bad in the public light and he came off as a poor sport and a little bit crazy, but I think he worked past that. Hiring Malik Scott and working on some of the things we saw him working on proved that. His head is back on straight and he's ready to kick some ass. Like I said, I got a feeling about Wilder this Saturday. I think he knocks Fury out and then knocks him out again in a fourth fight. Deontay's time is now. He's back.

– Cesar G.

Hey Cesar.

It's good to be a fan. I'll never put anyone down for being a fan. However, sometimes wishful thinking colors a fan's thoughts. I think this is something that applies to you. Having said that, though, I'm not going to completely throw out your take on what may happen this Saturday. Wilder will always have that big power that keeps him one punch away from righting all wrongs at any time. And, unless he's just gotten better at keeping his comments to himself, he seems to have those ultimately harmful conspiracy theory thoughts under control. It looks like Malik Scott got him back into the gym and back to work, focusing Wilder's wounded pride into something constructive. It's going to be an interesting fight. I still favor Fury, but I am most definitely not counting out Wilder.

Delusional Deontay Fans

Hello Paulie.

I'm getting a real laugh from Deontay Wilder fans who think their guy is going to somehow, magically fix all his wrongs and beat Tyson Fury this time out. He was utterly destroyed the last time! Not even close! Not even a real moment of success! How the hell is he going to fix himself enough to get past that? Especially when his head is clearly not grounded in reality and he still refuses to accept what really happened in that fight. The reality is that he was dominated, crushed, destroyed and there is nothing in his ability that he can do to reverse that. He's not skilled enough and not bright enough. It's going to be fun seeing the "Dumbz Squad" try to find excuses for a crushing defeat once again!

– Art Davies

Hey Art.

Like I said above, fandom creates blind spots. Well, anti-fandom also does. I don't think Wilder is as much of a no-hoper as you do, but I also see where the odds are definitely stacked against him. There are some paths to victory for Wilder and some reason to believe that lessons have been learned, at least to some degree. But it's tough to believe that ENOUGH has been learned and taken to heart to turn things around so completely. We shall see.

Got a question (or hate mail) for Magno's Bulging Mail Sack? The best of the best gets included in the weekly mailbag segment right here at FightHype. Send your stuff here: paulmagno@theboxingtribune.com.