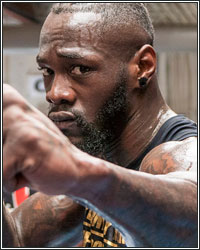 When you put in a gutsy, valiant effort in a high-profile heavyweight title fight and half of social media is only talking about what excuse or conspiracy theory you're going to use to justify the loss, you know your reputation is in bad shape.

On Saturday night at T-Mobile Arena in Las Vegas, Deontay Wilder fought his heart out, buzzed and unsteady for much of the contest, in a losing effort against Tyson Fury and truly went out on his shield like a warrior. He even came as close as he's come thus far to accepting defeat graciously.

"I did my best, but it wasn't good enough," Wilder said afterwards "I'm not sure what happened. I know that in training he did certain things, and I also knew that he didn't come in at 277 to be a ballet dancer. He came to lean on me, try to rough me up and he succeeded."

This, of course, flies in the face of what happened the last time he got knocked around and beaten by the "Gypsy King."

Following his seventh round corner stoppage TKO to Fury in February of 2020, fans were treated to more than a year's worth of off-putting excuses that ranged from the fairly innocuous (injured bicep) to the odd (ring walk attire tired his legs) to the batshit crazy (his water was spiked...assistant trainer Mark Breland plotted against him...a drunken, compromised referee Kenny Bayless plotted against him and even elbowed him during the fight...Tyson Fury's gloves were loaded...The ever-so-unspecific something "demonic.").

During this public meltdown, Wilder became a laughingstock to some and an object of scorn to others. Among the circle of fandom and media that was always predisposed to diminishing him, all of this made it very easy to write him off as a bad sportsman, a nut, and as a fraud of a fighter.

One certainly hopes that his gutsy performance on Saturday will, at the very least, earn him the respect he deserves as a competitor. But some nastiness has popped up that will likely further fuel the critics.

"I went over to shake his hand and say 'well done,' and he was like 'No, I don't respect you,'" Fury said in the post-fight press conference. "I was like, 'how can you say I cheated when you know in your own heart and your whole team knows it that you just got beat fair and square.

"He's just a sore loser in boxing. I'm sure he's not the first one, but he won't be the last one. But I've acted like a gentleman throughout my whole career, and that's all I can do as a man."

That certainly doesn't paint Wilder in a positive light as a man and it's totally against the unwritten rules of sportsman conduct embraced by many. But, so what? Really. In the big picture, why does it matter if combatants become besties after they try to tear each other apart? Sometimes the anger is real and not just part of a promotional package. Whether Wilder wants to be the "bigger man" is between him and his priest/counselor/rabbi/whatever.

However, as a fighter with, presumably, a career to return to at some point, he's going to need to start taking some lessons to heart about accepting responsibility and coming to terms with his defects. Surrounding oneself with "yes men" and sycophants will always stunt growth and limit one's ability to improve.

Back when Deontay first started grasping at bizarre conspiracy theories to explain his loss to Fury in 2020, someone in his inner circle should've cared enough about the man's future to say "nope" or, maybe, just a simple "keep that shit private, out of the public eye." And Wilder, himself, should've had the common sense to say, "yeah, I got all these flaws and the guy exploited him...makes more sense than drunken referees, spiked water, loaded gloves, and demonic influence."

Where Wilder goes from here is a very open question at this point. Offensive beasts tamed and humbled do not generally survive long out in the boxing wild. And Wilder, specifically, with his style and limited skill set, kind of HAS to be belligerently un-humbled to make it all work.

For now, though, he needs a good, long break-- away from the ring and, also, away from the media.