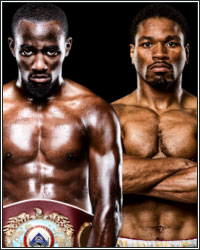 For this Thursday's sack, we got lots of emails about the same general subjects...and then two emails about everything everyone else was writing about. So, because there really are no rules for this sack thing, I'm just going to go with the two emails that cover everything and shoot my load of gooey, salty truth on those. Okay.

Canelo, Makabu, Crawford-Porter

Hi Paul

Hope this email finds you and your family well...lets start shooting then:

1-Canelo Canelo Canelo (you getting tired by now?) First, I believe the Makabu fight is very winnable for him, my guess is that we will see Canelo box in the same way he fought GGG during the first fight

2- I have never asked you this, but how do you think the fight between Canelo and GGG would've been had they fought after beating Lemieux and Cotto

3- Crawford and Porter, I still dont know what to think about this fight. Common sense says it's all Crawford, but I understand when people claim he has not tested himself at welter, biggest threats being Benavidez and Mean Machine, and let's not forget that fighters who have beaten Porter have done it by an inch or less. Any prediction on this one?

Best regards.

-- Miguel

Hey Miguel.

I'll tackle these in order.

1. Makabu's just a modest talent and, honestly, I see this fight for Canelo as just a belt grab to claim a fifth divisional title. I don't see size being an issue at all, especially since Makabu is not an especially large cruiserweight and not a very physical fighter, either. It's not a great fight on paper, but Canelo's entitled to this kind of vanity fight right now. I think he can fight this fight any way he wants and still win.

2. This is a good question. At the time, we were kind of unsure of whether Canelo was a legit middleweight. In retrospect, though, he clearly WAS and, while his skills were not as refined as they are now, he already had one foot into his prime when he fought Cotto. Golovkin, meanwhile, may have been at the height of his HBO-driven marketability, but he was, developmentally, the same fighter he was two years later when he finally bagged the Canelo bout. I don't buy the nonsense about Golovkin suddenly becoming an aged and diminished fighter by the time of the Canelo fight, so I think a fight in 2015 would probably play out the same way it did in 2017. If anything, a 2015 Canelo may have boxed Golovkin a bit more, making the styles matchup a bit tougher for the Kazakh.

3. Sometimes you can just tell with a fighter. And it's not like Crawford doesn't have a real and legitimate body of work behind him. People rag on Crawford for a weak resume-- and that may hold weight if we're talking pound-for-pound rankings and assigning him a ranking at 147-- but he hasn't exactly been fighting popcorn vendors and arena cleaning crew. I think the narrative around him has come full circle. He's gone from being shown too much deference to being treated with an odd sort of derision. Crawford is the real deal and, legitimately, one of the better fighters of the last 25 years or so. He'll get a chance to showcase that skill and ability against Porter, who's just a half-step below the very best of this era's 147 elite and, as you mentioned, a guy who's given all the top dogs a real close battle.

I think Crawford is the type of guy who rises to an occasion and this is THE occasion for his career and his legacy. I think we'll see the very best of Terence Crawford on Saturday and a real statement victory. Porter will push and push, but I think he gets touched up in this one with his resolve and resistance getting chipped away as the fight goes on. I see Crawford stopping Porter late in the fight after a hellacious battle.

Next for Canelo, Revisited

I've heard so many different scenarios for Canelo's next opponent. It's almost as if he's damned if he does and damned if he doesn't fight the chosen challenger of whatever pundit is down his throat. When you look at the loads of potential opponents Canelo has. There's no way he can satisfy the demand. At this point it's all about the money. One end of the spectrum says Canelo needs to Man up and go to 175 and fight Beterbiev, Bivol, or Ramirez. Then there's the other side that says he needs to go back down to 160 and fight Charlo, Andrade, or Mungia. In addition, there's the usual suspects that are still asking for Canelo to fight a trilogy with GGG. But they aren't asking GGG to fight anyone at all, that's a whole different subject though. However, you have the Benavidez crowd and they're asking for that fight.

It's so cliche to say styles make fights, but when it comes to Canelo v Benavidez, the saying fits perfectly! Benavidez's style will make him an easy outing for Canelo. As good as Benavidez is, with his hand speed and high power punching output. I don't see Benavidez lasting past eight rounds with Canelo. Benavidez is too easy to hit! Benavidez's handlers should take it slow and get more rounds under his belt, he's got a lot of room to improve. If I were Benavidez, I'd jump ship to 175 and meet Canelo at Light Heavyweight later down the road. He stands a better chance of beating a top fighter at 175 than winning a belt against Canelo at 168. Furthermore, he stands a better chance of beating Canelo at 175 than beating him at 168.

I don't know about you. But I didn't like what I saw from Benavidez this past saturday. The broadcast crew tried to make Kyrone Davis out to be sometype of Rocky Balboa with the heart of a lion going up against Goliath. I understand Showtime and PBC are heavily invested in Benavidez and didn't want to tell the truth. But let's be honest, Kyrone Davis shouldn't have lasted 3 rounds with Benavidez and Kyrone Davis shouldn't have landed flush on Benavidez so often. Not to mention, Kyrone Davis was an overblown Junior Middleweight. Bottom line he was an uber driver! With all due respect to Kyrone Davis and the "heart" he showed. The truth in the details is that Benavidez isn't nowhere near ready for a mega-fight with Canelo. If I'm Eddie Reynoso and I watched that fight, I'm getting on the phone with Al Haymon and Stephen Espinoza and I'm asking for the Benavidez fight for Canelo ASAP! It's low risk and very high reward!

Should Benavidez stay at 168 and take the Canelo fight? How did you think Benavidez looked on Saturday? Was he looking sharp or was Kyrone really all that Al Bernstein made him out to be?

Conversely, on the other end, there's Jermall Charlo. Who I think pushes Canelo a step further than Caleb Plant did. As you mentioned in your article last week it wasn't a walk in the park, and if Plant had something in his arsenal to keep Canelo honest it might have been a different outcome. Charlo has that right hand that can sting Canelo and keep him honest and make it more of a chess match instead of a walk down fest. However, in no way shape or form should Canelo come back down to 160. This is where the power lies in Charlo's hands. If he wants to be that man. He needs to exercise his mandatory challenger status by relinquishing his 160lb belt and move up to 168. The WBC guidelines have been firm and fair regarding belt holders moving up in weight getting a title shot immediately. Charlo needs to approach Mauricio Sulaiman and ask, If I move up to 168 will you instantly make me the mandatory challenger for Canelo Alvarez? I think Mauricio will say yes. I haven't seen any fighter with the WBC strap move up in weight and not get a title shot at their request. Charlo needs to step up and do whatever it takes to make the Canelo fight if he really wants it. Canelo's working with Showtime and Charlos handlers are working with Showtime as well. If he's not moving up to 168. Then he doesn't want the Canelo fight.

-- Nail Rahman

Hey Nail.

I mentioned this in this week's Notes from the Boxing Underground column, but, yeah, Benavidez didn't look as all-around sharp as he usually does. That could be because he was trying too hard in his Phoenix homecoming fight and trying too hard to impress a week after the Canelo fight. It could, however, be an indication that maybe he didn't work as hard for this fight as he should've been. And, for a kid known to fall victim to outside-the-ring distractions, that could be a very bad thing.

I get your prediction for Canelo-Benavidez. Benavidez would definitely be easier to touch and his mindset would make Canelo's offensive goals easier to achieve. On the flip side, though, Benavidez could be the first Canelo opponent in a long time who would just come right at him and not be bogged down by too much respect. As I also mentioned in Monday's column, even Gennadiy Golovkin showed too much respect for Canelo and didn't really let his hands go at 100%. I think Benavidez would go balls-out against Alvarez. And, yeah, that could play right into Canelo's hands, but it will also make for some compelling action along the way. Sixteen years into his pro career, we still don't really know how Alvarez will respond when he's banged up and bleeding. I think, stylistically, there's a greater chance of Benavidez pushing him to that edge than anyone else from 160-175.

Benavidez is a big kid and may see himself fighting at cruiserweight before the end of his career. If his goal is Canelo, his quickest route may be to stay at 168 where he's, pretty much literally, the ONLY contender left to fight. Having the interim WBC belt-- which he will soon have-- could actually put him further away from a Canelo fight, though. If he goes up to 175 and waits on Canelo, he'll have to wait in line behind all of the belt holders up there. He's only 24 (and, as you said, still has room for development), so that's not necessarily a bad move. But I see him wanting to get that Canelo payout sooner rather than later, so I see him sticking around at 168 until he can't make the weight anymore. Honestly, if I were on his team, I'd probably recommend making that play for Canelo now, ready or not, and picking up the pieces if necessary with $10 million in the bank account.

As for Charlo, I respect him and his abilities (and I honestly don't get the disrespect lobbed his way from fans), but I don't like how he matches up to Canelo. Charlo is more clinical and calculated than his image lets on. He's patient and precise. But I also think that patience and clinical mindset makes him vulnerable. He's not active enough. He's often too reactive and not proactive enough. Charlo is clearly a world class talent, but I think the stylistic matchup against Canelo is a bad one. I don't see him getting past the seventh round. Maybe he even goes out early, like in the first few rounds.

You're definitely right, though, when you say that Canelo's damned if he does and damned if he doesn't. No matter who he picks, it's always going to be the "wrong" guy. Others' success is like rocket fuel for haters.

Got a question (or hate mail) for Magno's Bulging Mail Sack? The best of the best gets included in the weekly mailbag segment right here at FightHype. Send your stuff here: paulmagno@theboxingtribune.com.