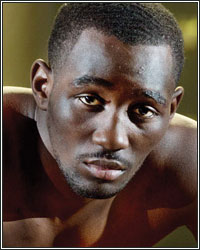 Thursday's, in this corner of the Universo Pugilistico, are all about my sack-- my bulging, bulbous, aching sack-- and the gooey, salty truth contained within. So...sit back, close your eyes, pull back your hair, and get ready for this week's money shot of wisdom. This week we have comments/questions regarding Terence Crawford's reality, PBC on PPV, and the best father-son/trainer-fighter duos.

Terence Crawford: Get Humble and Man Up

The Terence Crawford eye test is the biggest exam in boxing history. He's still got something to prove at the "tender age" of 34.

I can't give him a pass, the same way I couldn't give GGG a pass. If Crawford is 34 and haven't had enough meningful fights he deserves criticism. Even more than GGG! It's not like Crawford is an Eastern European amateur who turned pro at 30.

Crawford had a chance years ago to take a deal that would've put him in position to fight Spence, Thurman, Garcia, and Porter. But instead he re-signed with Top Rank. Now about half a decade after the fact, he says he's leaving Bob cause Bob couldn't get him the Spence fight? What planet was he living on? Since when was Bob ever able to get a fighter a fight with PBC? Crawford fought mismatch after mismatch since he's been at welterweight and not once did anyone call him a duck or scared. He had a chance to put the welterweight kingpin conversation to rest, but he chose loyalty to Top Rank.

Expecting Spence to fight Crawford next is absurd. Who in their right mind coming off of a year layoff and an eye surgery would jump right in the ring with Terence Crawford? Spence last fought in 2020. He had eye surgery in August, now all of a sudden he's supposed to jump into a showdown with a fighter of Terence Crawford's caliber?

Nonetheless, it makes perfect sense for Spence to continue his goal of becoming undisputed champion. That was his original intention when he signed up to fight Pacquiao. If he beats Ugas it'll make a bout between him and Crawford even more appealing and historic. This will be the first meaningful undisputed bout that we've seen in years. A lot of fighters have been undisputed recently, but it hasn't been via an impressive route. Lots of vacant titles, franchise belts, mandatory step asides, etc, etc.

In the meantime, Crawford needs to wait in line. He'll get the Spence fight. He's not the A side. His previous promoter dogged him and disrespected his earning power. So there's no way he can sit at a table with Spence and make any demands or requests. At most he can chose his ring walk music. So when Crawford sits down and negotiates with team Spence he better not expect 50/50. If he's who he says he is he needs to sign the contract and show up.

-- Nail Rahman

Hey Nail.

I can't disagree with anything you've just said-- and I say that as someone who once held a pro-Crawford bias. It's only fair to judge a fighter on the black and white of who he's fought and nothing else. The greats-- even generally avoided ones-- find a way to eventually make the big fights happen, whether that means going up in weight, changing management/promoter, or taking the B-side money to entice opposition. As you said, Crawford had his chance to leave Top Rank and get those big legacy fights he wanted, but he chose to re-sign with Arum. Most likely, he was lured back by the allure of ESPN exposure and Arum's hustle of being able to deliver a Pacquiao fight. Or maybe he was just fine with the good money he was getting for low-level risk against the second tier opposition Arum could deliver to him. Whatever the case, he decided what he decided and his legacy at welterweight should be based on who he's fought and not by who he probably could beat.

And, you're right, he needs to come into any Spence negotiations with hat in hand, willing to take a B-side deal (which would probably still be more lucrative than his A-side Top Rank deals). When/if he beats Spence, then he can demand the star treatment. I'm sure he feels like he's top dog at 147, but business is business and business logic, right now, says that Spence is the A-side.

I can see, however, where patience is running thin across the board and where Spence, who's spent more time laid up than laced up over the last 2-and-a-half years, would take plenty of flak for leaping at a unification with someone other than Crawford.

PBC=PPV

Hi, Magno.

Hope you and your family are healthy. I have been wondering why PBC is putting cards like the Luis Ortiz vs Charles Martin and Andy Ruiz vs. Chris Arreola on PPV? I know fans don't have to buy it if they are not interested, but it still intrigues me. Could it be to comply with the fighter's contracts and have the fans, not the network, pay for them or could it be that Haymon is using the Fox platform as a census to determine how many purists hardcore boxing fans are willing to shelve at least $30 or $40 to see just any fight that is presented to them, and then use this information to develop a PBC platform for a monthly fee? Haymon is very savvy, and he might want to have an independent platform so he doesn't have to depend on Showtime or Fox, as they could very well decide to leave boxing, not now, but in the future. Of course the platform would be to showcase fighters and PPV for the bigger fights. Very interested to have your two cents on this. Thank You.

-- Benjamin from Puerto Rico.

Hey Benjamin.

I'm not sure why PBC is focusing so much on pushing pay-per-view events. It could be that the budgets provided to them by FOX and Showtime don't provide for high-end purses and pay-per-view is the only way they might turn a profit on these fights. It could be that, in an effort to keep their broadcast deals for exposure purposes (that might lead to bigger deals down the road), they're trying to operate with a relatively low budget with pay-per-view money offsetting their operating costs. Or, it could be, as you say, that they're testing the market for some future endeavor. Whatever the case, they have to know that nobody is likely buying ALL of their shows and, as I've said for years, putting content behind paywalls is never good for long-term growth, especially for a sport that has been cut off from the mainstream for decades. We'll just have to wait and see how all this plays out.

Best Father-Son Duos

Hi Paul,

Hope you and yours have a great Christmas season.

My brother Amos (weird name, cool guy) and I were wondering who the best father-son, trainer-boxer team was. Roy Jones Sr. & Jr? The Mayweathers? The Mayweathers are a bit complicated because Roger trained Floyd Jr. during his prime.

We'd love to hear/read your two cents!

Keep on with your great work!

-Jeremiah Davis

Hey Jeremiah.

There've been a lot of father-son working duos. In modern times, just off the top of my head, I can think of Felix Trinidad, Shane Mosley, Zab Judah, Joe Calzaghe, Erik Morales, Shawn Porter, Demetrius Andrade, Teofimo Lopez, Devin Haney, and, as you mentioned, Roy Jones Jr. and Floyd Mayweather, whose fathers trained them for at least a portion of their careers. Obviously, there have been many, many others throughout the history of the sport. Personally, I'm always dubious of father-son duos. There's just too much "personal" stuff thrown into the mix and, sometimes, it takes a certain "all-business" relationship to force a fighter's hand in doing things he may not want to do. But it all depends on the fighter and the father. Everyone's different.

As for successful? How you answer that depends on what your criteria for "successful" is. Put a gun to my head, though, and I might have to say Mayweather Jr. and Sr., for what Jr. accomplished in his career, his steadfast discipline throughout the years, and his huge monetary success. I'm no historian, so, after writing this I might say to myself "Oh crap, I forgot about so-and-so."

Got a question (or hate mail) for Magno's Bulging Mail Sack? The best of the best gets included in the weekly mailbag segment right here at FightHype. Send your stuff here: paulmagno@theboxingtribune.com.