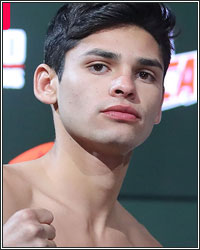 A new year brings a new dedication to spilling my seeds of wisdom all over the flinching face of boxing ignorance. So, let's unleash the beast that is my bulging, bulbous sack and deliver the first money shot of 2022. This week, we have comments/questions regarding 2022's under the radar fights, Ryan Garcia vs. Isaac Cruz, boxing's bad business model.

2022's Under-the-radar Fights

Hi Paul.

Hope you and your family have had a good 2022 so far.

I would like to explore underappreciated fights for January. I will start with Joe Smith vs Callum Johnson. I saw Johnson's fight with Beterbiev and I believe he is a very live underdog, he has very good power and good fundamentals, however Smith Jr seems to have a pretty good jaw.

As far as Gary Rusell Jr, it seems he is the goods based on his fights with Lomachenko and Jo Jo Diaz, but this Magsayo guy seems to be a killer. He knocked out Pollito Ceja badly and seems very aggresive.

Thoughts?

-- Miguel

Hey Miguel.

Best wishes to you and yours as well.

I've been looking forward to Smith-Johnson since it was first made official. There's no way it's not going to be a war. Johnson is always going to come forward, looking to make the fight and Smith is also a tough guy, with a huge punch. Johnson may have been knocked out by Beterbiev in four rounds when they fought in 2018, but he showed some real positives in there. And, of course, he also dropped Beterbiev, legitimately buzzing him. Smith, meanwhile, has proven himself worthy of the main stage, retiring Bernard Hopkins and obliterating Andrzej Fonfara and Eleider Alvarez (as well as scoring decision victories over Jesse Hart and Maxim Vlasov, to win the vacant WBO 175 lb. title last April). Smith CAN be outboxed, but Johnson's game isn't boxing, it's fighting. So, yeah, I'm expecting something explosive.

As for Russell-Magsayo, I'm also looking forward to that one. Magsayo is a real presence and has very good hand speed to go along with his power. He's going to have a tough time with the defending champ's all-around speed, though, and I think this fight may be won by Russell's legs. But I wouldn't be surprised to see Russell get clipped hard at some point, especially by Magsayo's big right hand.

A couple of other fights flying under the radar are Jose Ramirez and Jose Pedraza in February and Abel Ramos-Josesito Lopez on the Keith Thurman-Mario Barrios undercard.

Boxing's Piss-Poor Business Model

Hello Paul.

You've been beating the drums for years about boxing's bad business model. I've followed you for more than a decade now and everything you called back then has come into being. The problem is that nobody in power seems to understand anything about how to foster the long-term health of the sport. As a result, boxing is becoming more and more of a niche sport and it's getting harder to make the big fights that the fans want to see (and the sport needs to have). But what can be done about any of this? Is there a path to getting boxing healthy and thriving again?

– Mark Z.

Hey Mark.

It's not that they don't understand what the problem is, they just don't care. The promoters and managers are there for the short-term payout and are making some bank right now because there's been an influx of new money in the sport trying to acquire content for new networks/streaming services. The fighters are also there for the short-term payout, making good money for the same reasons. I can't blame either groups for jumping at the money while it's there, but the problem is that this new money won't always be there. At some point, there won't be this demand for boxing as content. DAZN is already scaling back from their boxing effort. Triller is also pulling back into safer, easier celebrity boxing fluff. There has to be somebody looking after the big picture/long-term health. It's like a farm that's being harvested and harvested, but there's little-to-no effort to seed for future growth. The boxing bossmen are doing nothing to build the base and reach new fans. Literally, nothing. Jake Paul, with his efforts to promote his own undercard talent and a stated goal to bring boxing to kids, has done more for the sport, currently, than any of the established boxing promoters. Unfortunately, I don't think any of these guys have a "come to Jesus" moment, ever. It's going to take new blood at the top of the business food chain, with some real business/promotion acumen and a desire to plant as well as harvest, to change boxing's course. A total collapse of the boxing business could also force some urgency in the bossmen (as well as push some of the dinosaurs into extinction). The latter is more likely than the former, however. And I'm fine with that. Sometimes you have to burn down the village to rebuild the village right. The first step to building back correctly will be to remove the business barriers currently keeping fighters behind paywalls as "exclusive" content. How to do that, though, is the question.

KingRy vs. Pitbull

Hey Magno!

Does Ryan Garcia-Isaac Cruz happen or are we in for another few months of Garcia flapping his gums about wanting the fight and then backing away? If they do fight, how do you see it turning out?

– Clyde

Hey Clyde.

I can see where Garcia would want this fight and how he sees the right kind of flaws in Cruz to make it a good risk vs. reward situation. But I can also see how, upon further review, Garcia's team may not want this fight at all. Cruz is tough, tenacious, and will not stop pushing forward, forever working to lay hands on Garcia. And Garcia has some real defensive liabilities. No matter how naturally quick he is, "KingRy" will take some leather-- and, most likely, significantly more than Gervonta Davis did in his bout with Cruz. Having said that, though, I think Cruz, who was wildly underrated coming into his bout with Davis, is now being somewhat overrated. He can beat Garcia, but he's not going to do it with the occasional two or three-punch breakthrough against a constantly mobile Garcia. He doesn't have that kind of one-punch power. Put a gun to my head right now and I say that Garcia beats Cruz via fairly comfortable unanimous decision. Cruz took Davis by surprise, I believe, but the cat's out of the bag now. Cruz showed the world everything he had against Davis and future opponents will make the proper adaptations.

Got a question (or hate mail) for Magno's Bulging Mail Sack? The best of the best gets included in the weekly mailbag segment right here at FightHype. Send your stuff here: paulmagno@theboxingtribune.com.