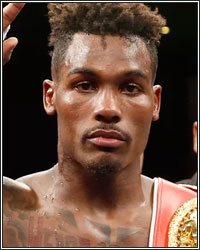 It took just 24 words from ESPN's Mike Coppinger on a throwaway ESPN boxing segment to start a buzz that has wound its way throughout the online Universo Pugilistico.

"I'm hearing it's much more likely he's going to fight Jermall Charlo on Cinco de Mayo. There are talks right now for that fight."

The "he" Coppinger is referring to, of course, is Saul "Canelo" Alvarez, whose plans to take on WBC cruiserweight champ Ilunga Makabu seemed etched in stone, if you were to believe the stuff posted by the boxing media.

In reality, though, the cruiserweight dalliance was a construct of Alvarez's trainer Eddy Reynoso and proposed to the WBC during the sanctioning body's yearly convention this past November. And the WBC, desperate to keep a golden goose happy, eagerly complied. Because, remember those few years when Canelo was estranged from the Mexico City-based organization and kept his 3% sanctioning fee from them?

Anyway, from what Canelo has told the media, he was as surprised by his move to cruiserweight as everyone else was.

"I didn't even know about that," Alvarez told World Boxing News in December. "I heard about it on social media what Eddy did...Like I always say, if Eddy says something or he tries to do something crazy, I'm always in. I'm his warrior.

"He called me after that, and I said, 'OK, whatever you want. I never thought (about cruiserweight). Eddy always is thinking about things, but I never thought about it."

It's not surprising that all of this Makabu talk would fall to pieces once some more thought was put into it. It's not so much the move to 190+ or the opponent in question, it's just that nobody (not even Canelo, himself, as he admitted) knows who Makabu is and a try at the non-glamorous cruiserweight division is not something that would pique much consumer interest.

So, in comes reigning WBC middleweight champ Jermall Charlo.

Not to toot my own horn (although I have no problems doing so), I called all of this just over a week ago when I wrote my Magno's Predictions for 2022 column:

"Canelo Alvarez's cruiserweight title fight with WBC titlist Ilunga Makabu won't happen as rumored and reported. Instead, the surprising decision will be made to stay at 168 and defend his belt against WBC middleweight champ Jermall Charlo in May."

Admittedly, the undefeated 31-year-old Houston native is no top-of-the-pops mega draw. He does, however, have strong name recognition among hardcore boxing fans. He also has the gift of gab and a natural charisma that could help sell the fight to the casual-curious who are more prone to impulse buys when it comes to pay-per-view events.

Alvarez-Charlo is also likely to be a better fight than Alvarez vs. the slow-footed and utterly unspectacular Congolese cruiserweight titlist.

Charlo is a patient, disciplined counter-puncher at heart with solid fundamentals and good power. Fighters with awkward styles who bring chaos to a battle can throw him off and make him look less than what he is, but Canelo is most definitely not an awkward, unorthodox brawler generating chaos and disorder.

Charlo should do well in this fight, although I did also predict that he'd be stopped in nine rounds by the Mexican star. At any rate, Canelo-Charlo will be an infinitely more interesting fight than Canelo-Makabu.

For Alvarez, there are a few other good fights out there. David Benavidez would be good. Artur Beterbiev would be intriguing as hell. And, yeah, there'll never NOT be some intrigue left in his rivalry with Gennadiy Golovkin. But, for varying reasons, none of those options are realistic at the moment. Jermall Charlo IS.

Be advised, however, that all of this speculation is based on just 24 words on one ESPN boxing segment. One would be an absolute moron to fully buy into any piece of big fight news buzz that hasn't been confirmed by both parties and/or put into writing.

But if Canelo-Charlo does happen? Hell yeah, it'll be a good show.