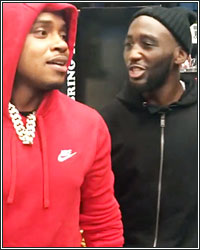 Hello fight fans and welcome to another Thursday gathered around my bulging sack, waiting on your weekly load of gooey, salty truth. This week, we have questions/comments regarding the economics of Spence-Crawford, the DAZN schedule, and the next wave of welterweights.

No Money for Spence-Crawford?

Hey Magno.

I saw where the PBC spokesman said that there's no money in making Errol Spence vs. Terence Crawford. That's some real bullshit there. Spence-Crawford is the biggest fight in boxing and maybe one of the two or three fights that would do well on PPV. They say Spence-Crawford isn't a money fight, but they're going to make Spence-Ugas on PPV? GTFOH. Ugas isn't even half the draw Crawford is. He should've just said that they only want to make in-house fights or that they're afraid Spence would get beat. This is the problem with boxing today. Nobody wants to take the big risks and they just want to play it safe. PBC can come up with all the excuses they want, but we all know what's up. It's just straight up ducking. I've lost all respect for Errol Spence and for the PBC.

– TJ from ATL

Hey TJ.

I hate to say it and I hate even more to say it's the truth, but Tim Smith, PBC's Vice President of Communications, is right. Spence is going to want a significant payday to take on the risk of Crawford and Crawford is also going to want a significant payday. And, well, the truth is that sales will probably not be enough to turn a real profit on the fight at this point. I know that, as boxing fans, we've been telling ourselves that Spence-Crawford is THE fight to make and we've all been anticipating the day when it actually happens. But the business has shrunk to such an extent (and fighter purse expectations have grown to such an extent) that selling to the hardcore base is just not enough anymore. I know that's a bitter pill to swallow, but it's the truth. It's a smarter business move for Spence and Crawford to take on lesser risks for smaller paydays that, in reality, won't be all that much smaller than what they'd get for fighting each other. We've come to a point where the pay-per-view market is made up of a pool of hardcore fans that maxes out at 500K, but generally hovers around 100K to 300K. That's not enough, even at the highest of the high buy estimates, to put together a fight where the main event will probably cost $20 million to make. It's much smarter business to make a fight with a $4-5 million main event purse that will sell moderately well in the current market.

Casual fans and the casual-curious drive pay-per-view sales and neither Spence nor Crawford appeal to anyone beyond the existing hardcore base. As Smith mentioned in his interview, ESPN and Top Rank have done a terrible job in promoting Crawford and building his star power. With access to just about every sports fan in the world, they did nothing with the guy. And I'm going to fair here, because PBC also has access to a shit-ton of the mainstream via their FOX deal and Spence isn't exactly a household name either. So, if Spence and Crawford can be built to a point where more casual and mainstream sports fans can be titillated into an impulse buy for a fight against one another, then the fight gets made. Otherwise, it DOESN'T get made, at least not until their career options run out and their asking prices go down (ala Amir Khan vs. Kell Brook). Spence-Crawford is just a victim of boxing's bad business model over the last few decades.

DAZN First Quarter Schedule

Hey Paul.

I'm gonna set this up on a tee for you, my man. What do you think of DAZN's recently announced first quarter schedule?

– Damon

Hey Damon.

Honestly, it's a great, big "meh."

Except for Chocolatito-Estrada 3 and Srisaket Sor Rungvisai-Carlos Cuadras on the Jessie Vargas-Liam Smith undercard, there's nothing there that could be considered "must see TV." Vergil Ortiz and Jaime Munguia are on the schedule, but they're not facing opposition anyone wants to see. Daniel Jacobs-John Ryder is alright. Everything else is well below "meh" for me.

From February 5 to March 26, there's a card every week. But this is just boxing in bulk, pure dollar store filler sold as premium content. Really, bottom line, it's mostly Eddie Hearn getting dates for his fighters. I can't see one subscription being sold on the weight of this first quarter schedule. More and more, it looks like DAZN has lost interest in boxing and Hearn, who's supposed to be their lead promoter and main boxing guy, looks to be scooping up whatever he can, while he can.

With Canelo Alvarez gone, Anthony Joshua diminished, and Gennadiy Golovkin indifferent about making a fight anyone wants to see, they have very little to offer in the area of star power. So, in turn, they just can't grow as a boxing entity or offer much promise for future growth. More and more, their fighters have to be seeing that. DAZN, at this point, offers limited exposure, an utter inability to bring in big fights for their talent, and, ultimately, shrinking paydays because the suits' patience is running thin when it comes to operating their boxing efforts so deeply in the red.

Welterweight Supremacy

Hi Paul

Wanted to get your input on how you foresee welterweight during the next years (I am not including current champs/ex-champs because they are all on their last prime years)

Jaron Ennis - Is there any deficiency on this guy? I believe he could KO Spence right now. There seems to be something odd here, he is signed with Showtime but not with PBC, however, he only works with PBC fighters.

Vergil Ortiz- Even though he is looking beatable now, he still possess his power, however, he left Robert Garcia and is far from facing elite fighters. Is it safe to say he should leave GBP?

Eimantas Stanionis - He seems to have a scheduled fight with Butaev. Stationis reminds me of Lucas Matthyse, powerful and methodic. I have not seen Butaev fight, though.

Connor Benn- I am not sure what to think about this guy, he KO'd Algieri and I was surprised he KO'd Vargas, but I have seen him dropped and struggle against regular opponents.

Rashidi Ellis - People seem high on this guy, but I have not seen him...have you? He is Ronald's (Ellis) brother.

Best regards.

-- Miguel

Hey Miguel.

I'll tackle this, fighter by fighter.

Jaron Ennis-- The only deficiency I see in this kid is the uncertainty of how he'll handle a true elite or near-elite opponent. No matter how talented someone is, there's always going to be a "we don't know until we know" factor until we see him tackle the big guys. He's certainly looked flawless up until now. I'm not sure on the behind the scenes stuff, but I know he's represented by Cameron Dunkin, who's a smart, veteran boxing guy. So, it makes total sense that Ennis is hanging around the welterweight-rich PBC neighborhood. It wouldn't surprise me if there were some sort of formal ties made before too long. There's zero benefit to being anywhere else if you're a welterweight right now.

Vergil Ortiz-- I don't think the bloom has come off the rose too much for Ortiz. He's just stepped up his level of opposition and hasn't looked as dominant as when he was facing lower-level guys. That's to be expected. But there's a big case to be made that he's set to start a long run of spinning his wheels as Golden Boy/DAZN just don't have the high-end opposition he needs to climb to that next level of stardom and have increasingly diminished leverage in bringing bigger fights to him. His opponent on March 19, Michael McKinson, is a harbinger of bad things to come. At this point of his career, Ortiz needs to be stepping up his level of opposition, not moving backwards, wasting time with a regional-level UK talent.

Eimantas Stanionis-- I like Stanionis, but he is, IMO, too methodical and orthodox in mindset. I think he'll have a tough time taking that big step up in class without some tweaks and adjustments. Butaev is pretty good, better than I first thought. There's nothing that leaps out at me when it comes to Butaev, though. He's just solid, consistent, and very self-confident in his approach. For me, Stanionis-Butaev is a 50-50.

Conor Benn-- Benn is still green, but I see the raw talent there. Right now, he is what he is-- a physical presence who is still very much a work in progress.

Rashidi Ellis-- Ellis is a guy completely lost in the mix over there at Golden Boy. I'm not sure if that's on him or on GBP, though. The fact is, however, that he's only fought twice since October of 2018 and is currently on a 15-month stretch of inactivity. This is a problem for a prospect who's 28 years of age in a very deep division. But, again, I'm not sure if this is a GBP issue or an Ellis issue. The talent is there in Ellis. He's got quick hands, good reflexes, and solid instincts. His last fight against Alexis Rocha was a good test, but tests against 23 or 24-year-old prospects are not where Ellis should be right now.

Got a question (or hate mail) for Magno's Bulging Mail Sack? The best of the best gets included in the weekly mailbag segment right here at FightHype. Send your stuff here: paulmagno@theboxingtribune.com.