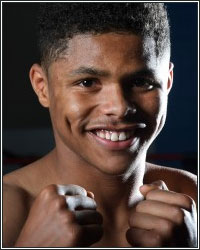 Thursday's, in this corner of the Universo Pugilistico, are all about my sack-- my bulging, bulbous, aching sack-- and the gooey, salty truth contained within. So...sit back, close your eyes, pull back your hair, and get ready for this week's money shot of wisdom. This week we have comments/questions regarding Shakur-Valdez, Serrano-Taylor, Spence-Crawford, and the "for realness" of David Benavidez.

Spence over Crawford?

I've been reading most your posts on Spence vs Crawford and you say Bud will beat Spence because he has better athleticism than Spence and that he adjusts well in fights. I think Spence will beat Crawford judging by his performance against Ugas, the reason I think that's the case mainly Bud is a slow starter as you saw in the fight with Porter he went after Porter after his corner told him he is behind in the fight. I don't think Spence will allow Bud to adjust and figure him out as we all have seen Spence is an offensive fighter and I think he will be a lot for Bud.

Cheers.

-- Sakhiwo Johannes

Hey Sakhiwo.

Maybe. What you say is very reasonable and it could very well play out that way. A lot of the "slow starter" stuff with Crawford is overblown, IMO. I think he figures out his opposition fairly early on and then just puts in some worry-free work until he gets to where he wants to be. He won't be that laid back against Spence. I don't think we can take away all that much from anyone's fights against Shawn Porter, he's just such a difficult, off-putting fighter to deal with. Remember, Spence had his rough spots against Porter too.

When it comes to Spence-Crawford, I'm just fixated on the flexibility and adaptability factors. Both are elite-level fighters, so there will probably have to be a Plan B and Plan C to get over the hump against each other. I don't see Spence having a Plan B or, at the very least, he hasn't had to use one yet. Crawford can fight, box, move, be the aggressor, be a counter-puncher, and switch gears mid-fight-- from both southpaw and orthodox stances. It's easier for me to see Crawford finding a way around Spence's very best than it is for me to see Spence coming up with alternative strategies if his Plan A isn't working.

But, we shall see. Both, as I said, are elites and I'd be reluctant to bet against either. That's what makes this matchup so damn intriguing.

David Benavidez: That Good? That Ducked?

Hi Paul.

Been a longtime fan and now I'm a first time writer to the Mail Sack.

My question is about David Benavidez. I just don't know what to think about the kid. Sometimes, I think he may be as good as the hype suggests and that the top fighters really are ducking him. Other times, usually after a so-so performance, I think the hype is overblown and that he's good, but not really great.

What do you think about Benavidez? Real or Not? Ducked or not so much?

Thanks for all the years of quality work.

– David Garcia

Hey David.

Thanks for the support.

Benavidez is a high-end offensive fighter who does a lot of little, nuanced things that really impress. He does have some defensive flaws and some general inconsistencies that probably come from him being a 25-year-old young man. The inconsistencies, however, could also come from the kind of developmental atrophy that goes hand-in-hand with a lack of quality opposition. The kid needs to be challenged or his skills will atrophy, his focus will diminish, and his mind will wander. IMO, he's not getting those challenges right now. He needs a legit threat and a fight that has real meaning. David Lemieux, with his name value and one-punch power could be the kind of opponent to bring out the best in Benavidez.

People are dismissing Benavidez-Lemieux, but I really like the pairing. Benavidez will have to rise to the occasion on a few levels. It's a good fight for him, as well as an absolute must-win for Lemieux.

Shakur vs. Valdez

Hey Magno.

Shakur Stevenson vs. Oscar Valdez. Who do you got? I can see it going either way.

– Luis from SD

Hey Luis.

I don't see it going either way. I see Stevenson winning decisively. The kid is just on another level and that's no knock on Valdez, who is very good and certainly worthy of the world stage. But Shakur's a special talent. The only question I have about this contest is how Stevenson will decide to fight it. For me, his recent performance against Jamel Herring was a breakthrough of sorts. He looked like the complete fighter he was meant to be, not just picking his way to a decision against clearly inferior opposition, but actually disassembling and utterly dominating. He can do the same thing to Valdez that he did to Herring, but I'm thinking that the stakes are so high for this one that he may revert to the cautious, conservative boxer he's been for much of his career. I hope not. I want the kid to succeed and become the pound-for-pound-level fighter he's supposed to be.

I'm picking Stevenson by unanimous decision, but hoping for a much more entertaining TKO 9 victory.

Good Times/Serrano-Taylor

Hi Magno, hope you and your family are well.

What a great time to be a boxing fan. There are great fights actually being made and a couple of of mega fights that have a great potential of being made like Crawford vs Spence. Very pumped for this weekend, especially for my girl Amanda Serrano. Hope she took into account what happened to Trinidad against Oscar, because Taylor will be employing the same tactic Oscar used against Tito. To make matters even more complicated for Amanda, these are just 10 two minute rounds, so she has to cut off the ring and apply pressure early or she could see herself on the losing end of a close controversial decision. As for Stevenson vs Valdez, I just think Stevenson is too talented for Valdez, as much as I like Valdez, I just don't see him winning, but with a punchers chance. Stevenson can be challenged against fighters like Loma and Tank Davis or as he keeps fighting in the higher divisions.

Take care.

-- Benjamin from Puerto Rico.

Hey Benjamin.

I agree. These are actually pretty good days we are living in. Enjoy them while they last.

I agree with your take on Serrano-Taylor as well. There's a big possibility of boxing politics playing a role here and Taylor will very much be the home team in this fight. Serrano will have to take the fight out of the judges' hands.

I also like Shakur over Valdez. Shakur vs. Loma and/or Tank would be an absolute dream for fans of high-end boxing. I'll light some candles and hope for at least one of those pairing to happen.

Got a question (or hate mail) for Magno's Bulging Mail Sack? The best of the best gets included in the weekly mailbag segment right here at FightHype. Send your stuff here: paulmagno@theboxingtribune.com.